Main content
The Witterlist - 27th September 2019
The Interview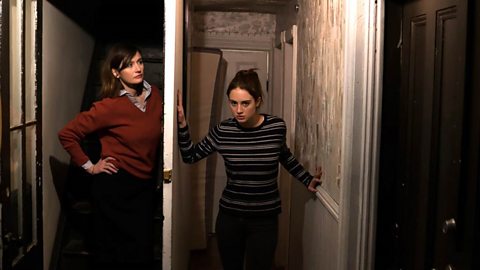 Simon Mayo talks to Emily Mortimer about her new film, Good Posture.
Emily Mortimer stars as a famous author with a difficult houseguest in actress & writer/director Dolly Wells' debut feature. Emily sat down with Simon this week to talk about her and Dolly's life-long friendship and the pleasures of playing someone scary.
The Goldfinch is the big-budget adaptation of Donna Tartt's Pulitzer Prize-winning novel of the same name. Starring Ansel Elgort as a troubled young man and Nicole Kidman as the wealthy woman who took him in as an orphaned child. Emotionally empty, somehow rushed and dragging at the same time, Mark found he didn't really know who anybody was or what they were doing - and crucially, he didn't care. It did allow him to coin the phrase "the clutch fluid of narrative" though, so not all bad.
Ready or Not is the black comedy horror (or maybe Corredy Hommer?) from writers Guy Busick and R. Christopher Murphy and directors Matt Bettinell-Olpin and Tyler Gillett. Samara Weaving brilliantly plays a newlywed whose wealthy in-laws hunt her as part of a twisted wedding night ritual. Owing a lot to Society and Sam Raimi's slapstick sensibility, it's genuinely funny and not afraid to give you lashings of squishy gore as it builds to a brilliant conclusion. Mark made it his film of the week.
Mark didn't get to review Rambo: Last Blood last week, but with the film lazily thumping its way to number four in this week's top ten, he finally had the opportunity to give us his thoughts on Stallone's latest geriaction extravaganza.
Rocketman will be out on home entertainment come Monday, and Mark made it (along with 2018's Maiden) his DVD of the Week – we think based entirely on how it inspired our quality Elton John jokes.
Next week
Next week, Renée Zellweger joins us to talk about taking on in icon in her new film, Judy.
Mark Kermode joins Simon Mayo to give his verdict on the week's movies