Main content
Play your part in shaping the future of BBC Scotland
Are you...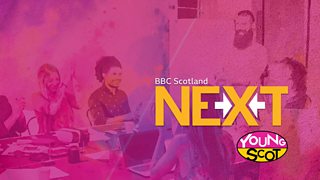 Buzzing with ideas about how BBC Scotland can mean more to young people?
Curious about shaping the future of BBC Scotland TV, radio, websites and social media?
Eager to change how young people are seen by society and in the media?
If you can answer yes to any of the above, are aged between 14 and 25, and live in Scotland, BBC Scotland NEXT could be for you!
You do not have to be someone who regularly watches, reads or listens to BBC Scotland content, and no previous volunteering or media experience is necessary.
What will you be doing?
Over 18 months you will be working with other young people, the charity Young Scot, and BBC staff, to challenge the perception of young people both within our organisation and across wider society; and to help shape new and exciting ideas for BBC television, radio, social media and websites.
This will involve group work as well as some work to complete in your own time, visits to our centres across Scotland and also possible residential weekends. Over the 18 months you will be expected to attend between six and eight core meetings, plus various other events.
What are we looking for?
You don't need any formal qualifications, just a curiosity for important issues for young people, Scotland and the media. You should be able to work within a group, and have the flexibility, commitment and willingness to travel across Scotland.
If you are under the age of 18 you must have the permission of a parent or guardian to take part.
What will you get?
These are voluntary positions, but we will provide all travel, food and accommodation costs during your attendance at meetings and events. Training and support throughout the 18 months will also be provided, including access to creative staff and support workers. You will also:
Receive in-depth group and individual training to support you in your role
Get the chance to boost your CV and gain valuable employability and life skills
Gain recognition through accreditation such as the Youth Achievement and Saltire Awards
Increase your confidence, communications skills and be empowered to challenge decision makers
Challenge yourself to be innovative and create wild ideas
Make friends for life, with the opportunity to meet other young people from across Scotland
At the end of the 18 months, those who are aged 18 or over will also have the opportunity to apply to join the BBC Scotland Runners' Pool.
Applications to join BBC Scotland NEXT in 2018 have now closed.