Main content
Top tips for hunting down a sleeper
A sleeper is a painting or object that passes miscatalogued through the auction rooms into the hands of someone who knows (or at least suspects) its real identity. It could have been over-painted, lost amongst a large collection in a busy saleroom, or simply misunderstood.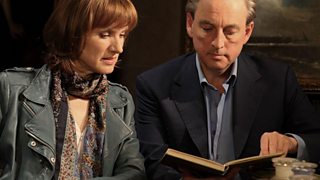 Philip Mould has spent years hunting down sleepers and he's willing to share his top tips with you:
Make sure you study the back of a painting as much as the front. The labels and markings can often tell a story of their own and could provide vital clues in your search for the truth.
Never believe a signature unless you can prove it's the same date as the picture beneath. Many unscrupulous people along the way could have added details to make the painting seem more plausible so always question what you see – be deeply cynical.
If a picture seems too good be true don't immediately discount it… it could still be right. That might be why others have side-lined it. Sometimes, for example, if a picture is in outstanding condition it is wrongly thought to be a modern copy.
Try to ascertain recent ownership. If the owner says it comes from "a little old lady" or a "house clearance", it often means that it was bought at auction a few days earlier. Use your instincts here, does the story sound vague or hollow?
If a picture claims to be old, study the craquelure (surface cracking). If it suddenly ceases in places, it could be a sign that area has been over-painted. Overpainting could be concealing some serious damage or it could mean that a better painting lies beneath.
Be prepared to invest in restoration. Restoring a picture can sometimes cost more than the painting itself… but it is often an essential part of the game and could lead to even greater rewards.
If you think you might have uncovered a sleeper but you need our help to take the next step, we'd love to hear from you for a future series.
Please make sure you include clear photographs of the painting (front and back) and information about how/when you acquired the work.
You can email your suggestions to fakeorfortune@bbc.co.uk,
Or post them to: Fake or Fortune?, BBC Broadcasting House, Whiteladies Road, Bristol, BS8 2LR. Please do not send USB sticks or originals of any important documents. We receive many hundreds of submissions and it can take us many months to investigate their potential before we are in a position to reply.