Main content
Andy Smith once swam competitively for Scotland; now he's making Napa Valley wines drunk by royalty and presidents
As a youngster Edinburgh native Andy Smith devoted his life to swimming and even represented Scotland at the 1986 Commonwealth Games.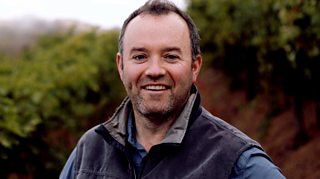 But when he retired from the pool he had to reassess what he wanted from life.

And as he told Billy Kay on The Complete Caledonian Imbiber, the seeds of his future career were sewn when he took a job in the Brunstfield branch of Oddbins.
"I just completely fell in love with wine. I was seduced by the history of it, the culture of it, the ability to travel, the taste of it and the flavour of it - and the reaction it produced when you drank a lot of it!"
That passion prompted Andy and his wife Karen to travel the world following the vineyard harvest and learning the craft of wine-making along the way.
After a sojourn in New Zealand where Andy studied for a degree in viticulture and enology degree, he and Karen ended up in California, home of America's wine-making industry.
Twenty years later his wines are a critical success and have been served to prime ministers, presidents and royalty.
Andy has been rewarded with titles such as 'Wine personality of the year' and one of the 'World's most influential wine consultants'.
And though he's thousands of miles from Edinburgh where his journey began, he believes his Scottish character has helped him to succeed in the US.
"I'm a very pragmatic Scottish farmer. I'm not interested in cutting corners, I'm not interested in compromising. You have to have a down to earth practicality and I think that's a Scottish thing."
The Fifer taking on the Californian wine industry
Dunfermline's Steve Law is also making wine in the Californian sunshine.
Like Andy, winemaking wasn't Steve's first career.
He previously worked in electronics in a role which took him to France and on to California's Silicon Valley.
En route he developed a love of wine and decided to make it his life's work.
He and his wife Heather co-founded MacLaren, a small winery in Sonoma Country.
These days the company produces around 1,000 cases of Syrah a year, but Steve's ventures began on a much smaller scale.
"In 2007 I made four barrels. I made a hundred cases. It took a year to sell them!"
So what was it like to finally take the first sip of his own wine?
"It was one of those moments where you taste it and you go, ah, I was hoping it would be better than that!
"But we went back and tasted it at Christmas time last year and, my goodness, that wine is gorgeous. It was just a matter of time…"
Latest features from BBC Scotland
Alicia MacDonald on her dramatic coastguard helicopter delivery.

Why men must be open about their mental health.

Seven financial tips for students starting university.

Inside the Zoo goes inside Edinburgh Zoo and The Highland Wildlife Park in Kingussie.

Experts believe we should begin saving for retirement as soon as possible.

One host reveals how she has benefited from giving shelter to refugees.

The comedian discusses her harrowing upbringing in a Stark Talk podcast.

Angel investors help to create an 'echo effect' encouraging entrepreneurs.

Beatrice Jones recalls painful memories in a bid to help others understand loss.

A traditional pre-wedding ritual is said to reveal the extent of her love.

Edi Stark takes us on a journey through some of her classic archive interviews.