Main content
Ladies bake with an Angels share
Clootie dumpling, raisin tuille and whisky custard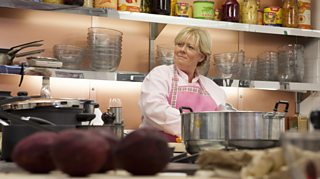 Jak O'Donnell prepares her dessert
Ingredients
For the clootie dumpling
125g self-raising flour
175g Panko bread crumbs
125g beef suet
125g Raisins
125g Sultanas
1 Cox apple, peeled and grated
1 small carrot, grated
1tsp ground ginger
1 tsp cinnamon
1tsp grated nutmeg
1tbspgoldensyrup
2tbsp treacle
2 eggs
1 orange, zest and juice of
4 tbsp plain flour
6clootie cloths
For the raisin tuille
200g raisins
50ml malt whisky
25ml water
For the whiskey custard
10 egg yolks
500ml double cream
1 sheet of gelatine
1 vanilla pod
185g sugar
25ml malt whisky
100g sugar
Method
1. To make the clootie dumpling; mix all the ingredients together in a bowl until a soft mix is achieved which is not too wet or too stiff. Scold the clootie cloths in boiling water then lay out flat and cover in flour, shake off any excess. Fill a pressure cooker two thirds with water and bring to the boil. Lay each clootie cloth over a bowl, spoon the mixture equally into the middle of the clootie cloths, gather up the corners of the cloth, tie very tightly with string and place directly into the boiling water. Place the lid on the pressure cooker and cook for 40 minutes.
2. Remove the dumplings from the water and dunk straight into a bowl of cold water for 1minute. Place the dumplings back into bowl you shaped them in and un-tie the string. Turn the dumpling on to plate. Lay the dumplings on a tray and bake in the oven at 150ºCfor 15-20minutes. Scoop out the inside of the dumpling and discard. Set the dumplings aside and keep warm.
3. For the raisin tuille, warm the whisky and water in a pan with the raisins, cook for 10minutes then allow to cool. Blend and then scrape the mixture onto a silicone mat and dehydrate in the oven at 120ºC for 8 hours. Whilst still warm, shape into tubes by wrapping around a bit of pipe. Allow to cool for 5 minutes.
4. For the custard, boil the cream. Add the eggs and sugar to a bowl then whisk the cream slowly into the eggs over a pan of boiling water, stir until thick. Pass through a sieve onto a tray and chill. Make a caramel by melting the sugar for 15 minutes until golden brown, then pour onto a tray and allow to set. Blitz the caramel to a powder then just before custard sets, fold the caramel powder through the mix.
5. To serve; warm the clootie dumpling at the side of the stove. Sit a raisin tuille tube in the middle of the bowl and fill with custard using a piping bag. Place the dumpling over the top of the raisin tuille so that you cannot see the tube or the custard.