Main content
Winifred Carney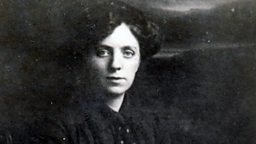 A typewriter and a gun
"I place my typewriter and webley on the counter."
Revolutionaries, I suppose, ought not to have relatives
Winifred Carney from Belfast was at James Connolly's side throughout the Easter Rising. She was his close confidant and typed his orders throughout the Rebellion.
"James Connolly honoured me with his trust and confidence in a way he did with no other person."
In the aftermath, she was imprisoned for her part in the Rising and only released almost eight months later following the general amnesty for untried prisoners. She returned to her family in Belfast.
After standing for election with Sinn Fein in 1918, she became a member of the Socialist Party of Ireland and, later, the Northern Ireland Labour Party.
Through her involvement in the Labour movement she met her future husband, George McBride, a Protestant who had fought at the Battle of the Somme with the 36th (Ulster) Division.
Discover more about Winnie and George's story on BBC iWonder
These pages are based on personal testimonies and contemporaneous accounts. They reflect how people saw things at that time and are not meant to be a definitive history of the period.