Main content
Huevos Rancheros
Huevos Rancheros with Guacamole taken from Good + Simple by Melissa and Jasmine Hemsley (Ebury Press, £25) Photography by Nick Hopper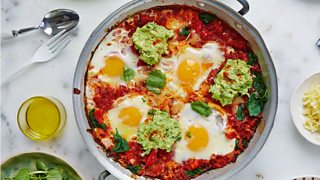 SERVES 2
4 large handfuls of spinach, roughly chopped
4 eggs
1 large handful of fresh coriander leaves and stalks roughly chopped
1 small handful of grated mature Cheddar
FOR THE TOMATO SAUCE
1 large onion, diced
1 tablespoon ghee or coconut oil
2 garlic cloves, diced
2 red peppers, halved lengthways, deseeded and sliced into strips
2 bay leaves
1 teaspoon smoked paprika
A pinch of cayenne pepper or finely diced fresh red chilli, to taste
2 x 400g tins of tomatoes or 800g fresh tomatoes
200ml water (100ml if using fresh tomatoes)
Sea salt and black pepper
FOR THE GUACAMOLE
1 large ripe avocado
1 tablespoon extra-virgin olive oil
Juice of ½–1 lime
2 spring onions or
1 small handful of fresh chives, chopped
1 handful of fresh coriander leaves, chopped
1 First make the tomato sauce. Fry the onion in the ghee or coconut oil over a medium heat for about 8minutes, stirring occasionally, until softened.
2 Add the garlic, peppers, bay leaves and spices to the pan and cook for another 2minutes.
3 Add the tomatoes and water, season generously with salt and pepper, then stir everything together and leave to simmer for 10 minutes until reduced to a thick, rich sauce.
4 Meanwhile, make the guacamole. Halve and stone the avocado, then scoop out the flesh and roughly chop. Place in a bowl and stir in all the remaining ingredients and some seasoning. Set aside.
5 Check the seasoning of the tomato sauce, adding extra salt, pepper and cayenne/chilli as needed, then stir through the spinach and cook for a few minutes until just wilted.
6 Use a spatula or spoon to make four wells in the tomato sauce mixture and crack an egg into each. The eggs will poach in the sauce and cook in about 4 minutes (lid on) for set whites and runny yolks.
7 Scatter over the coriander and cheese. Serve immediately (as the eggs will keep cooking) with big heaped spoonfuls of guacamole on top.
More Food on the BBC
Browse our selection of recipes from top chefs, cooks and food writers who have joined us on Woman's Hour...

Download this interview, or subscribe to the Cook the Perfect...downloads