Main content
Do the rules need to change for new mums breastfeeding at work?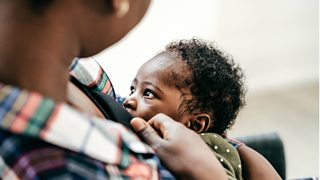 A 'lack of adequate employment law' means women in the UK have no protected entitlement to express milk in the workplace.

Rosalind Bragg of Maternity Action believes that new mothers shouldn't be made to choose between returning to work and continuing to breastfeed.

"Women can feel pressured to return to work early. A package of measures is needed to better support women to breastfeed — their employment rights being one of them."

When asked by Mornings about an ideal scenario for the future, Rosalind noted two areas requiring change:-

"There should be statutory rights to breastfeeding breaks and appropriate facilities.

"These laws are in place in 130 countries; the UK is quite unusual in not having these protections."
A look into why Britain has seen a drop in breastfeeding rates.
Latest features from BBC Scotland