Main content
Meet the Characters
Nazir
Nazir hasn't had much luck when it comes to finding a wife. He's not helped by the fact that he can't support himself financially; something he soon learns comes as a high priority for the women he meets on his search. No one seems that interested in love and affection – that is until he accidentally charms Fahmida. But are honour and idealism enough to win her heart and prove that he can be husband material?
Hamza Jeetooa
Since graduation from the Royal Central School of Speech and Drama, Hamza has appeared in several well-known TV series, including Babylon, Luther, The Thick of It and Being Human. He also played a series regular in Combat Hospital for ABC. He appears in BBC drama The Interceptor and will feature in the forthcoming BBC series Capital. He also recently made his film lead role debut in The Cook.
His theatre work includes playing the lead in The Royal Court Theatre Production of The Internet Is Serious Business.
Alongside his career as an actor, Hamza also works as a producer and co-founder of Untethered Films.
Fahmida
Fahmida is a single mother who's been burned by love. While chaperoning her best friend Yasmin at a speed dating event, she has a chance encounter with Nazir. Her experiences have left her jaded, but can this tentative romance breakdown her own prejudices and pave the way for a happier future?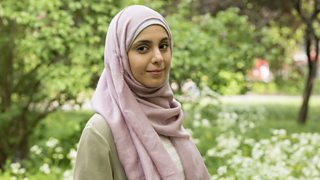 Anjli Mohindra
Anjli's television work includes Cucumber, The Missing, Law and Order, Beaver Falls and Sarah Jane Adventures. She is set to appear in the feature film Miss You Already, starring Toni Collette.
Anjli has also just finished performing in David Hare's Behind The Beautiful Forevers and in DARA, both in rep at The National Theatre.
Yasmin
Yasmin is Fahmida's best friend and confidante. Opinionated and plain speaking, she can read Fahmida like nobody else. She approaches life with an infectious optimism and is determined to find herself a husband, even if it means looking in the most unlikely of places…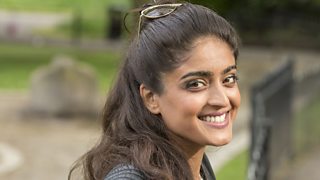 Mandeep Dhillon
Mandeep's probably best known for her roles as Saz in the BBC3 series Some Girls and Dacia in CBBC's hit series Wolf Blood.
She's also appeared in popular shows such as The Thick of It, Whitechapel and Cardinal Burns.
Imam Naeem
A young, progressive Imam, he's Nazir's confidante and teacher. Wise beyond his years, he plays a vital role in trying to bring Fahmida and Nazir together, and has a few surprises of his own lined up too.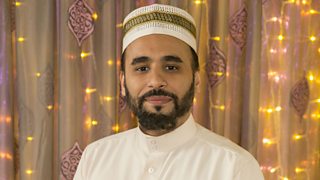 Ameet Chana
Probably best known to EastEnders viewers as Adi Ferreira, a role he played for two years, Ameet has also starred in Casualty, Doctors and Holby City.
He has a prolific stage career and has appeared in many popular British films such as Run, Fatboy Run and Bend it Like Beckham and recently completed the filming of Black Prince, a biopic based on the last King of Punjab.
Khalil
Loud, brash, and with delusions of grandeur, Khalil's a small time salesman with big ideas. He's passionate about his phone accessories business and is determined to mould a reluctant Nazir into his protégé.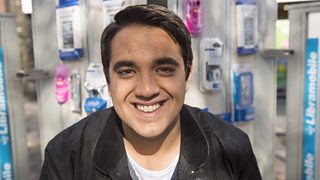 George Bukhari
After graduating from the Manchester School of Theatre in 2011, George has starred in stage roles as Bottom in A Midsummer Night's Dream and Piggy in Lord of the Flies, both at the Regent's Park Open Air Theatre.
He's also appeared on television in Happy Valley, Banana and most recently as Fat Jason in the BBC One series Ordinary Lies.
Noor
Fahmida's warm and supportive mother can read her daughter like a book, but even she's surprised when Fahmida tells her about Nazir. Can it be the happy ending she's hoping for?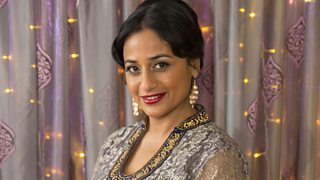 Anu Hasan
Currently appearing on UK screens as Fatima Inzamam in EastEnders, Anu's also known to UK audiences from Hollyoaks and more recently Cucumber.
Multi-lingual Anu also has an international career as a film actress, television presenter and chef in India.
Aatif
Nazir's father is the boss of the family. Loving and compassionate yet firm and controlling, nobody does anything without his say-so. A traditional and devout man, how will he react when Nazir tells him about Fahmida and her son?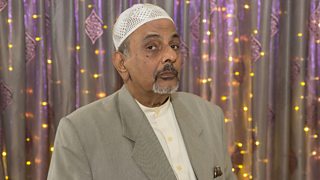 Madhav Sharma
Having started his professional life as a merit scholar at RADA, Madhav's career spans five decades.
Well known for his work on television including Going Postal, Ashes to Ashes, Casualty and Coronation Street, and in films such as Entrapment, The Gathering and East is East, he is also a stage actor and theatre director and founding artistic director of Actors Unlimited.