Main content
A love story that broke the conventional boundaries of Empire
An introduction by Historian William Dalrymple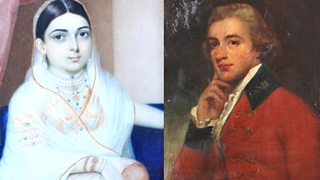 Kirkpatrick had gone out to India full of ambition, intent on making his name in the subjection of a nation; but instead it was he who was conquered, not by an army but by a Hyderabadi noblewoman called Khair un-Nissa.

Historian William Dalrymple
Colonel James Achilles Kirkpatrick was the British Resident or Ambassador at the Indian court of Hyderabad between 1797 and 1805. Kirkpatrick had gone out to India full of ambition, intent on making his name in the subjection of a nation; but instead it was he who was conquered, not by an army but by a Hyderabadi noblewoman called Khair un-Nissa. In 1800, after falling in love with Khair, Kirkpatrick not only married her, according to Muslim law, and adopted Mughal clothes and ways of living, but had actually converted to Islam and had became a double agent working against the East India Company and for the Hyderabadis.
Beneath the familiar story of the British conquest and rule of the subcontinent, there lay a far more intriguing and still largely unwritten story - about the Indian conquest of the British imagination. During the eighteenth and early nineteenth century it was clear that it was almost as common for westerners to take on the customs, and even the religions, of India, as the reverse.
These White Mughals had responded to their travels in India by slowly shedding their Britishness like an unwanted skin, and adopting Indian dress, studying Indian philosophy, taking harems and adopting the ways of the Mughal governing class they slowly came to replace. Moreover, the White Mughals were far from an insignificant minority. The wills of the period show that in the 1780's, over one third of the British men in India were leaving all their possessions to one or more Indian wives.
Kirkpatrick inhabited a world that was far more hybrid, and with far less clearly defined ethnic, national and religious borders, than we have all been conditioned to expect. Only seventy-five years after his death, it was possible for Kipling to write that 'East is East and West is West and never the twain shall meet'. At a time when respectable academics talk of a 'Clash of Civilisations', and East and West, Islam and Christianity appear to be engaged in another major confrontation, the White Mughals provides a timely reminder that it is indeed very possible – and has always been possible – to reconcile the two worlds. It is only bigotry, prejudice, racism and fear drive them apart. But they have met and mingled in the past; and they will do so again.
Hyderabad Mughal meets Victorian London
William Dalrymple sheds light on some of the key actors involved in Mughal India, and the love story that brought together two very different worlds in an age of Empire. He explores the full story in 'Love and Betrayal in India: The White Mughal' on BBC Four, 3 September at 9pm. The programme will be available to watch soon afterwards on BBC iPlayer.
Darbar of Cornelis Van Den Bogaerde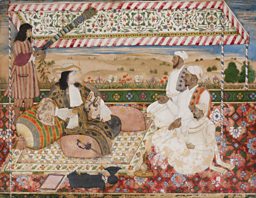 Cornelis Van Den Bogaerde was one of the first White Mughals: a Dutchman who in the 1680's was in charge of the Dutch East India Company's trading post at Hyderabad. His clothes are of the latest European fashions, but he has them made in Indian textiles and he lives the life of a Mughal nobleman, reclining on bolsters while a man fans him with a peacock fan. © David Collection Copenhagen
James Achilles Kirkpatrick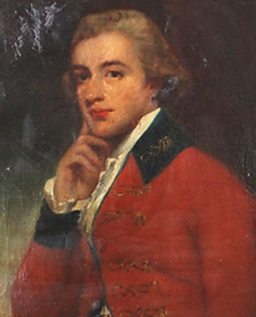 A recently rediscovered portrait of James Achilles Kirkpatrick, found in the stacks of the Salar Jang Museum in Hyderabad. It is thought to have been painted on James's arrival in Hyderabad in 1798, to take up the job of deputy in the East India Company mission, known as the Residency. All accounts agree that James was an exceptionally good looking and charming young diplomat.
James Kirkpatrick in Mughal Dress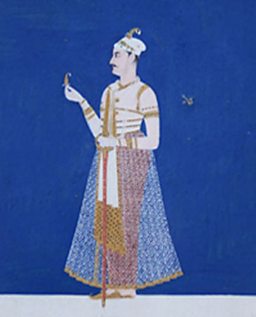 James in the Indian dress he habitually wore when visiting the Hyderabad court. It was painted at a wedding by one of the Nizam's leading artist, Tajalli Ali Shah.
Khair-un-Nissa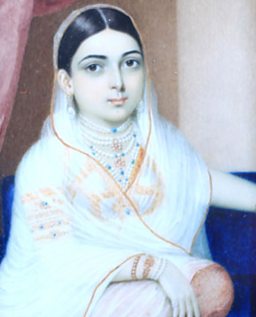 A portrait of Khair un-Nissa ("Most Excellent of Woman") painted in Calcutta in 1805. A renowned beauty of Persian extraction, and a Sayyida, a descendant of the Prophet, Khair un Nissa's portrait was said at the time to do no justice to her good looks.
General William Palmer and family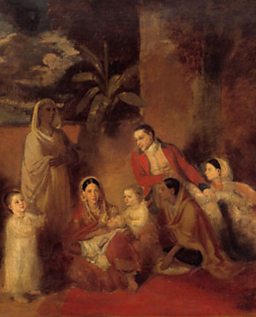 A painting of General William Palmer and his Mughal wife Fyze Baksh, by Johann Zoffany. Fyze was Khair un Nissa's best friend, and was with her on her death bed as she faded away with a broken heart in 1814. © British Library Board F597
The Kirkpatrick Children: Sahib Begum and Sahib Allum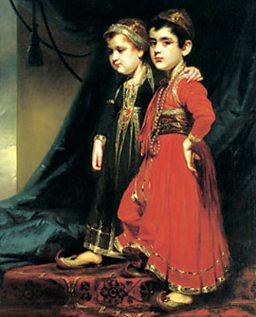 A portrait of the children of James Achilles Kirkpatrick and his Indian wife, Khair un Nissa. Known in Hyderabad as Sahib Begum and Sahib Allum, The Little Lord of the World, and the Lady of High Lineage. This picture by the Anglo-Irish artist George Chinnery was painted just before they sail for Europe in 1804. On arrival they were christened on arrival in England and for the rest of their lives were known as William and Kitty Kirkpatrick. © Hongkong & Shanghai Banking Corporation LTD (HSBC Asia Pacific Archives)
Kitty Kirkpatrick
Kitty Kirkpatrick, the daughter of James and Khair, was born Sahib Begum, The Little Lady of High Lineage, and brought up a Shia Muslim in Hyderabad. On arrival in England she was baptised Kitty Kirkpatrick and grew up as an Evangelical Christian. Her tutor, Thomas Carlyle, fell in love with her and made her the heroine of his novel, Sartor Resartus. In 1830 she managed to re-establish contact with her grandmother Sharaf un-Nissa, in Hyderabad, and began an emotional correspondence.
Explore the richness of India