Main content
BBC Young Jazz Musician 2022
BBC Young Jazz Musician is the BBC's platform for young, talented jazz musicians. We aim to celebrate the wealth of talent in the UK jazz scene and to showcase that talent on BBC television.
You can either...
Apply by filling out our online application form here,
Or you can...
Fill out the application form within the entry brochure and return it to us via email (young.musician@bbc.co.uk) or by post (BBC Young Musician, Zone 2, Roath Lock, Cardiff CF10 4GA).
Note: When emailing us, please send any large attachments via a file transfer service such as WeTransfer, Dropbox or similar as large files will not get through to us and you won't receive an "undeliverable" message.
Please read the entry brochure and the rules, terms and conditions carefully before completing the form.
The deadline for applications is 23.59 on Friday 22nd July 2022.
We will email you within five working days to let you know that your application has been processed. If you don't receive an email from us, please get in touch.
Who can enter?
BBC Young Jazz Musician 2022 welcomes entries from musicians performing any style of jazz, on any instrument including voice as long as these criteria are satisfied:
Age
You should be 22 or under on 1 September 2022
Residency
You must be a resident of the United Kingdom (including the Channel Isles and Isle of Man) at the time of entry and for the duration of the competition – until the end of 2022
You must include a substantial element of improvisation in your performance. (Improvisation is one of the judging criteria so if you don't improvise, you are unlikely to go through to the next round.)
Please note that we are unable to accept entries from anyone closely related to a BBC staff member or anyone involved in the administration of the competition.
Accessibility
BBC Young Jazz Musician is a fully inclusive project and positively welcomes applications from Deaf and disabled musicians. Any individual access requirements will be addressed on application. We do everything we can to provide alternative arrangements for candidates with specific needs, however the marking criteria remains the same for all competitors. All our information is available in Easy Read, as a downloadable audible version and in Braille. Please contact us to request a copy in one of these formats.
We are keen to attract a wide range of talented musicians and are committed to removing any barriers which would impact that goal, so please contact us if you would like this information in an alternative format not listed.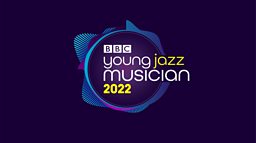 Tips on how to film your entry...
Before you start filming, check the lighting first. Avoid grainy footage by making sure the place you are filming in is well-lit. Check that there aren't any bright lights behind you, including windows.
Aim to be in the centre of the shot.
Don't worry about including other band members or accompanists in the video – we only want to see you.
Film your video in landscape rather than in portrait if possible (so turn your phone or tablet onto its side) as we will be watching the videos on a TV screen.
Phone and camera mics are pretty good at capturing sound but make sure the camera/phone isn't too far away from where you are performing as this will result in a loss of quality in the audio recording.
Send your videos to us in either Quicktime (.mov) or MPEG-4 (.mp4) formats.
Ensure that your video file sizes aren't too small or too compressed. This allows us to watch your videos better.
If you're sending us your video rather than using our uploader, try sending us the actual file rather than linking to a streaming service such as YouTube or Google One Drive as these are really hard for us to get access to.
Any large files that you send as attachments to young.musician@bbc.co.uk won't get through because they will be too large. You won't receive an "undeliverable" message. Please send any large attachments (over 8mb) via a file transfer service such as WeTransfer/Dropbox or similar.
Congratulations to pianist Deschanel Gordon, winner of BBC Young Jazz Musician 2020!
Twenty-two-year-old pianist Deschanel was born in Hackney and attended youth programmes such as the Hackney Creative Jazz Ensemble and the Julian Joseph Jazz Academy. Growing up he was surrounded by a wide range of music from gospel to reggae, and was inspired aged ten by a video of virtuoso pianist Oscar Peterson. This sparked his love of jazz and he switched from classical to jazz piano training. Deschanel plays in his own trio and with various bands across the London jazz scene, including the Mercury Prize nominated SEED ensemble and as a regular with Mark Kavuma's The Banger Factory, also featuring on the album of the same name.
He has performed at the likes of Ronnie Scott's, The Barbican, the Love Supreme jazz festival in East Sussex, the Gent Jazz festival in Belgium and Winter Jazzfest in New York. Called 'the piano man to watch' by London Jazz News, Deschanel graduated from Trinity Laban in 2020 with first class honours.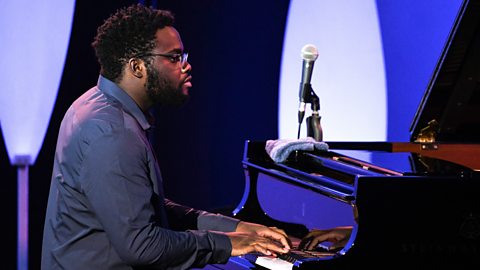 Deschanel plays 'Haynes Here', his own composition 'Awaiting' and 'Round Midnight'
Deschanel Gordon (piano)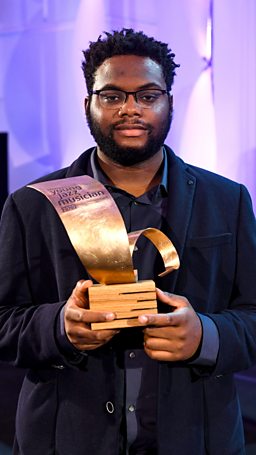 2018 Winner's Story
Xhosa Cole (saxophone)
Describe the whole BBC Young Jazz Musician experience in three words...
Unexpected, uplifting, fantastic.
Why did you enter?
I had never really considered it before, as my expectation from having seen it on TV was that there were very few people from my financial and cultural background on the show and that I wouldn't be able to achieve that kind of level of musicianship before I was well above the age limit. During the summer of 2018 when I was 20, I was with some friends who were music students chatting between classes with one of their teachers Mark Hodgson, and we got on to the subject of the BBCYJM 2018. I then found out after looking into it online that I was within the age restriction by almost exactly one month and that the deadline was the following day. So I dug out some footage of me playing and entered the competition with a 'let's see what will happen' type approach.
What were you expecting? How did that compare to the actual experience?
I honestly don't know what I was expecting. I had quite a strong sense when the show was on telly and I was younger that this was so far from what I could realistically achieve within the time frame that it had not crossed my mind too much. When we had this conversation about the competition I'd changed and grown a lot as a person and as a player so I guess there was some sense of wanting to embrace the challenge and see just how far the work I'd put in over the past few years could take me.
In terms of the format of the competition itself, I think I came in feeling blessed to be a part of the experience. If I did have a goal it was to get to the final. It was a huge honour to represent and be represented on such a huge platform and so I found the whole process to be more of a celebration. There was an amazing team of people from the young musicians to Gwilym and the band through to all the amazing staff at the BBC. I think we're lucky on the jazz side of things in this context, because the music that each contestant brings to the table is so varied and diverse, there's less of a feeling of competition or being measured. For us it was just a great hang and a celebration of young talent in the UK.
Bearing in mind that there can only be one winner, what are the other benefits that make it worth entering?
As I said earlier I never came into the competition wanting to win. Of course there were times in the run up where I'd consider what would happen if I did win, what that would feel like, but ultimately for me it always has been so much more to me than that. To be considered in this calibre of musicians is a huge honour and is completely humbling, so the competition aspect, and therefore the winning, means very little when compared to the celebration of young British talent which is what this is all about. The competition is a great way to challenge yourself, throw your name into the hat and see what it drives you to do and how it drives you to play.
Xhosa Cole (saxophone)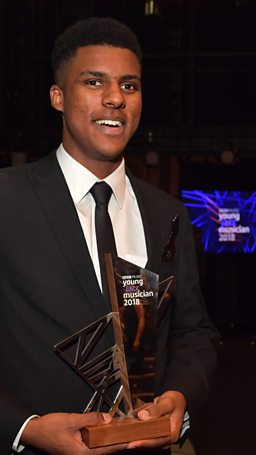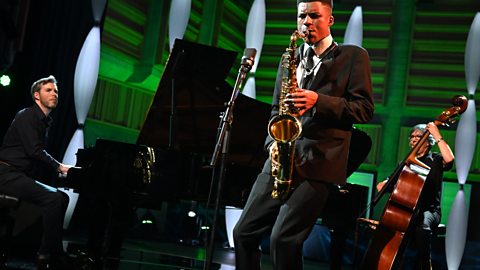 Xhosa Cole, saxophone, plays with Gwilym Simcock, Paula Gardiner and Asaf Sirkis
2016 Winner's Story
Alexandra Ridout (trumpet/flugelhorn)
Alexandra didn't have to think too hard when the chance came to enter the 2016 competition. "We were all told about it at Junior RAM and lots of my friends applied. I also knew all the people who had reached the previous final so I thought it would be a good idea to have a go!"
Having a go turned out to be a very good idea when Alexandra sailed through the early rounds and found herself – along with her older brother Tom – in the Final, with the chance to work with the Gwilym Simcock Trio. "That was definitely the absolute highlight. I had a fantastic time in rehearsals and on stage. Playing with them made everything feel much easier and I definitely felt that I upped my game!"
Alexandra reckons that the BBC Young Musician experience was a positive one for her as a person as well as a musician. "The whole process was extremely beneficial for my playing and it helped me get to grips with organising a band and the music needed for rehearsals. It was really good to learn how to perform and work under the pressure of being filmed for TV, which is a unique experience. I also gained more confidence as a person and I became much more comfortable in nerve-wracking situations and speaking to lots of different types of people."
As ever, the relaxed and supportive atmosphere at the Final helped Alexandra to impress a panel of judges which included Tim Garland, Gwyneth Herbert, Julian Joseph, Zoe Rahman and Byron Wallen. "The atmosphere was lovely; pretty much all of us knew each other well already. Of course, one of them was my brother! We hung out together at the college and at the hotel. It was great to spend time with people who share the same interest as you. I really enjoyed the whole experience of playing my choice of music with amazing musicians and spending time with fellow competitors."
Since the 2016 final, Alexandra has performed all over the country. "Having the BBC title opens up many doors!" She's played in various bands including The Alexandra Ridout Quintet, NYJO, Clark Tracey's Hexad and his new Quintet. Alexandra has had her music played on various Radio 3 shows and on Jazz FM and was the featured soloist on a broadcast throughout Europe at the end of 2016. She has twice been the runner up in the British Jazz Awards 'Rising Star' category and Jazzwise Magazine named her as someone to look out for in 2018 – "Trumpeter Alexandra Ridout was an outstanding winner of the BBC Young Musician Jazz Award of 2016 and just keeps on growing as an artist." She began studying at the Royal Academy of Music in September 2017.
Her advice to anyone thinking of entering is simple: "It's probably not as daunting as you might expect, everyone is very friendly and it doesn't feel competitive at all. I would say give it a go, there's nothing to lose!"
Alexandra will return to BBC Young Jazz Musician in 2018 to perform at the Final on 24th November.
Julian Joseph said: "We were enchanted by Alexandra's presence as a musician, her sound, but I think most importantly there was a relationship with the blues and swinging that sounds important in her playing. We all heard that, and we all felt that, and it really tipped the decision in her favour."
Gwilym Simcock said: "I'm so pleased for Alexandra. She played wonderfully tonight and communicated in a really heartfelt, genuine and unaffected way. It was very honest music-making and I think that's what she communicated to the judges. Myself, James and Yuri have had a great time over the last few days working with her, she's such a pleasure to work with and she's very self-effacing. I'm so pleased for her that she's won this special achievement on what was a very competitive evening, not in spirit, but in terms of the quality of the music-making from all of the five finalists. So I am absolutely thrilled for her and I hope this is the start of big things for her."
Alexandra Ridout (trumpet)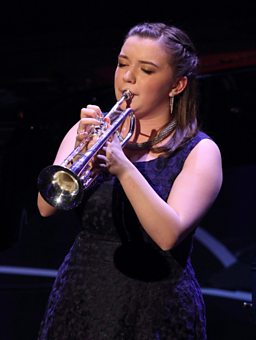 2014 Winner's Story
As a student at Chetham's School of Music in Manchester, Alexander Bone watched his classical musician friends and schoolmates enter BBC Young Musician over the years. In 2014 his chance came and he didn't think twice: "when I heard there was a new jazz competition I thought it was an opportunity not to be missed!" It's a decision he doesn't regret. "The experience for me of working towards the different rounds, meeting the judges, playing with the Gwilym Simcock Trio and hanging out with the other contestants, that was what made the competition so special for me. We all got on really well and I often see all the other finalists. I think that helped us all relax and focus on our music instead of there being any awkwardness and tension between us."
The relaxed and supportive atmosphere at the Final helped Alexander to impress a panel of judges which included Django Bates, Trish Clowes, Julian Joseph and Jason Yarde. "I was happy with my set, I felt like what I'd played showed my style and my influences. Afterwards I allowed myself to relax and enjoy the second half, but waiting for the winner to be announced was a nervy moment! I was in complete shock! I still can't believe it when I think back!"
Since the 2014 Final, Alexander has continued to pursue jazz and electronic music, playing, producing and arranging. A highlight was working in the studio with Nile Rodgers and Rudemintal, and he's played at jazz festivals and other incredible venues including the Royal Albert Hall. Alexander was invited to play at this year's Last Night of the Proms concert in Swansea with the BBC National Orchestra of Wales. He has just moved to London to continue his jazz studies at The Royal Academy of Music.
For Alexander, the BBC Young Musician Jazz Award is a challenging but rewarding process: "I spent a lot of time practising and composing / arranging for the different rounds. I gave it my best shot as I knew that then if I didn't get through, I'd be satisfied that I'd tried my best. Working with musicians as incredible as those in the Gwilym Simcock Trio was one of the best things I took from the competition. They really bring out the best in you. Go for it, you've got nothing to lose!"
Alexander Bone (saxophone)