Main content
Resources
Download and print these useful resources if you are interested in setting up your own workplace choir.
Print out and tick off the Choir Checklist as you go along, fill in details about your choir rehearsals on the downloadable Recruitment Poster and display it around your work space to recruit new members.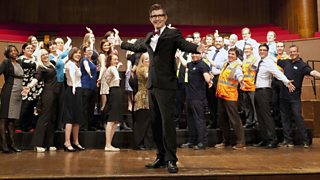 To promote your first performance, there is a downloadable Performance Poster to fill in. Good luck!
If you are new to singing or you simply want to go back to basics, download this free guide to singing:
If you want to find your voice or practise singing in harmony with others, look no further. You can download free sheet music and listen to audio clips of individual song parts here. Sing along and see how your voice blends in while listening to the whole songs in harmony. Enjoy!
Soualle
Wade in the Water 
 I'm Gonna Sing
If the programme has inspired you, and the resources have helped you to set up your own workplace choir, we'd like to hear your feedback. Please email us to let us know how you're getting on.