Main content
Taragalte Festival: Swapping Kalashnikovs for culture
14 December 2016
In the midst of a Sahara beset by jihad and poverty is an oasis - of music and culture. The Taragalte Festival offers an inspiring antidote to the problems of the area. ANDY MORGAN reports from M'hamid el Ghizlane in Southern Morocco on an event which uses a different kind of weapon.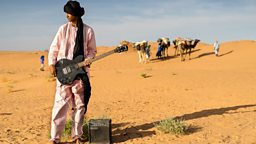 A member of les Jeunes Nomades at the Taragalte Festival, with camel train in the background.
Dazzling green palm groves, crumbling adobe houses, vast and quiet skies: M'hamid el Ghizlane - M'hamid of the Gazelles - fulfils every picture book dream of a desert oasis.
But in recent years it has also fulfilled the other, more metaphorical meaning of the word: a refuge of peace, calm and welcome in a Sahara blighted by jihad, poverty, corruption and environmental degradation.
The surrounding Draa valley in southern Morocco is now one of the few desert destinations left that a westerner can visit without quaking in her sleeping bag at night.
The annual Taragalte Festival that runs for three days at the end of October just a few kilometres outside M'hamid is the most obvious evidence of this blessed state.
With the famous Festival in the Desert near Timbuktu still suspended thanks to the unresolved conflict in northern Mali, Taragalte is now the Sahara's premier annual rendezvous for music and culture.
It was launched by two local brothers, Halim and Ibrahim Sbai, after a chance meeting with Touareg poet-guitarists Tinariwen at the Paleo Festival in Switzerland.
Taragalte is now the Sahara's premier annual rendezvous for music and culture.
Tinariwen headlined the first edition in 2009 and, to their delight and surprise, were treated like long lost heroes by the nomads and townspeople of the region. This year they were back again, topping a bill of artists from every corner of the Sahara.
The site of the festival, nestling among sand dunes that swell and dip towards the level horizon, dotted with trees recently planted by a Dutch NGO, was once the location of one of the main northern 'ports' of the trans-Saharan caravan trade.
For centuries, caravans of up to 2000 camels plied the route between here and Timbuktu, transporting gold, slaves, cloth, ostrich feathers, ivory - whatever was transportable and desirable.
It's an ambition as immense as the desert itself, and the Festival, with its evening concerts, debates and panels showcasing the work of local NGOs, including the new Joudour Sahara Music school that's being built in M'hamid, is just a small step .
But to be cynical about the usefulness of cultural gatherings of this kind in a region beset by so many hard-nosed political and social woes is to misunderstand the crucial role that music has played in creating awareness and disseminating ideas throughout the desert since independence, and the equally crucial importance of creating an 'oasis' where the people of the Sahara can meet the rest of the world and discuss their problems.
Although southern Morocco is currently free from the worst of the violence and social degradation that plagues the Sahara, it's as apt a place as any to hold this discussion.
The frontier with Algeria that runs just south of M'hamid, straight as an arrow for hundreds of miles, was drawn with ruler and pen after the 'War of the Sands' between Morocco and Algeria in 1963.
Just over a decade later it became a major flashpoint in the guerrilla war between the Moroccan army and the POLISARIO front, who were fighting for the independence of the Western Sahara. The frontier cut local nomads off from their ancestral pastures and gave rise to a boom in camel rustling and criminal trafficking.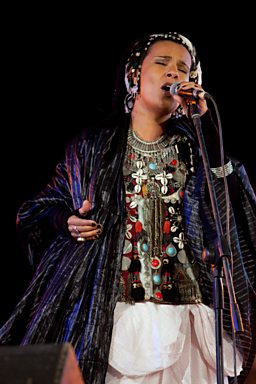 Moroccan singer Oum performs during the Taragalte music festival in 2012.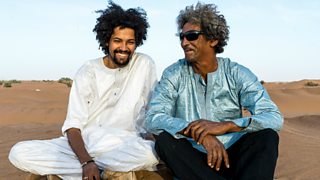 Music is another kind of weapon

Sadam ag Ibrahim
Ibrahim ag Alhabib, aka Abaraybone, founder of Tinariwen (R) with Sadam ag Ibrahim of Imarhan (L).
Tinariwen
Formed in the 1979, Tinariwen are a multi-award winning group from the Sahara Desert region of northern Mali who have inspired a generation of Tuareg musicians.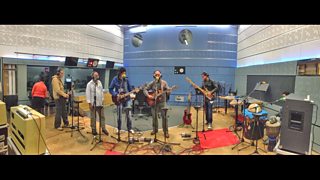 Listen to a 45 minute session from band which was recorded for BBC Radio 3's, World on 3.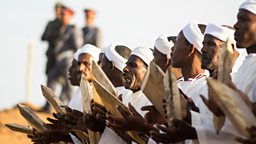 Traditional Berber Ahidous singers from southern Morocco performing at the Taragalte Festival.
Rather than the powerhouse of desert trade it had once been, M'hamid was reduced to a marginal backwater, all too often sidelined by central government in Rabat. Unemployment fuelled a rural exodus and provided a ready pool of idle hands for criminal gangs, separatist militias and, latterly, jihadi groups. Corruption and collusion between local officials and traffickers remains a major problem.
"The primary aim of any local administrator is to fill his or her pockets," says Halim Sbai. "As soon as people protest, they get labelled as separatists. But we're royalists. We've never been in favour of the POLISARIO."
Swap M'hamid for Kidal in northern in Mali, and the back-story is remarkably similar. "Today the Sahara has become a geo-political challenge for many of the world's superpowers," says Issa Dicko. "The nomad is imprisoned by issues and trends that he no longer controls or understands."
Almost everyone I met at Taragalte agreed that more Kalashnikovs and RPGs aren't the answer to the Sahara's problems. "It's as if the rebellion [in northern Mali], and all that we've done since 2011, is a lost war.
I've seen that guns are something that's no good. Even if you're angry, it's no solution.

Ibrahim ag Alhabib
Nothing has evolved or changed," I'm told by a member of the Touareg-lead separatist group, the MNLA, who asked me not to use his real name. "Maybe now it's time for a new strategy."
I ask Ibrahim ag Alhabib, founder of Tinariwen and one of the Sahara's only universally revered cultural icons, himself a former rebel fighter and ask him if he would ever take up arms again.
"No, that's all finished," he says. "I've seen that guns are something that's no good. Even if you're angry, it's no solution. You have to talk, to understand, to say what you feel."
Sadam ag Ibrahim, lead singer with Imarhan, the best and brightest of a new breed of Touareg bands shaped in the mould that Tinariwen created nearly four decades ago, agrees:
"Guns won't bring us independence. Guns get you nowhere. Music is another kind of weapon that sends out a message. But it won't bring independence either. For that you needs politics, you need cadres. You need people with experience and education who can find the right strategy."
I even meet a third generation of Tinariwen 'offspring' at festival, a group of local teenagers who were inspired by Tinariwen's first appearance in 2009 to create their own band.
Last year, Les Jeunes Nomades as they currently call themselves, contributed a lick or two to Tinariwen's new album Elwan, which was recorded in the little adobe complex that forms the nucleus of the festival site. They also feature in Tinariwen's latest video.
"It's as if their music has impregnated our blood," they tell me during a riotous interview. "We're bewitched by it. When we got them to explain their songs to us, it was as if our own feelings had been translated into another language." And what about Ibrahim? What's does this man from distant part of the desert, three times their age, mean to them?
"We empathise with the suffering that exists where he comes from," they answer. "Because he's a mujahid…a fighter. His music soothes us because he talks about the youth, the desert and about revolution. He's a revolutionary at heart."
Guns or no guns, the song of the Sahara looks likely to remain the same for some time to come.
The Taragalte Festival takes place each year in M'Hamid El Ghizlane, southern Morocco.
Andy Morgan is the author of Music, Culture and Conflict in Mali' and Finding the One: The strange and parallel lives of the West African kora and the Welsh harp.
Imarhan
'Imarhan' means 'the ones I care about' and they represent the new wave of Tuareg musicians. The group released their debut, self-titled album earlier this year.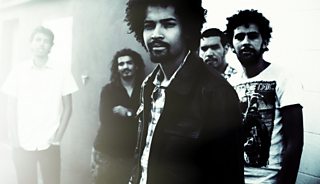 More Music from BBC Arts
The Senegalese superstar returned to the Hay Festival earlier this year.

An evening of new music with Scottish connections, recorded in Glasgow.

Michael Zagaris didn't just snap the biggest names in '60s and '70s music, he lived the times as well - and has the stories to prove it