Main content
Meet the school of 2017-2019
Quatuor Arod (string quartet)
Jordan Victoria – violin
Alexandre Vu – violin
Tanguy Parisot – viola
Samy Rachid – cello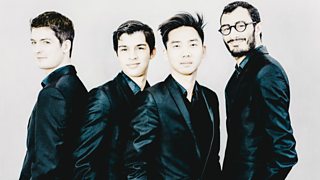 Credit: Marco Borggreve
Established in 2013, the Arod Quartet came to the attention on the international stage when they won First Prize at the prestigious ARD International Music Competition in Munich, having already taken First Prize at the Carl Nielsen Chamber Music Competition in Copenhagen in 2015 and at the FNAPEC European Competition (Paris) in 2014.
The 2017-2018 season sees the Arod Quartet perform at the Auditorium of the Louvre, the Philharmonie de Paris and the Théâtre des Bouffes du Nord (Paris), the Arsenal concert halls in Metz, Bordeaux and Montpellier in their native France, London's Wigmore Hall, Salzburg's Mozarteum and the Schloss Elmau in Germany, the Bozar (Brussels), the Konzerthaus in Vienna, Amsterdam's Concertgebouw, Tonhalle Zurich, the Calouste Gulbenkian Foundation in Lisboa and in Italy, Tokyo, Denmark, Serbia…
The quartet has been invited to perform at several international festivals: Verbier and Montreux (Switzerland), Aix-en-Provence, Menton, Salon-de-Provence, Folle Journée de Nantes, The Pablo Casals Festival of Prades (France), Heidelberg, Rheingau, Mecklenburg-Vorpommern, Bremen Musikfest, Mozartfest Würzburg, Prague Spring Music Festival and more.
In 2017, Quatuor Arod premiere the first string quartet by French composer Benjamin Attahir (commissioned by La Belle Saison, ProQuartet and Quatuor Arod). They are invited to perform alongside artists such as violists Amihai Grosz and Mathieu Herzog, clarinetists Martin Fröst, Romain Guyot and Michel Lethiec, pianist Eric Lesage, and cellists Raphaël Pidoux, François Salque, Harriet Krijgh and Bruno Philippe.
The Arod Quartet studies with Mathieu Herzog and Jean Sulem and is currently artist-inresidence at the Queen Elisabeth Music Chapel in Brussels with the Artemis Quartet. They also work with the Ebène Quartet and Diotima Quartet. The quartet is in residence at the Fondation Singer-Polignac and at ProQuartet – CEMC.
Aleksey Semenenko (violin)
Born in Odessa, Aleksey Semenenko began his violin studies at the age of six with Zoya Mertsalova at the Stolyarsky School, and only a year later played Vivaldi's Violin Concerto in A Minor with the Odessa Philharmonic. He currently works with Zakhar Bron at the Hochschule für Musik in Cologne. Mr. Semenenko plays a Stradivarius violin made in 1699, on loan from the Deutsche Stiftung Musikleben Fund of Hamburg, Germany.
Credit: Alexander Basta
In Europe, Mr. Semenenko has been heard in recital at the Musée du Louvre in Paris, the Usedomer Musikfestival, Festpiele Mecklenburg-Vorpommern, and throughout Belgium and France. He has appeared as soloist with the National Symphony of Ukraine, the Pleven Philharmonic in Bulgaria, the Deutsches Symphonie-Orchester in Berlin, the Kiev National Orchestra, the North Rhine-Westphalia Orchestra in Germany, the Royal Concertgebouw Orchestra under Manfred Honeck, and the National Philharmonic of Russia under Vladimir Spivakov. Subsequently, he was invited by the Spivakov Foundation to perform at the Kremlin in Moscow and at the Moscow International Performing Arts Center.
Mr. Semenenko made his acclaimed U.S. recital in the 2012 Young Concert Artists Series in New York, at the Kennedy Center in Washington, D.C., and at the Isabella Stewart Gardner Museum in Boston. He has appeared as soloist with the Orchestra of St. Luke's at Lincoln Center's Alice Tully Hall, about which The New York Times wrote: "Aleksey Semenenko gave an elegant account of Mozart's Concerto No. 5 and was also notable for a lively stage presence, purity of tone, and wonderful spontaneity and humor."
Upcoming concerts in the United States include recitals at the Harvard Musical Association, Merkin Concert Hall, The Phillips Collection, a concerto appearance with the Spokane Symphony, and a return engagement with the Seattle Symphony. In Europe, Mr. Semenenko gives masterclasses at the Anton Rubinstein Music Academy in Düsseldorf, Germany, performs at Bonn University, and appears as soloist with the Orquesta Clásica Santa Cecilia in Spain, the Odessa Philharmonic in Ukraine, and the Dubrovnik Festival.
Mariam Batsashvili (piano)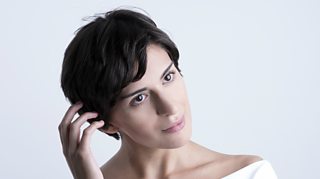 Credit: Attila Kleb
Mariam Batsashvili gained international recognition at the Franz Liszt Piano Competition in Utrecht in 2014, where she was awarded First Prize as well as the Junior Jury Award and the Press Prize. She has since gone on to perform with some of the world's leading orchestras including the Dutch Radio Philharmonic Orchestra, Royal Concertgebouw Orchestra, Rotterdam Philharmonic Orchestra and the Brussels Philharmonic Orchestra. Mariam has performed worldwide at venues including the Wigmore Hall, Southbank Centre, Elbphilharmonie Hamburg, and the Philharmonies of Paris, Cologne and Luxembourg. Forthcoming engagements include performances in St Petersburg and Berlin.
Simon Höfele (trumpet)
Born in 1994, Simon Höfele first had trumpet lessons aged seven in his home town of Darmstadt. Five years later, he became a preparatory student of Reinhold Friedrich, who took him into his trumpet class at the Karlsruhe Musikhochschule as a 14-year-old. A year later, he became a member of the German National Youth Orchestra (Bundesjugendorchester), then also of the Vienna-based Gustav Mahler Jugendorchester and the Orchestral Academy of the Schleswig-Holstein Musik Festival. He has also attended courses held by Ensemble Modern and German Brass, and received instruction from well-known professors such as Edward H. Tarr, Klaus Schuhwerk, Wim van Hasselt, Frits Damrow, Urban Agnas, Luis Gonzalez, Peter Lohse, Hannes Läubin, Kristian Steenstrup, Eric Aubier and Jeroen Berwaerts.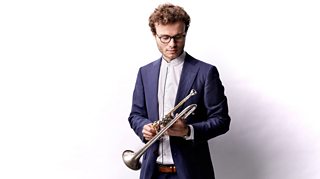 Credit: Sebastian Heck
In addition to well-known trumpet repertoire ranging from Telemann, Tartini, Haydn, Hummel and Mozart to Jolivet, Arutjunjan and Zimmermann, Simon Höfele also frequently performs contemporary music. For example, in 2012, together with Reinhold Friedrich and the Schleswig-Holstein Festival Orchestra conducted by Matthias Pintscher, he gave the first performance of Pintscher's double concerto for two trumpets and orchestra ("Chute d'étoiles"). In 2015, he premiered "Tangle", a work for solo trumpet and brass quintet by Nina Šenk, in Weingarten, Germany, and "Imaginary Garden" by Hope Lee at a master course run by the School of Creative and Performing Arts of the University of Calgary, Canada.
Simon has already made his solo debut with such orchestras as the Royal Concertgebouw Orchestra under Semyon Bychkov, won the special "U21" award at the ARD International Music Competition and the German Music Competition in 2016, and has been selected by German public-service broadcaster SWR to receive three years of artistic and career support as the current "SWR2 New Talent". He also plays chamber music of every variety with great enthusiasm. His partners include the pianists Frank Dupree, Magdalena Müllerperth and Eriko Takezawa, and the recorder player Kristina Schoch.
Alongside his musical projects, Simon Höfele is also active in cultural politics, and has founded the association "Kunstverlust", for which he, as a photographer, portrays people who work to support art and prevent its destruction.
Catriona Morison (mezzo-soprano)
Winner of the 2017 BBC Cardiff Singer of the World Main Prize and joint winner of the Song Prize, Scottish mezzo Catriona Morison is the first British artist to win this highly coveted award. Currently a member of the ensemble at Oper Wuppertal, her 2016-17 appearances include Nicklausse Les Contes d'Hoffmann, Clarice The Love of Three Oranges and Maddalena Rigoletto.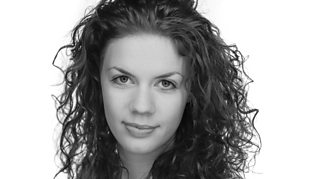 Catriona started her musical career at an early age at the Royal Conservatoire of Scotland (RCS) as a singer and a violist. She went on to study for her BMus (Hons) and PGDip Opera Studies at the RCS and with Prof. Julie Kaufmann at the Universität der Künste, Berlin, and graduated from the Alexander Gibson Opera School of the RCS under the tuition of Clare Shearer with a MMus Opera with Distinction in 2013. She continues to study with Prof. Siegfried Gohritz in Weimar.
Catriona became a Samling Artist in 2013, and the following year she joined the Bayreuther Festspielchor and appeared in their productions of Tannhäuser, Lohengrin and Der fligende Holländer. In summer 2015, Catriona joined the prestigious Young Singers Project at the Salzburg Festival where she made her debut with the Vienna Philharmonic in Der Rosenkavalier, and participated in the YSP Final Concert with the Mozarteum Orchestra under the baton of Christoph Altstaedt. Her 2015-16 season was spent as a member of the Thüringer Opernstudio in Germany.
Recent highlights include the roles of Annina Der Rosenkavalier and Kay in Albrecht's Die Schneekönigin (The Snow Queen) in the highly lauded 2015 production, both at Deutsches Nationaltheater Weimar; Giove/Pisandro Il ritorno d'Ulisse in patria for Theater Erfurt, staged performances of Mozart's Requiem for Theater Hof and Handel's Alexander's Feast for Lithuanian National Opera. Other roles include Dorabella Così fan tutte at Theater Rudolstadt and the Banff Centre in Canada, Cherubino Le nozze di Figaro in Weimar, Nerone L'incoronazione di Poppea and Bianca The Rape of Lucretia for the RCS, Hermia A Midsummer Night's Dream at Scottish Opera and Mercédès Carmen for Edinburgh Grand Opera. She appeared as a Lady of Mahagonny The Rise and Fall of the City of Mahagonny at Usher Hall for the Edinburgh International Festival.
Concert appearances include her 2013 BBC Proms debut, broadcast on BBC Radio 3, performing two of Charlotte Seither's recent works in a Proms + Portrait. She joined Bamberger Symphoniker in February 2014 for E.T.A. Hoffmann's Miserere. Other highlights from the concert stage include Rossini's Petite Messe Solennelle conducted by Rolf Beck with the Schleswig-Holstein Festival Chor, Mendelssohn's Elijah in Poland and Bach's St John Passion conducted by Helmuth Rilling. Her other oratorio and concert repertoire includes Handel's Dixit Dominus and Messiah, Mozart's Requiem and Vesperae Solennes Confessore, Bach's St Matthew Passion and Christmas Oratorio, and Vaughan Williams' Serenade to Music.
Thibaut Garcia (guitar)
Thibaut Garcia, the Franco-Spanish guitarist, was born in 1994 in Toulouse, where he began learning the guitar at the age of seven. He then won the guitar prize in the class of Paul Ferret. At the age of 16, he was admitted to the Conservatoire National Supérieur de Musique et de Danse de Paris, in Olivier Chassain's class, while at the same time benefiting from the guidance of Judicaël Perroy. In 2015, he was named sponsee of the Académie Charles Cros.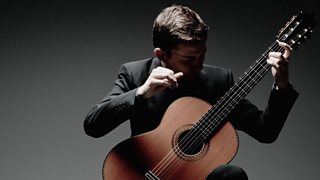 Credit: Marco Borggreve
At the age of 16, he was awarded the First Prize at the Ana Amalia competition in Weimar, Germany. Since then, he has won the first prize in several international competitions, in particular the Guitar Foundation of America at Oklahoma City, USA, in 2015, the José Tomas at Petrer, Spain, in 2014, and the International Competition of Seville, Spain, in 2013. Since then he has been asked to sit on their juries and to give master-classes.
Thibaut Garcia is now being invited by the greatest guitar festivals worldwide: Australia, Canada, Spain, Finland, Switzerland, Belgium, Germany, France, Italy, Montenegro, Chili, New-Caledonia, the USA, Brazil, Argentina, Mexico, Romania... Since September 2016, he has been on tour in the USA and Canada, where he gave over 60 recitals during the entire season. He also performs recitals at the Festival Radio France Montpellier, the Festival Toulouse d'Eté, theAuditorium de Bordeaux, the Konzerthaus Vienna, the Centre de Musique de Chambre de Paris Salle Cortot, the Auditorium of the Musée d'Orsay, or the Grands Interprètes of Toulouse…
In 2016, Thibaut Garcia made his concerto debut with the Orchestre National du Capitole de Toulouse. He will be appearing in other concertos in the next few months, especially with the Baden-Baden Orchestra, the Orchestre National de Montpellier, Orchestre de Cannes PACA, and the Orchestre de Dijon-Bourgogne. When it comes to chamber music, Thibaut Garcia has played with Edgar Moreau, Raphaël Sévère, Jean-Frédéric Neuburger, Antoine Mornière, Boris Grelier, Anaïs Constans... and will soon be appearing with the La Marca brothers and the Quatuor Arod.
Misha Mullov-Abbado (jazz bass)
Winner of the 2014 Kenny Wheeler Jazz Prize, Misha Mullov-Abbado is an in-demand bass player, composer and arranger based in London. He is a 2014 City of Music Foundation Artist and recently released his debut album New Ansoniaconsisting of all his own compositions performed by his quintet on Edition Records, which has been included in "Best Jazz Albums of 2015" and been extremely well-received in newspapers and magazines across Europe. As an experienced band-leader but also a versatile sideman Misha has performed at many of London's top venues, as well as venues in the rest of the UK and Europe. Having won the 2014 Dankworth Prize for jazz composition Misha is an experienced composer and writes for various jazz groups as well as classical soloists and ensembles, and is influenced by a variety of jazz, classical and pop music.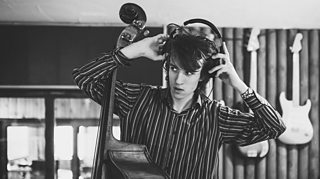 Credit: Aga Tomaszek
After graduating from Gonville & Caius College Cambridge, where he studied music and composition with Robin Holloway and Jeremy Thurlow, Misha received a scholarship to study double bass at the Royal Academy of Music on the prestigious Masters jazz course with Jasper Høiby, Tom Herbert, Michael Janisch and Jeremy Brown. During his final year at the Academy Misha started his group and has been performing with it regularly since, with all concerts being very well received, and winning the Kenny Wheeler Prize in his final term has led him to record his debut album. Misha has now finished recording his second album as a band-leader Cross-Platform Interchange which will be released in May 2017. As well as writing for his band Misha has been commissioned by a variety of musicians and ensembles such as Viktoria Mullova, Thomas Larcher, the LSSO, the Pelleas Ensemble, the Hermes Experiment, and the North Sea Ensemble.
Since leaving the Academy Misha has been performing with a variety of musicians such as Stan Sulzmann, Paul Clarvis and Enzo Zirilli – the latter he plays with regularly in his quartet Zirobop. He co-directs the Patchwork Jazz Orchestra, an exciting new big band in London that plays original compositions written by members of the band, that has recently won the 2015 Peter Whittingham Award. Misha also plays as a sideman in various projects such as Orquestra Mahatma, the Nessi Gomes group, the Tom Green Septet, Ralph Wyld's Mosaic, the Tom Millar Quartet and the Liam Dunachie Quartet.