Main content
The bakery changing women's lives
By Megan Lawton
BBC Radio 5 Live went to meet women at a special bakery project in London, which has been set up to help people from disadvantaged backgrounds.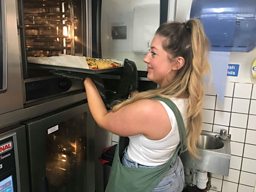 In 2014, Sarah (pictured above) became homeless.
She moved into a women's refuge where she saw a notice on the wall about making cookies.
"I was a bit sceptical," she said, "I just thought it's going to be another one of those afternoon things at the hostel."
The sign was for Luminary Bakery, a social enterprise in East London which provides training courses for women from disadvantaged backgrounds.
Some have experienced domestic abuse, suffered with mental health problems or been made homeless. Since opening in 2014 the bakery has helped more than 52 women.
Sarah is one of them.
She said she wanted to work, but jobs kept falling through: "I just gave up because there wasn't anything. I did a lot of courses because I tried to get back on the saddle but it wasn't working."
She said after two weeks at Luminary, she felt "safe".
And she said she believes it genuinely saved her from serious harm: "I was drinking quite a lot before I came to Luminary and I was quite addicted.
"When you live in a hostel environment, there are harder things to do than just alcohol, so I'm sure I'd have explored them… So I don't know... I might've ended up in a mental hospital."
Five years on, Sarah is teaching new bakers how to make sourdough bread as well as working for another bakery in London.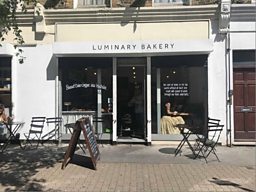 Sarah said the hardest task was baking a rainbow cake which she still has in her fridge to remind herself of her achievement.
"I'm not going to eat it but it's still colourful! It was so stressful - I'd never make it again.
"I never thought I'd make anything that people would buy, but just baking stuff that 'worked' made me proud, and when other people ate it and weren't sick and they said it was alright - that feels good."
Ten of the women from Luminary Bakery have gone on to set up their own business.
In 2017, Tina (below) was diagnosed with PTSD and she says baking was paramount to her recovery:
"I was experiencing a lot of intrusive thoughts," she said.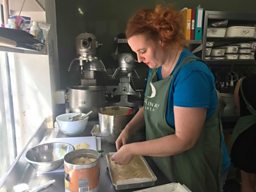 "I found it quite difficult to get to the bakery in the morning and there was a lot of fear associated with what was going to happen that day.
"But when you're baking you're giving 100% focus to that and you are using your hands, you are touching, you are feeling, so it's a lot of mindfulness."
Tina has now opened her own baking business, making cupcakes with inspiring messages like 'You are loved' and 'Be kind to your mind'.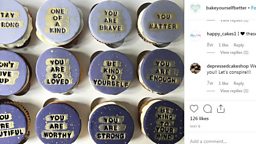 The founder of Luminary, Alice Williams, is not actually a baker herself but said it is an amazing way to get women back on their feet.
"It can be really therapeutic, it takes you out of all the other things you're thinking about in your daily life and you just have to focus," she said.
"Seeing something that you have made transforming - you put dough in the oven, take it out and it looks completely different - the work you have put in is actually quite a luxury, and if you have just been surviving and making ends meet, you haven't had the chance to create before, so that is a powerful moment for people.
"With the final product, you can share that with people, and for the women that we work with, often they have been surviving on handouts from friends, so to be able to offer something to their family and friends, and maybe finally be able to make someone a birthday cake is really significant."
Luminary Bakery has one branch at the moment, but the team are planning open another in the capital.
Further ahead, Alice Williams wants to spread outside of London: "There is need everywhere and there are people who want cake everywhere so we'll go wherever we are needed."
See more like this
5 Live journalist Molly Keyworth explores the world of plus size shopping.

Model and Love Island contestant Jamie Jewitt investigates how we use social media.

5 Live presenter Emma Barnett speaks to 19 women about their experiences of IVF.