Main content
The women redefining the sound of UK Jazz
Women have always played an important role in shaping the sound of jazz music, yet according to the Women in Jazz organisation, they represent only 5% of jazz instrumentalists in the UK.
Emma-Jean Thackray is a Yorkshire-born multi-instrumentalist, singer and producer whose album reached number one in the Jazz and Blues Chart. Nubya Garcia is a British saxophonist, composer and DJ who made her Proms debut this month. Jas Kayser is a drummer, composer and band leader whose music explores the common ground between Jazz and Afro-beat music. They spoke to Woman's Hour about their musical influences, how they are trying to redefine the sound of UK jazz and why they are pushing to make space for more women in the industry.
Emma-Jean Thackray
Bandleader, multi-instrumentalist, singer and producer, Emma-Jean Thackray was born and raised in Yorkshire and started out playing the cornet in a brass band. She now has her own record label - Movement - and recently released her debut album Yellow, which has reached number one on the Jazz & Blues Chart. Her musical mantra is: 'Move the body, move the mind, move the soul.' She joined Anita Rani to discuss her influences and the sound she's trying to create.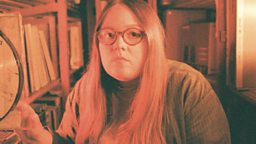 "It's as much of me as I could put into a record," says Emma-Jean. "So all kinds of sounds from the more spiritual jazz like Alice Coltrane through to Parliament-Funkadelic (P-Funk) through to the stuff that you hear these days like Thundercat. But everything is in this kind of 'Netherworld', so you're not really sure what genre it is.
People call me stubborn, but I think it's just dedication.

Emma-Jean Thackray
"It's like when an author puts out their first novel, it's like their life story in a way. [My album] was all written and recorded before lockdown, but I was doing my overdubs and all the mixing and stuff. Because I was doing so much on it, it just took so much energy and time and real emotional labour, which is really draining.
"So this is a record where I'm just trying to show you as much of me as possible. I've got the performer side, playing a couple of different instruments, producing it and mixing it myself. But stuff that I've never really shown before, like the orchestral side, is in there as well. My masters is in Jazz Orchestral Composition, and that's something that I'd never put on a record before. It's just me in a wax disc."
Coming from a family she wouldn't describe as musical, Emma-Jean taught herself how to play instruments after seeing a friend's cornet aged eight and deciding she liked how big and loud it was. But the cost of buying instruments can be a big barrier prohibiting women from becoming jazz musicians.
"Everyone appreciates music, everyone has a love for it," she told Anita. "But no-one [in my family] plays anything. They encouraged it, but it was more that they knew they couldn't stop me. So they had to either drive me to the rehearsals and support me, or I'd just go and do it myself. I'd walk three hours to rehearsal if I had to. People call me stubborn, but I think it's just dedication.
"The brass band I was part of gave me a cornet to use once I joined and my parents clubbed together to get me a second hand instrument. For my birthday I'd try to get people in my family to come together and get me a guitar from Argos or something... And then I taught myself. So everything other than the cornet and the trumpet, which are basically the same instrument, I just taught myself from listening to music and playing along and figuring stuff out. It's not easy, but there are ways that you can go about it."
Nubya Garcia
British saxophonist, composer, DJ and bandleader Nubya Garcia has been nominated for a Mercury Prize, and is described as one of the brightest of a new generation of jazz talent. She made her Proms debut this month, performing music from her album Source. She spoke to Andrea Catherwood about her sound and how her upbringing still influences her music.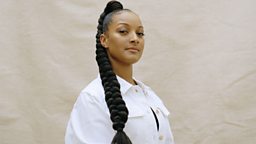 "It sounds so different to everyone," says Nubya. "I would say that I've been hugely influenced by Sonny Rollins and Dexter Gordon and John Coltrane. And they have very, very different sounds. I think when I was a teenager, transcribing what they do, I was definitely trying to emulate them. And that's grown into me basically bringing more of myself into the music.
It's such a huge part of black culture to pass down stories and music, folk songs and traditions through the oral tradition.

Nubya Garcia
"I am from Guyana and Trinidad, and I think growing up in the UK as a young black woman, I've always been very curious about my culture and how I can dig into that deeper. I think I've always been so involved in trying to figure out who I am within my own family's traditions. I use that as a source of inspiration, I guess. It's such a huge part of black culture to pass down stories and music, folk songs and traditions through the oral tradition. And that's also such a massive part of jazz. It's hugely important to me and I hope to add to that if I can.
"It's a part of why I love music - growing up with a lot of music at home. I have classical influences too, not that you would hear it in my music. My mum loves classical music and my eldest sister is a classical singer. So I definitely grew up playing in orchestras and going to lots of concerts. But my first meeting of the saxophone was a surprise. It was like: 'Go and check in there. We've got a surprise for you.' And it was a saxophone. After six years of battling with the violin, in my mind it was a huge surprise and I thought: 'Oh my gosh, finally, something that really feels good to me when I'm playing it.' Even as a complete beginner, obviously."
"I'm honoured to be in that line of the tradition of jazz. However, I struggle with the term sometimes because of the limited view that people have around it. Like: 'This is the type of music that you play and anything outside of that isn't jazz.' I think it's completely subjective to be honest. I am a jazz musician because I love jazz music and also I love to improvise, which is at the core of the music. I just like to say that I have so many other influences and they all work together to make my sound."
Jas Kayser
Jas Kayser is a 24-year-old drummer, composer, band leader and Paiste Cymbals and Natal Drums artist from the UK. Her most recent release is her Debut EP Unforced Rhythm of Grace. Whilst studying for her undergraduate and masters degrees, she explored the common ground between Jazz and Afro-beat, which inspired her original sound and compositions. She spoke to Emma Barnett about her experience of discrimination as a woman in the jazz industry.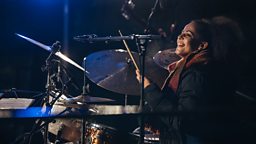 "I started drums when I was nine years old and definitely was naive. But I think as I've grown up with it, it's been really clear that it's so rare to see a female drummer. I've had a lot of issues with people assuming that I'm the singer and things like that.
There's nothing strange about a girl playing an instrument in jazz, like saxophone or drums or bass or anything else.

Jas Kayser
"During school I had an amazing percussion teacher (she was a woman and was very supportive) but she organised this blind audition, probably knowing full well that this was the only way that it could have an equal result. But she met with me afterwards and said: 'Okay, so you won the Blind Audition, but we're going to give it to the guy.' It was never set in stone why that happened, but it seems to be clear now that as a female drummer I wasn't given the same chance.
"People will make you feel that it's more of a masculine instrument, or you have to be stronger or bigger or more macho to be able to do something like that. But it feels like completely the right thing for me to be playing drums and I have some amazing role models like Terri Lyne Carrington and Cindy Blackman, who are also badass women on the drums. But there's actually nothing strange about a girl playing an instrument in jazz, like saxophone or drums or bass or anything else.
"If you're a promoter or booking agent, then you should be focusing on booking and finding people out there. If you look deep enough it's not difficult to find female musicians to represent venues. But for the past few years, I've been trying to step into the role of representing females and kind of speaking up a bit more about it. Because I realised that as a mixed race, female drummer, that is my responsibility and I do have a platform that I can use to speak up about these issues. I guess it's important for everybody to find their way to step into those shoes and speak up."