Main content
Talking Doorsteps / A Contains Strong Language film
Poet Joe Hakim talks about his involvement in an innovative new spoken word exchange project connecting young participants from Trinidad and Hull.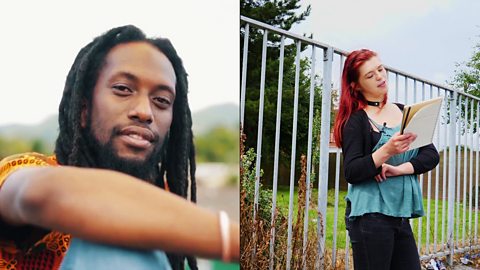 A new spoken word exchange project and its young participants from Trinidad and Hull.
Talking Doorsteps is a spoken word exchange project that explores the idea of "home" by connecting young poets and filmmakers from across the globe.
For Hull 2017, The Roundhouse, Wrecking Ball Press and the Bocas Lit Fest have teamed up with the British Council and the BBC. Poet Joe Hakim talks about travelling to Trinidad as part of the project and bringing his experiences home to Hull and to the young people who participated in the project.
Joe Hakim at Contains Strong Language
11:30 - 12:30
Recording at Hull College - Joe Hakim talks to Ian Mcmillan about the Talking Doorsteps project for a special international poets edition of The Verb, to be broadcast later on Radio 3.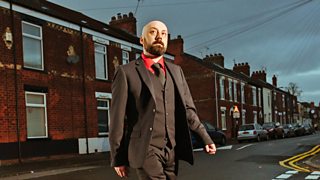 18:00 - 19:00
A screening of Talking Doorsteps Films from Trinidad, Hull and London and insight into the project with Joe Hakim.
11:30 - 12:15
A high energy showcase of poetry. Ideas and social activism featuring performances from Deborah Stevenson, Joe Hakim and Chiedu Orakld.
Contains Strong Language films
Poets, participants and the public reflect on the many highlights from the festival.

Highlights from the first two days of the Contains Strong Language poetry festival.

An innovative new spoken word exchange project connects young participants from Trinidad and Hull.

Behind the scenes of JoinedUp Dance Company's interpretation of Imtiaz Dharker's specially commissioned poem.

Hull '17 poet Isaiah Hull's homage to his home, Old Trafford in Greater Manchester.

A mammoth washing line with 2,017 poems contributed by the public will be on display at the Contains Strong Language festival.

Mardy, gurt, cheeselogs, dreich and dimpsy: 13 poets highlight the local words that matter to you.

Preview the four-day poetry and spoken word festival coming to Hull.
The 2017 Festival
Find out about the UK's biggest poetry festival devoted to new work, which took place in Hull.

What took place over four days of gala readings, live radio, film screenings, music gigs, open mic nights and more.