Main content
2. Henry VIII and Elizabeth I
Finding out about the lives of two extraordinary monarchs: Henry VIII and Elizabeth I.
The tutorial
Join Wayne and Jenny to learn the song 'Pavans and pageantry', a slow ceremonial song inspired by the rhythm of a pavan dance.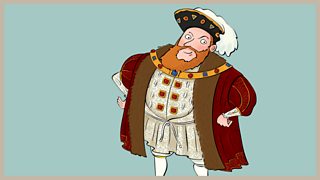 We hear from Henry VIII as a young man describing his various activities, and about his death in 1547.
Then we meet Elizabeth I on royal progress around the country in 1578 and listen to some early instruments of the time.
Duration: 14' 45"
The song: 'Pavans and pageantry' (vocal)
The song has verses for both King Henry VIII and Elizabeth I. Note the slow - quick - quick rhythm, inspired by the pavan dance rhythm.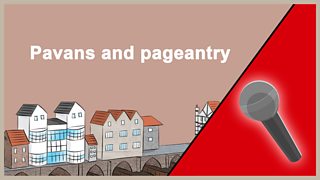 Once you have learnt the song singing with the full vocal version you could try singing with just the backing track.
Click here for the backing track version of the song or go to the Clips page.
Duration: 1' 52"
Portrait of King Henry VIII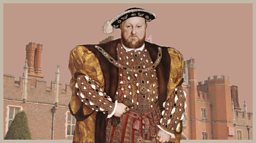 A famous portrait of Henry by Hans Holbein
Listening music
Another dance piece suitable for a pavan. Clap hands or tap knees to the beat.
If you'd like to try some Tudor dance steps to go with the music you can find instructions in our unit of dance programmes about Henry VIII.
Duration: 1' 21"