Main content
How Breakfast uses listener recordings
Fancy yourself as a budding sound recordist?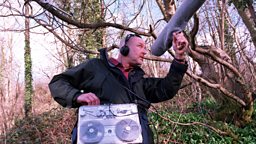 Legendary sound recordist Chris Watson in the field.
From time to time, Breakfast asks listeners to send in recordings for use in our broadcasts and online
Our presenters will let you know when it's time to make and send in your recordings: when they do, the email address to use is 3breakfast@bbc.co.uk.
You can use your phone or mobile device to make recordings, but we recommend trying to record somewhere quiet where there aren't too many sonic distractions. To help us download your files, please keep recordings under one minute long, and make sure that they don't include voices or anything that could be used to identify you or anyone else.
Here's how we use your information.
Terms and conditions
The information you provide and the sound files you make available will be accessed by the BBC Radio 3 Breakfast team only. We will only use your contact details for the purpose of getting in touch with you about the programme. These details will not be passed to anyone else. We may broadcast your recording on the Breakfast show, or make it available to listen to on the Radio 3 website.
For full details of how the BBC deals with personal information, please see our Privacy Policy.