Main content
The BBC Norman Beaton Fellowship
What is the BBC Norman Beaton Fellowship?
The BBC Norman Beaton Fellowship (NBF) is a flagship initiative run by Radio Drama as a key part of the department's (((soundstart))) actor talent events. Its aim is to broaden the range of actors available to Radio Drama producers across the UK by encouraging applicants from non-traditional training backgrounds. To that end, it complements the BBC Carleton Hobbs Bursary Award scheme that we've been running with the accredited UK-wide Drama Colleges for more than sixty-five years. We aim to offer a Fellowship to a minimum of two actors a year: this is a fixed-term bursary contract with the Radio Drama Company. Up to four runners-up receive single freelance engagements in Radio Drama productions.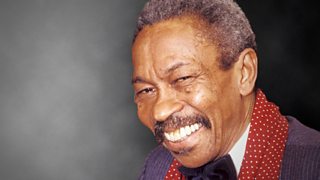 Norman Beaton
The 2003 NBF event was launched with open auditions held across England and attended by over 600 actors, a large proportion of whom came from Black and other ethnic communities. Since 2005, the NBF has been run as a collaboration with a network of theatre companies across Britain who helped our search for talent new to radio. Over the years we have been delighted to work with a wide range of theatre groups and companies including Birmingham Repertory Theatre; Bolton Octagon; Dundee Rep; New Vic Stoke; Tamasha; Talawa; Kabosh, Northern Ireland; Graeae Theatre Company; Yellow Earth Theatre; Theatre Royal Stratford East; The Oval House, London; West Yorkshire Playhouse; Nottingham Playhouse; Citizens Theatre, Glasgow; Contact Theatre, Manchester; Lyric Theatre, Belfast; Menagerie Theatre Company, Cambridge; Theatre by the Lake, Keswick; Sherman Theatre, Cardiff, the Liverpool Everyman; the Eclipse Theatre Company, Sheffield; the Other Room, Cardiff; and the National Youth Theatre Rep Company; and Knee-high in association with Hall for Cornwall. Thirty-three Fellowships have been awarded since 2003.
The BBC NBF is a three stage event. Participating theatres will be announced on this website in early months of 2020. Single workshops take place at dates arranged by the individual theatre groups between late-summer and early autumn. Spaces are limited but further information on individual workshop details should be available direct from the participating theatres. Each workshop may nominate up to three actors for the semi-finals in London held in Mid-October, and from those, up to twelve actors will be invited to the Finals also in London in November 2020. Those offered Fellowships will join the Radio Drama Company in early January 2021.
Terms and Conditions for BBC NBF 2020 are now posted.
Participating theatres will be announced in the early months of 2020. For general enquiries please contact rebecca.wilmshurst@bbc.co.uk.
Who was Norman Beaton?
Norman Beaton was born in Guyana in 1934. Educated at Queen's College in Georgetown, he trained as a teacher, and moved to England at 26. He was the first black teacher employed by the Liverpool Education Authority. His passion for theatre took him out of education.
In his youth he wrote musical plays, playing the lead in Sit Down Banna at the Connaught Theatre in Worthing, Sussex. Over three decades, he took on leading roles at the National, the Royal Court and the Old Vic. His theatre roles included works by Brecht, Pinter, Beckett, Moliere and Gilbert & Sullivan. In 1974, he established the Black Theatre of Brixton –and was also involved in promoting black theatre through organisations such as the Minorities Arts Advisory Service, the Consultative Committee for the Arts Britain Ignores and the Afro-Asian subcommittee of British Actors Equity.
In the 1980s, he became immersed in Television; starring with Lenny Henry in The Fosters -Britain's first black situation comedy series, and in the all-black soap opera Empire Road. But it was for Desmond's that he is perhaps most fondly remembered, as the eponymous Desmond Ambrose to critical acclaim in Channel 4's classic sitcom. For this, he received the Royal Television Society Best Comedy Performer award.
His many productions for BBC Radio Drama include Came from the Sun (1966), Blues for Mister Charlie (1974), Remembrance (1981), The Comedians (1984), Cricket's a Mugs Game (1985) and Benjamin Zephaniah's Hurricane Dub (1988).
More information on the Norman Beaton Fellowship Bursary Award
You might also like...
Paul Jackson tells the story of Channel 4's longest-running sitcom, which featured Norman Beaton as the eponymous owner of a West Indian barber shop.