Main content
What did we learn about Selena Gomez on the Radio 1 Breakfast Show?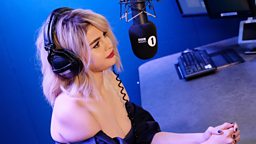 Selena Gomez, most-followed-person-on-Instagram and all round incredible pop star, came into the Radio 1 Breakfast Show studio - and it was EVERYTHING. She showed off her awesome new blonde hair, got us feeling mega festive and revealed some amazing info about her new album.
Read on to find out what went down...
There's an album on the way and it's probably incredible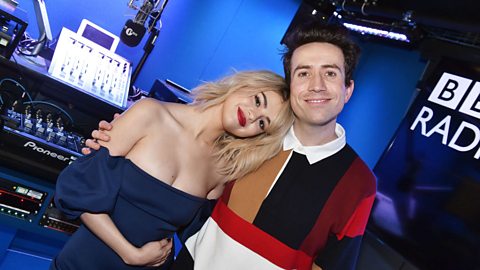 Grimmy talks to Selena about her new album and the inspiration behind it.
While it turns out that, contrary to rumour, Selena is NOT set to star in a remake of Sabrina The Teenage Witch ("That's new information for me!") the Wolves singer did confirm that work on a new album is well underway.
Selena, who has a condition called Lupus (a chronic autoimmune disease) has had a lot to deal with this year. The inspirational star has channeled a lot of what she's been through into her new record, and is also continuing to experiment with her sound.
"I think It's fair to say that people know the year I've had," she told Nick, "And I've poured my heart into my music and I've wanted it to be fresh. It wasn't really about charts for me or numbers, it was more just about what could I creatively do for my music. Yes, I can successfully say that my inspiration for this next album is in full motion and it will be very soon."
We cannot wait to hear it - so watch this space!
"I love surprising people and creating new areas of music I can explore," she continued. "And I get to be present. You know, I was taking some time off for my health and it was good, but now I get to be here, I'll be back. I'll be back here with you and hopefully talking about that album."
She's the perfect Christmas companion
We tend to think it's the Americans who really go all out for Christmas, but Texan Selena was impressed by how festive us Brits get. "It's absolutely necessary," she said, "It makes people happier."
She also revealed what a great time she had at seasonal attraction Winter Wonderland, making us want to be her BFF more than ever.
"I did ride all the rides that were scary, it was so fun," she said. "I did donuts, warm donuts, I had the cheesy chips and I had a soda and uh…yeah I just went for it."
Being Woman Of The Year means a lot to her
Selena was recently named Billboard's Woman Of The Year. As she accepted the award she gave a very moving speech, dedicating it to her best friend Francia Raisa. Earlier this year, Francia donated a kidney to Selena in the ultimate act of friendship.
"I didn't expect to be as overwhelmed as I was," she said, "because I do feel like, right now in my industry, the voice of women is extremely powerful. So maybe I didn't feel as deserving, but at the same time it was so great to be in a room full of women where they're not afraid of their voices."
She's got so much more to give
While Selena is still only 25, she's been a successful actress and singer for a cool 18 years already.
"It's weird it's almost two decades…am I too old?" she joked.
Nevertheless, she still feels like there are so many more exciting things to achieve.
"You know what's crazy, is that a lot of times I don't even feel I've started," she said. "There is so much more, even connecting with people I haven't connected with before."