Main content
Celebrity Laps
It's time for another celebrity to take our reasonably priced car for a spin
Benedict Cumberbatch meets The Stig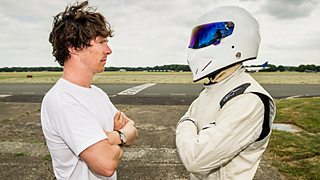 Series 15 -19 | Series 8 - 14 | Series 1 - 7
Each week we invite a different famous person to complete a timed lap around our infamous test track.
The Kia Cee'd, has been ditched and a brand spanking new car has rolled in to take its place.
Time to get those engines roaring.
Check out where all your favourite celebs come in the new Vauxhall Astra each week...
| Celebrity | Times (min) |
| --- | --- |
| Brian Johnson | 1:45.1 |
| Jimmy Carr | 1:45.6 |
| Hugh Jackman | 1.46.1 |
| David Haye | 1:46.7 |
| Warwick Davis | 1:46.8 |
| Benedict Cumberbatch | 1:47.8 |
| Rachel Riley | 1:48.5 |
| Charles Dance | 1.48.8 |
| Joss Stone | 1.48.9 |
| James Blunt | 1.49.4 (F wet) |
| Tom Hiddleston | 1.49.9 (very wet) |
| Ron Howard | 1.49.9 |
| Hugh Bonneville | 1.50.1 (wet) |
| Steven Tyler | 1.51.0 |
| Mike Rutherford | 1.51.5 |