Main content
Salad of Roasted Squash, Green Beans and Rocket in a Coconut and Lime Dressing
Serves 4-6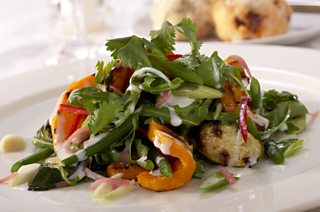 Preparation time 30 minutes
Cook time 20-25 minutes
Our season of squash is becoming longer and longer with an array of colourful vegetables from early autumn right through to the early winter months from pumpkins, acorn and butternut squash which fill our supermarket shelves.
Ingredients
1kg squash – pumpkin, butternut or acorn squash (cut into slices and roasted)
2-3 spring onions – finely sliced
110g/4oz green beans – steamed
1 chilli – finely chopped
2.5cm/1inch root ginger – grated
1 red or yellow pepper – cut into slices
1-2 large potatoes – steamed and cut into slices
To Serve
Rocket leaves
Flat leaf parsley
100m/¼ pt coconut milk
100ml/¼ pt yogurt
1 lime – juice and rind
Method
Prepare all the vegetables – peel the squash and slice into ribbon strips and either steam, boil or roast in the oven with a little oil.
Steam the green beans for 2 minutes, slice the pepper, chop the chilli, grate the ginger, peel, slice and steam the potatoes for 6-7 minutes until soft but firm.
Mix all the vegetables together in a bowl and toss with coconut milk, yogurt, lime juice and chopped chilli.
Serve with rocket and flat leaf parsley.