Main content
Get ready for 1Xtra Summer

This summer, 1Xtra will be at 2019's hottest festivals and biggest parties.
We'll be taking you front row, side of stage and behind the scenes – bringing you some exclusive live performances. Follow 1Xtra on Instagram and Twitter for all the action.
Here's where you can join us at 1Xtra Summer: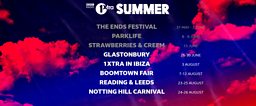 Stay tuned for more details and big announcements.
The BBC is not responsible for the contents of any other sites listed.