Main content
Six things we learnt from Kate Bush on Woman's Hour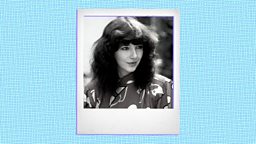 Kate Bush is a trailblazing musician, songwriter and producer. When she was 19, she topped the UK Singles Chart with her single Wuthering Heights, making her the first female artist to get a UK number one with a self-written song.
In a world exclusive interview, she joined Emma Barnett on BBC Radio 4's Woman's Hour. She spoke about her song, Running Up That Hill, reaching number one 37 years after it was first released. She has gained a whole new audience after the song was featured in series four of Netflix's Stranger Things.
She also told us about the original title of the hit song, why she uses an old brick phone and about her new-found love of gardening. Keep reading for six things we learnt from Kate Bush on Woman's Hour…
1. She never listens back to her old music
"I never listen to my old stuff," says Kate. "But then when things like this come along, I'm normally involved in doing an edit or revisiting the track or working on it for some other reason. So I hadn't heard it for a really long time.
"'I think they've put [Running Up That Hill] in a really special place in Stranger Things. We actually watched it from the first series onwards, so I was already familiar with the series. I thought what a lovely way for the song to be used in such a positive way. I think it's very touching, actually."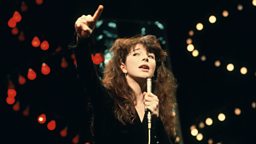 2. She spent lockdown binge-watching TV
"Who wasn't?" says Kate. "When the first series came out, our friends kept saying: 'Have you seen Stranger Things?' So, eventually we just thought: 'Okay let's watch it'. And we've seen every series ever since.
"It's lovely because in a similar way to Harry Potter, where in those early films they were just little kids, and then as it progressed, it became heavier and darker. Those little kids turn into really talented, young adult actors. And you have a different connection with something that's moved through years of watching them grow."
3. She has an old brick phone
"I have a really ancient phone," says Kate. "Very ancient. But I like that, you see. Because I spend a lot of time on my laptop and when I go out during the day, it means I don't have to deal with emails, and everyone knows that. So, I just get texts and calls on my phone and it means that I have a bit of peace."
4. Her iconic song wasn't originally called Running Up That Hill
"It was called A Deal With God," says Kate. "I think they were just worried, the record company, that it wouldn't get played on the radio. That people would feel it was a sensitive title.
"Some of [the songs] have had very strange titles that are working titles that you quickly forget. But I think for me, this is still called A Deal With God."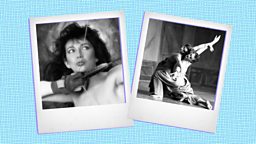 5. She prefers gardening to a kitchen disco
When asked if she enjoys a bit of kitchen disco, or whether she's still into the moves, Kate laughed.
"Gardening is my thing now."
6. She's thrilled to be discovered by a new generation
"I thought that the track would get some attention," says Kate. "But I never imagined that it would be anything like this. It's so exciting, but it's quite shocking really, isn't it? I mean, the whole world's gone mad.
"What's really wonderful is this is a whole new audience who, in a lot of cases, have never heard of me and I love that. The thought of all these really young people hearing the song for the first time and discovering it… I think it's very special.
"I just want to say thank you very much. Thank you to everyone because it's just extraordinary what's happening. And it's very exciting."