Main content
Mass Observation: The amazing 80-year experiment to record our daily lives
10 July 2017
A project to document the daily lives of Britons celebrates eight decades. As WILLIAM COOK discovers, Mass Observation began in 1937 with a bold experiment to take the pulse of a nation. A generation later and the public still continue to share details of their lives with unsparing honesty.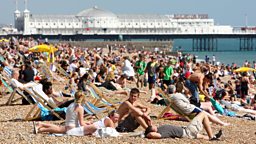 People crowd on to Brighton beach to enjoy the warm weather on 7 May, 2008 in Brighton, England. Photo by Mike Hewitt/Getty Images.
Eighty years ago, on 30th January 1937, the New Statesman published a letter which launched the largest (and strangest) writers' group in British literary history.
An anthropologist called Tom Harrisson, a journalist called Charles Madge and a filmmaker called Humphrey Jennings wrote to the magazine asking for volunteers to take part in a new project called Mass Observation. Over a thousand readers responded, offering their services. Remarkably, this 'scientific study of human social behaviour' is still going strong today.
By finding out what 'ordinary' folk were really doing, and really thinking, they would forge a new society
Mass Observation was the product of a growing interest in the social sciences, and a growing belief that the mass media wasn't accurately reflecting the lives of so-called ordinary people. Instead of entrusting news gathering to jobbing journalists, who were under pressure to provide the stories their editors and proprietors wanted, Mass Observation recruited a secret army of amateur reporters, to track the habits and opinions of 'the man in the street.'
Ironically, the three founders of this egalitarian movement were all extremely well-to-do. They'd all been to public schools and Oxbridge, but this was the 'Age of Anxiety', when capitalism was in chaos and dangerous demagogues were on the rise (plus ça change…).
For these idealistic public schoolboys, socialism was the answer, and Mass Observation was the future. By finding out what 'ordinary' folk were really doing, and really thinking, they would forge a new society, more attuned to the needs of the common man.
Mass Observation selected 500 citizen journalists, and gave them regular 'directives' to report back on virtually every aspect of their daily lives. They were guaranteed anonymity, which gave them enormous freedom. People opened up about themselves (and their peers) to an unprecedented degree.
Even though they were all unpaid, correspondents devoted a great deal of time to this endeavour – writing at great length, in great detail, over many years. As well as its academic value, Mass Observation proved that autobiography is not the sole preserve of the professional writer. For all of us, the urge to record and reflect upon our lives is a basic human need.
The Second World War was the perfect forum for this vast collective enterprise. Mass Observation became a national diary of life on the home front. For historians, the value of such uncensored revelations is enormous. These intimate accounts of air raids and rationing are far more revealing and evocative than the jolly state-sanctioned reportage of the war years.
After the war, Mass Observation became more commercial, supplying data for market research, and during the 1960s this extraordinary experiment gradually wound down. It was rescued from extinction by the historian Asa Briggs.
Mass Observation anticipated our brave new world of blogs and tweets
As Vice Chancellor of Sussex University, he provided a safe home for Mass Observation's archive, and in 1981 he started it up again. Ever since then Mass Observation has been sending out Directives to its 500 correspondents, just as it did in the 1930s, asking them to write about a range of subjects, from the décor of their homes to the political issues of the day.
The archive is still administered by Sussex University, but it's now housed at The Keep, a smart modern building run by East Sussex County Council. It's open to anyone and it won't cost you a penny. All you need to do is register (bring some ID). Falmer train station is a short walk away.
Mass Observation anticipated our brave new world of blogs and tweets, but the internet hasn't dented its mass appeal. Despite the seductive vanity of social media, there are still plenty of people willing to write for free, in total anonymity.
More people write on computers now, and not so many write by hand, but otherwise it's still much the same as it was back in 1937. Even today, with so much information a mouse click away, it's still a thrill to visit The Keep and sift through a big cardboard box of handwritten letters, saying what people thought about the death of Diana, or the Blitz.
Jessica Scantlebury, an archivist at The Keep, took some time out to show me round. "We've got eighty years' worth of personal testimony and personal opinion," she says. "That idea of creating an alternative history is incredibly important."
What makes Mass Observation unique is the number of people who've contributed to the project. And because the same people write again and again, for years on end, it's not just a set of instant snapshots but a series of evolving portraits. Although it's a self-selecting sample, it's still a broad cross-section of the British public. "You get lots of different voices."
The founders of Mass Observation were horrified by what they called "the revival of racial superstition." Hitler, Franco and Mussolini were in the forefront of their minds. "We are all in danger of extinction from such outbursts of atavism," they wrote, in 1937. "We look to science to help us, only to find that science is too busy forging new weapons of mass destruction."
For its founders, Mass Observation was a new science which would build a better future. For its countless correspondents, however, it became something more than that – not merely a social science, but a communal work of art.
The Mass Observation Anniversary Conference celebrating 80 years of the Mass Observation movement runs from 10 to 11 July 2017 at the University of Sussex.
This article has been updated. It was originally published on 31 January 2017.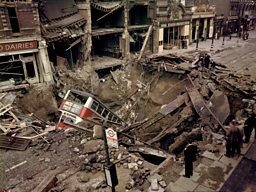 A number 88 bus lies in a bomb crater in Balham, London, 15 October, 1940. The Mass Observation unit rose to prominence with its work documenting life in Britain during WW11.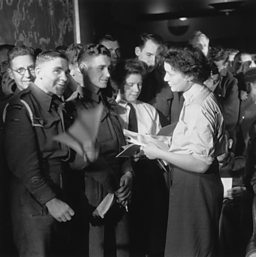 UK research organisation Mass-Observation conducts a survey at the Nuffield Centre, a Service Club in Soho, to find out the preferred 'pin-up girl' of a number of servicemen, September 1944. Photo by Haywood Magee/Picture Post/Getty Images.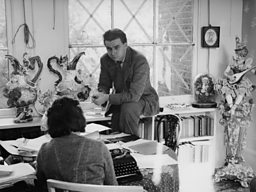 During his life Tom Harrisson was an ornithologist, an anthropologist, and a special forces soldier in Borneo during WWII. Photo by Tunbridge-Sedgwick Pictorial Press/Hulton Archive/Getty.