Main content
19 albums that define 1999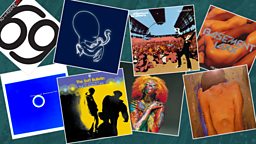 By Jamie Milton and Luke Morgan Britton. First published in November 2019, updated in April 2021.
But which year from the 90s saw the best albums released?
1999 gave us everything from The Chemical Brothers to Leftfield, from Missy Elliot to Kelis.
Take a look at some of the most seminal records from 1999 below...
From 90s indie and Britpop to drum & bass and rave - there's plenty to explore in these special 6 Music 90s mixes.
The Chemical Brothers – Surrender
Through their rise in the '90s – via the tailend of Manchester's Hacienda heydey, hyped-up club nights in central London, and changing the game with big beat – Ed Simons and Tom Rowlands surely never envisaged making a record as universally popular as 'Surrender'. 1997 LP 'Dig Your Own Hole' helped pave the way, melting psychedelia and rousing rock 'n roll with fist-pumping dance, but its follow-up took things to a new level.
The majority of 'Surrender''s tracks still stand tall as landmark moments in the duo's career. Lead single 'Hey Boy Hey Girl' has few peers when it comes to making tens of thousands of muddy festival-goers lose their minds. Noel Gallagher's impassioned vocal on 'Let Forever Be' remains a delight, combining old school psych with modern electronica, and standing up alongside fellow guest contributors Bernard Sumner, Hope Sandoval, and Jonathan Donohue. It's a record of serious depth and dynamism; the likes of which could only be coined by an act who truly earned their stripes via the underground. But it also has the undeniable ambition of a band who want to conquer the world, and it has helped inform every move The Chemical Brothers have made since.
The Flaming Lips – The Soft Bulletin

At the turn of the century, few would have had The Flaming Lips down as one of the following decade's biggest success stories. The Wayne Coyne-fronted group were at the end of label Warner Bros.' tether, having made the ultra-experimental 'Zaireeka' album in 1997, a four-section record intended to be played on separate soundsystems. "We started to make [follow-up] 'The Soft Bulletin' while being very realistic that it could be the last one we ever made," Coyne told NME in 2019. "We weren't even pretending to be aware of commercial viability. We thought that if nothing else, it would stand for us. Nobody can control the music industry but we could control making the record we wanted to. If they kick us off the label then that's that."
What followed is one of the most uplifting, life-affirming psychedelic albums of all time, a record that paved the way for MGMT, Tame Impala and a new age of free-spirited pop, not to mention the licence it gave Coyne to bounce on festival crowds in a giant zorb. Rather than the band sacrificing their experimental side, 'The Soft Bulletin' is defined by it, but it filters wild, frenzied ideas into a coherent end product, its overall message being that life is precious, fleeting and worth grabbing with two hands.
Kelis – Kaleidoscope

Three years prior to her ubiquitous chart hit 'Milkshake', it was 1999 debut album 'Kaleidoscope' that introduced Kelis as one of the most exciting voices in turn-of-the-millennium R&B. Who didn't stand up and take notice at the scream of "I hate you so much right now" on 'Caught Out There'?
The record saw the native New Yorker, then still only 20 years of age, team up with the Neptunes (for Pharrell Williams and Chad Hugo's first full album production credit) and Clipse's Pusha T (then known by the name Terrar).
But it was Kelis' own star appeal, self-assured confidence and futuristic sound (the influence of which can be heard in the music of Janelle Monáe and Ciara since) that truly stood out. "My initial thought was 'She's a f***in' oddity'," N.E.R.D.'s Shae Haley later said of working with the star.
Sigur Rós - Ágætis byrjun

Ahead of 'Ágætis byrjun''s release, the otherwise modest Sigur Rós posted a statement on their website, declaring: "We do not intend to become superstars or millionaires. We are simply gonna change music forever, and the way people think about music." At the time, they had a small following in home country Iceland. Previous album (1997 debut) 'Von' had sold 300 copies. But despite the tongue-in-cheek gravitas of that statement, the band knew they were onto something. An initial 1998 release was pushed back a year, as they perfected the giant, cascading, otherworldly sounds that make up this remarkable album.
Penultimate track 'Olsen olsen' saw frontman Jónsi inventing a made-up language that would go on to soundtrack follow-up album '( )'. 'Ný batterí' is an off-kilter, jazz-infused wonder, defined by the sound of a broken cymbal discovered on the streets of Reykjavik. Brass instrumentalists were asked to make their parts up on the spot. Not to mention Jónsi's ingenious use of a cello bow, which he swept across his guitar in a sawcut motion, to help create the monstrous signature sound of this record. It's an album built on its desire to take risks, try new things and rewrite the rulebook. In the end, they really did change the sound of music.
Suede - Head Music

At a time when Britpop wasn't so much falling out of fashion as limping to the finish line, Suede had one last masterstroke before their brief dissolution in the '00s'. 'Head Music' was a quiet evolution, a groove-filled step forward with a dark backstory. It also found the kind of commercial success Suede were firmly used to (here's a time warp memory: Virgin Megastores changed names of its branches to 'Head Music', just to mark the release of this record). It remains their third and final (to-date) album to top the UK charts.
But by this point in their career, keyboardist / guitarist Neil Codling was suffering chronic fatigue syndrome (he would later leave the band, before the recording of 2002's 'A New Morning'), and frontman Brett Anderson was in the midst of a struggle with addiction. It was only upon 'Head Music''s 2011 re-release that he decided to include the songs 'Heroin' and 'Crackhead' in an extended tracklist – indication that he had demons he didn't want to share back in 1999. And yet this album also served as a blueprint for the Suede we know today; a band still intent on honing their craft when they could simply sit still and enter autopilot mode.
Blur – 13

Blur's sixth album '13' found the band at a crossroads, both creatively and personally. While its self-titled predecessor, released in February 1997, had seen the group deviate from their Britpop sound and veer more towards American-inspired alt-rock, '13' brought further sonic exploration, set to the backdrop of personal heartbreak (Damon Albarn had been going through a well-publicised break-up with Elastica's Justine Frischmann) and heightened tension amongst the band themselves (guitarist Graham Coxon would leave the group during the sessions recording their next album, 2003's 'Think Tank').
"Things were starting to fall apart between the four of us," drummer Dave Rowntree later remarked in the documentary 'No Distance Left To Run'. "It was quite a sad process making it. People were not turning up to the sessions, or turning up drunk, being abusive and storming off." The album channeled all the turmoil though, and the result was the group's most diverse, beguiling and at times - to lend a term from the album's opening track - tender record to date.
Missy Elliott – Da Real World

A crisp, beat-driven strand of hip-hop came to dominate the '00s and infiltrate pop, and much of that stemmed from the dream team duo of Missy Elliott and Timbaland. 'Da Real World' was Missy's second collaboration with the soon-to-be-essential producer. Together – Missy's razor-sharp wordplay set against Timbaland's ingenious samples and flickering hi-hats – they were a formidable pairing.
A darker, more atmospheric beast than 1997 debut 'Supa Dupa Fly', it boasts a cast of special guests that still holds relevance (cameos from Beyonce, Eminem and the late Aaliyah) and a sound that diehard Missy fans wouldn't mind her duplicating on a long-awaited comeback album, whenever that might land.
The Roots – Things Fall Apart

Like A Tribe Called Quest and De La Soul's Native Tongues before them, The Roots' Soulquarians collective of the late '90s brought together a disparate group of hugely creative individuals: Erykah Badu, D'Angelo, Common, Mos Def, J Dilla and more, all of whom feature on 'Things Fall Apart', the Philadelphia group's fourth album.
Roots drummer and de-facto leader Questlove saw the LP as "a do-or-die moment" after a series of critically-acclaimed albums that didn't exactly set the charts alight. He started to host Friday night jam sessions in his living room, convincing the group's label to pay for all the equipment and even the chef from a local restaurant to cater the gatherings. "Pretty much the entire Philadelphia music community turned out for free food and instruments. We pretty much conned everybody into jam sessions," he later recalled.
145 songs came from these jams, with the band finally settling upon a final 18, and the traces of the original free-for-alls are clear on the finished product, as rhythms shift and genres blur, and the huge array of guests all provide their unique strengths (the Erykah Badu and Eve-featuring 'You Got Me' won the group their first Grammy in 2000 for Best Rap Performance). The record would kick off a massive 12 month period for the Soulquarians, with the Roots' work bleeding into D'Angelo's 'Voodoo', Erykah Badu's 'Mama's Gun' and Common's 'Like Water for Chocolate', all released the following year.
Death in Vegas – The Contino Sessions

Any band with clout can pull in big-name guest vocalists. But it takes a special band – and a special record – to hear an album like Death In Vegas' 'The Contino Sessions' and wonder aloud if anyone else on the planet could have sung these songs. Iggy Pop's iconic delivery on 'Aisha', the soul-purging grit of Primal Scream's Bobby Gillespie on 'Soul Auctioneer', The Jesus and Mary Chain's Jim Reid on 'Broken Little Sister', the "la-la-lah" chants of Dot Allison on opener 'Dirge'; it's as if this record was solely constructed as a guest room for these unique voices, who sit pretty on these deliciously dark, sludgy sounds.
Indeed, Death in Vegas' frontman Richard Fearless told The Irish Times in 2000 that they had barely considered anyone else for those guest spots: "We just hoped they would say yes and didn't think any further ahead than that." Thankfully, the invites were promptly snapped up, and we were left with a watertight, expert curation of a nine-track album that frankly couldn't sound different if recorded again from scratch in 2019 – it was just meant to be.
Underworld – Beaucoup Fish

'Born Slippy .NUXX' ushered in a devoted new army of fans for Underworld, all in thrall to the stream-of-consciousness magic of their 'Trainspotting'-soundtracking single from 1996. The electronic titans' eventual response was to showcase their most fully-formed, unpredictable, ground-breaking record to date.
'Beaucoup Fish' is a different beast from the get-go. 12-minute opener 'Cups' starts off as a seemingly smooth, nu-jazz number, floating idly by like everyday background music. But then it breaks out of form, morphing into a frenzy of synth stabs and beat-dodging noise. That's Underworld in 1999 in a nutshell, at the peak of their confidence, with Karl Hyde and Rick Smith teaming up with Darren Emerson one last time, to devastating effect.
Leftfield – Rhythm and Stealth

It might lack the nostalgic pull of 1995's 'Leftism', but Leftfield's 'Rhythm and Stealth' is one of 1999's most subtly progressive electronic gems. This was a signature at the end of a boundary-pushing decade for Neil Barnes and Paul Daley.
It provided a low-key blueprint for the kind of groove-led, dub-nodding electronic music that would go on to define the next two decades. A freshfaced Roots Manuva, then a relative unknown, steers heady opener 'Dusted', before giving way to the industrial, cinematic 'Africa Shox' and the iconic bass thud of 'Phat Planet', the latter of which you hear hints of in Kanye West's 2013 LP 'Yeezus'. The pair's influence shouldn't be understated.
Basement Jaxx – Remedy

For anyone wanting to party like it's 1999 who also happened to be seeking a soundtrack, they were spoilt for choice. Thanks to The Chemical Brothers' maximalism, Fatboy Slim's signature euphoria, and the progressive house and carnival spirit of Basement Jaxx, almost every pre-Millennium house party sounded great by default.
'Remedy' was Jaxx's first full-length after years building a steady underground reputation in London clubs. Saying no to major labels, they signed to independent XL, but their debut still had the chart-busting, pop sensibility majors were courting. This, coupled with the duo's encyclopedic knowledge of dance and all its sub-genres, led to an instantly gratifying work that slowly rewarded upon repeat listens.
On reflection, Jaxx weren't attempting to sound cool or of the moment; there's the genius of combining Spanish guitars with a steady house tempo on 'Rendez-vu', the fact that breakthrough hit 'Red Alert' is built on a slap bassline, of all things. These seemingly odd stylistic choices actually made for one of 99's most daring records, boasting a crazed spirit that had its own identity, far separated from their dance contemporaries.
Mogwai – Come On Die Young

Following the Britpop-fuelled age of 'Live Forever', Mogwai offered a very different statement: 'Come On Die Young.' The Glasgow-based group's second album took its name from a local gang, but it also acted as a full-stop to the mid-'90s' heydey of revelry and largin' it. In '99, when everything was bright, bold and bolshy, this record was an outlier.
It was also a surprisingly sullen, slowed down, almost defiant response to the hype that had bubbled up following 1997 debut album 'Young Team'. Instead of streamlining or even amplifying the noise they made two years prior, they took a more insular step, and found beauty in Stuart Braithwaite's stark, resigned vocals ('Cody'), excerpts of Iggy Pop interviews ('Punk Rock:') and off-kilter crescendo ('Ex-Cowboy'). It's the sound of a band doing things on their terms; a mantra Mogwai still very much uphold.
Sleater-Kinney – The Hot Rock

"The important thing is never to make the same record twice," Sleater-Kinney co-frontwoman Corin Tucker told CMJ upon the release of fourth album 'The Hot Rock' in February 1999. "We have to keep pushing... We want to have longevity as a band, and we have to keep challenging ourselves and doing things we find interesting."
True to their word, 'The Hot Rock' saw the band make an unexpected pivot from the thrashy punk sound they had honed on their first three records. Following on from its scuzzy and frantic predecessor, 1997's 'Dig Me Out', this 1999 LP saw the band's sound grow more intricate, complex and personal than ever before, showing many layers to the group that continue to be so vital today.
The Magnetic Fields – 69 Love Songs

The concept of The Magnetic Fields' '69 Love Songs' is pretty straight-forward and all in the title: a three-part, 172-minute collection of odes, ballads and soliloquies concerned with the subject of love (although band leader Stephin Merritt would argue that it's more specifically "an album about love songs"). The record was penned in various New York City bars which Merritt frequented, with the singer-songwriter telling San Francisco Bay Guardian of its original genesis: "I decided I'd write one hundred love songs as a way of introducing myself to the world. Then I realised how long that would be. So I settled on 69."
Over the subsequent 69 tracks, Merritt navigates every corner of romance, heartbreak and everything in between. At times romantic (like on the classic, ever-lasting The Book Of Love), hopeless (All My Little Words), joyous (The Luckiest Guy on the Lower East Side) and frequently bitingly cynical (I'm Sorry I Love You), the sheer strength, breadth and universality of Merritt's prolific songwriting led The Guardian to write of the album: "It'll have you wondering how you ever survived a broken heart without it."
Tom Waits – Mule Variations

"The only reasons to write new songs is because you're just tired of the old ones," Tom Waits said in a 1999 interview promoting his 12th album 'Mule Variations'. "Throw something out and get another one… Hundreds of melodies and ideas go through your head when you're not writing. You just let them wash over you. When we start writing, we put up a little dam and start catching them. It's the old butterfly net theory."
It had been six years since his last release, his longest period between records at that point, so Waits had experienced plenty of time to let the songs marinate. It resulted in an album that can be seen as a culmination of his artistic wanderings to date, combining the stark and challenging sonics of his later reinventions with the balladry of his early years. Songs like Hold On and Big In Japan remain up there with Waits' all-time classics.
Dr. Dre – 2001

Despite his previous record – 1992 solo debut 'The Chronic' – revolutionising hip-hop with its seamless blend of G-funk and West Coast rap, Dr Dre still felt like he had something to prove as the new Millennium approached.
''For the last couple of years, there's been a lot of talk out on the streets about whether or not I can still hold my own, whether or not I'm still good at producing," Dre told The New York Times in 1999. "That was the ultimate motivation for me. Magazines, word of mouth and rap tabloids were saying I didn't have it any more. What more do I need to do? How many platinum records have I made? Okay, here's the album - now what do you have to say?''
With the confusingly-titled '2001' (yes, in fact released in the year 1999), the former NWA rapper teamed up with old friends (Snoop Dogg, Nate Dogg) and new proteges (Eminem, Xzibit) to create a 22-track epic. More expansive and cinematic than his previous record (Dre compared the album to a movie, saying at the time: "you've got buildups, touching moments, aggressive moments"), and with Dre particularly hungry in his verses (see: 'Forgot About Dre'), it left no doubts over the creator's lasting genius.
Beth Orton – Central Reservation

It's difficult to accurately describe Beth Orton's profound appeal to those unacquainted. One review of 'Central Reservation', her 1999 Mercury Prize-nominated second album, noted how: "Orton's curiously Gaelic vowels, flat-sided and sharp-edged by turns, slither and backstroke through slow-moving streams of guitar, vibes, languid strings and tactile percussion, lyrics melting in a river of aching bliss".
After pairing trip-hop with folk on her landmark 1996 debut 'Trailer Park', Orton stripped things back a bit on 'Central Reservation', opting to instead allow the strength of her songwriting take the spotlight, while also incorporating in more jazz and alt-rock elements. But the record also stands as much more than the sum of its parts, and solidified Orton's cult status. As the same aforementioned reviewer put it: "It's more than just words, it's physical. Feel it and believe it."
Beck – Midnite Vultures

Beck has always been a shapeshifting type of artist, but 'Midnite Vultures' saw him take things to an extreme. Setting out to make "a party record with dumb sounds and dumb songs and dumb lyrics," critics initially didn't know what to make of what they were hearing, with some dismissing it as "just a hipster joke". But with all good jokes, there's a seed of truth there and it's hard not to be won over by Beck's tongue-in-cheek, carefree spirit on 'Midnite Vultures', as he reels through musical styles with zeal.
There's the unwieldy psych-rock of 'Milk & Honey' (featuring Johnny Marr on guitar), the West Coast hip-hop pastiche of 'Hollywood Freaks', the blissfully cheese-laden white funk of 'Sexx Laws' and the 8-bit electro-pop of 'Get Real Paid', while 'Debra' sounds like Prince doing Bowie. Elsewhere, Beck tries his hand at beat-boxing on 'Pressure Zone' and hits some impossibly high falsettos on 'Mixed Bizness'. It's truly the sound of an artist having fun and – more importantly – sounding fun.

On Thursday 22nd April, 6 Music travels back in time again for 6 Music Goes Back To The 00s. Tune in to 6 Music and listen on demand via BBC Sounds
From 90s indie and Britpop to drum & bass and rave - there's plenty to explore in these special 6 Music 90s mixes.
Discover classic 90s albums