Main content
When you feel that your grief doesn't count
Scots Makar - Scottish National Poet - Jackie Kay guest edited Woman's Hour with Jenni Murray
As part of the programme Jackie talked about complex grief. When you're made to feel that your grief doesn't count, if you're outside of the family or the family arrangements and you can't decide whether or not you should go to the funeral. Jackie talked honestly about how she felt this complex grief at the death of her birth mother.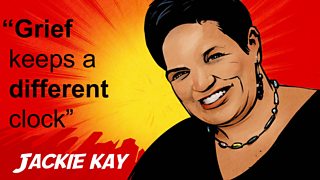 Psychotherapist and agony aunt Philippa Perry offered her advice if you're faced with this kind of grief.
Why might you feel that you're not heartbroken enough or are totally overwhelmed by grief?
"Feelings are like the lights on a car dashboard. They're to inform you where you are at. You can have some feelings and not understand them because you haven't processed them into words. Whatever feelings you have aren't good or bad. You can't have the correct feeling."
How to decide whether to go to the funeral
"In the case of a lover – it depends whether your lover wanted you to keep the relationship a secret or not. In the case of a child who was born before a mother made a family – I can't see why you wouldn't be able to partake in that deep meaningful ritual of a funeral."
"There isn't more or less entitlement with grief – you grieve as you grieve. In fact you might grieve more because you're grieving for what you haven't had, you're grieving for an idea."
Do your own ritual
"If you decide not to go to the funeral you can have your own ritual: take a possession owned by the deceased and perhaps have a cremation of that object, or put something on the river and watch it float away."
Why is it so vital to mark a ritual
"Sometimes it's only when you go to the funeral and take part in the ritual that makes it real. When you're joined together with others in grief it touches a part of you that can't be touched in any other way."
Kim Cattrall, Nimko Ali, Bishop Rachel Treweek, Michelle Mone and Jacqueline Wilson takeover the editing of Woman's Hour.

Lauren Laverne and guests in intimate, frank and funny late night conversation.