Main content
The real-life addicts who inspired Trainspotting
Twenty years on from Trainspotting's cinema release, BBC Radio 4 documentary Choose Life tells the stories of the real-life recovering addicts who inspired the filmmakers and actors… and who even performed cameo roles in the opening scenes.
The soundtrack erupts with Iggy Pop's pulsating Lust For Life, and the famous "Choose life, choose a job, choose a career" monologue.
On the screen: a street chase, a car skids to a halt… squalor, heroin paraphernalia, syringes piercing veins… and then: a farcical game of football.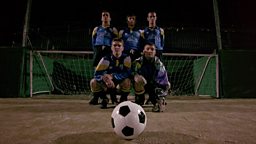 Calton Athletic as they lined up in Trainspotting
Within the first couple of minutes of Trainspotting, the lead characters (played by Ewan McGregor, Ewen Bremner, Johnny Lee Miller, Kevin McKidd and Robert Carlyle) are seen to be completely outclassed on the pitch by an unnamed five-a-side team. That team is Calton Athletic, and then, as now, they consisted entirely of real-life recovering addicts.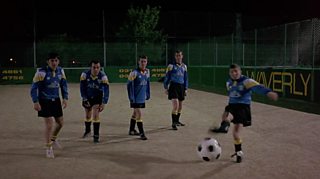 Colin Nelson's 'moment of glory'
Colin Nelson, one of their number, soon achieves what he now refers to as his "moment of glory": "The director [Danny Boyle] wanted us to strike one of the main characters with a free kick. Everyone else gave it a go, but they kept missing. So I stepped forward, kicked the ball, and it hit Ewan McGregor straight in the face. I'd like to say this made him good looking! But it was simple as that: everyone else missed, and I did it in my first shot. I was probably Calton's worst player at the time, it was pure luck more than anything."
Back then, Colin was relatively new at Calton Athletic. After several years of drug and alcohol addiction he had made the decision to go straight, and to get himself fit. He attended the charity's weekly recovery meetings, and that's where the association with Trainspotting began.
"In 1994 the production team approached Calton Athletic to advise them about making the film as realistic as possible," Colin says. "Our members are all recovering addicts so there probably isn't anything we don't know about addiction, the depths to which it will take you, how it will affect your family, and everything in your life. So we agreed to help.
I stepped forward, kicked the ball, and it hit Ewan McGregor straight in the face."

Colin Nelson
"Danny Boyle brought some of the cast to Calton Athletic's meetings to listen to our stories and experiences and to learn a bit about addiction. They were blown away by the honesty in the room."
Another of those who attended the meetings in Glasgow's East End was the film's scriptwriter, John Hodge. "Their honesty informed the actors a great deal," he explains. "It inspired them to be 'real'. And being real, when portraying heroin addicts, is not just a question of being a victim; it's having a sense of humour for example. That was considered outrageous, that these people could have a defiant, dark sense of humour. But we got that very strongly from Irvine Welsh's book and then again from Calton Athletic."
Throughout filming, members of Calton Athletic were positioned on set behind-the-scenes to provide 'special technical advice' (e.g. explaining to the actors how they would inject heroin). In the film's closing credits they are thanked "for their inspiration and courage".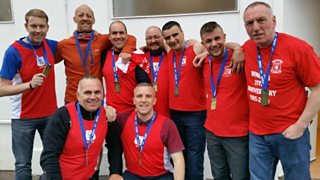 Calton Athletic today
The relationship between the filmmakers and the charity didn't end there though, as Trainspotting producer Andrew MacDonald explains: "We gave them a portion of the film's profits, and we still pay that royalty, which they use as they see best. We've also organised fundraising events and charity football matches involving some of the actors. Calton Athletic are trying to run something really worthwhile; financially it's always a problem for them, they just want to help people in this situation."
Meanwhile, Colin Nelson remains an active volunteer at Calton Athletic, offering advice and support to fellow members of the group, especially to new recruits. He has been clean for more than two decades, but still describes himself as a "recovering" addict.
"In recovery you have to strip yourself bare and build yourself back up again," Colin explains, "and that's not easy. It takes time and it's a painful process. But there's no better feeling in the world than sharing your experiences with like-minded people, people who are prepared to be honest. That's the only way to do it."
Listen to Choose Life on BBC Radio 4 at 11am on Friday 19 February and then online.
More from Seriously...
The team of recovering addicts who made their mark on cinematic history.

David Aaronovitch on how an Eastern political tract became a Western icon.

David Bowie's interviews reveal his humour, passion and determination to succeed.

Did Nazi leader Hermann Goering have a brother who saved innocent lives from the Holocaust?

A selection of great female authors who have radically altered the genre.

Dream away those mid-winter blues by pondering our selection of fantasy idylls.

Mat Fraser meets the former striptease stars back on the stage in their 70s and 80s.

The legendary radio maker recommends seven great documentaries for Seriously...

A poetic retelling of the Orpheus myth, from the celebrated writer Neil Gaiman.

An aspiring singer-songwriter meets the man who predicted the demise of the music industry decades ago.

What have you learned from our documentaries? Try our fiendishly difficult quiz...

Kellie Redmond explores Disney's fascinating contribution to the war effort.

The Simpsons star, satirist and actor reflects on the flood that devastated his home town of New Orleans.

Meet five codebreaking women who helped beat the Nazis and are still alive to tell their tales.

Seven reasons to love the modern melodic drum that creates a haunting tone.

The award-winning writer on porpoise dissections, stranded whales and beached dolphins.