Main content
Flightmove - we flap, so you don't have to!
Eggs-cited about the future? Chicks due any minute? Looking for your ideal nest? Don't brood, browse these great homes...
Hacienda del stinko, Uruguay
A cliff top home with spectacular views and ideal for families who enjoy living in close-knit groups.
Currently home to a family of turkey vultures, so the premises sadly do not boast a lavatory owing to the present owners' habit of defecating down their own legs.
Please contact the agent to arrange a viewing as the current occupants are likely to vomit semi-digested meat in self-defence.
Would suit a couple with a poor sense of smell.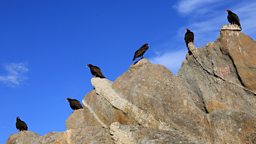 Turkey vultures
Dunspitting, Indonesia
Compact, high rise apartments built on the wall of a dark cave.
Many original features. Constructed using traditional building methods and materials, principally the saliva of the current swiftlet owners.
If you buy this property, your home may be at risk due from the highly profitable trade in bird's nest soup.
Michael Palin introduces the black-nest swiftlet deep inside an Indonesian cavern.
Hideaway, Papua New Guinea
If you like the quiet life, this secluded treetop residence is for you.
As is typical of hornbill residences, it is a heritage home built into a tree trunk. For added privacy, the entrance has been sealed with mud and faeces.
Ideal for anyone looking for somewhere to breed, moult or hide from carol singers.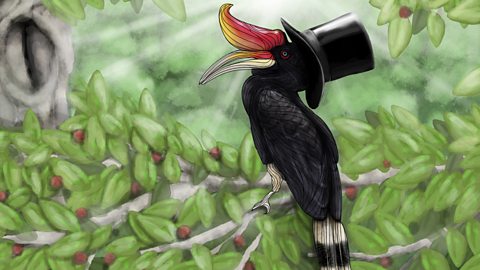 A Hornbill struggles with fatherhood: "This sounds horrible, but they're so ugly!"
The Love Nest, Australia
Suitable for anyone who enjoys a glamorous lifestyle, this incredible dwelling has been lovingly created by the present bowerbird owner. It is decorated with a spectacular array of feathers, stones, berries, shells, leaves, discarded plastic and flowers.
This would make an ideal starter home for a couple. Owner selling due to recent divorce.
89a, The Commune, Namibia
If you're communally minded and would enjoy living closely alongside several other sociable weaver families, why not consider taking this nest-within-a-nest?
Number 89a is comfortably situated within this large structure in the trees.
The Commune is a Neighbourhood Watch area, maintained and repaired by the community. Bring your own guitar.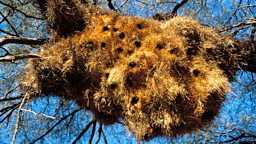 Sociable weaver nests
Sew Pretty, South East Asia
Arts and Crafts fans will just love this tailorbird home, comprising a large leaf, beak-stitched with spider silk.
The interior of this delightful refuge is constructed within the arched framework of the leaf.
Ceiling height is limited and this property is recommended for the petite. Ostriches need not apply.