Main content
'Mars' from 'The Planets' by Gustav Holst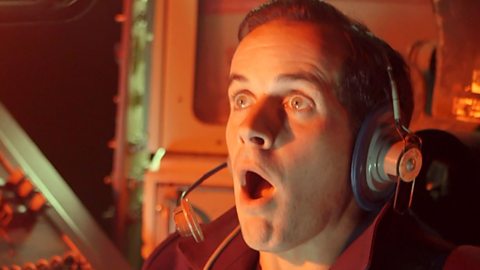 Dick and Dom explore Holst's piece about war from the cockpit of a spaceship.
Gustav Holst was a British composer best known for his orchestral suite 'The Planets'. A suite is a group of individual pieces. There are seven pieces in 'The Planets' and 'Mars, the Bringer of War' is the first one.
In ancient Roman religion Mars was the god of war. Holst composed this piece in anticipation of the outbreak of World War One. It's a march but an unusual one. Normally a march has 4 beats in a bar so you can say "left, right, left, right" but Mars has 5 beats in a bar; tricky to march to!
Listen out for: The opening two harps, strings playing with the wood of the bow, timpani using very hard-headed sticks and the gong. There's also a solo from the euphonium.

Watch the introduction film at the top of the page then starting exploring the music:
Watch the full performance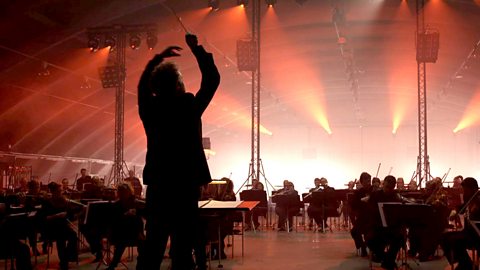 Watch a full orchestral performance of 'Mars' from Holst's 'The Planets'.
About the composer
GUSTAV HOLST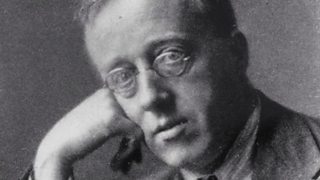 BORN: 1874 / DIED: 1934 / NATIONALITY: British
Gustav Holst was a British composer living and working in London 100 years ago. He was a very interesting man. He was fascinated by space, astrology, religion, meditation and vegetarianism - in many ways he was completely ahead of his time. Music ran in Holst's family and so it wasn't a surprise to his parents when he decided to learn the piano. Sadly an injury to his arm meant that he had to give up and so he took up composing and, because it made more money, he played trombone in theatre bands. His biggest success came with his Planets Suite - a set of pieces for orchestra that describes the character of each planet. Holst didn't like the fame that this piece brought him. He wouldn't sign autographs, do interviews or accept awards and as the years went by he spent more and more time teaching. He inspired many young composers.