Main content
De La Soul revisit their 1989 masterpiece '3 Feet High and Rising': "Our music brought people together"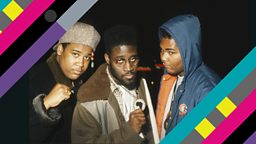 Published Wed 17 June. Image: Getty
Steve Lamacq's #6MusicAlbumClub hits play on undisputed classics, giving 6 Music listeners the chance to revisit and discuss their favourite albums in full.
Lammo's playback of De La Soul's debut, the hip-hop masterpiece '3 Feet High and Rising' is available to hear now on BBC Sounds.
Released on 3 March 1989, it's a sprawling, psych-fused voyage, packed with clever skits, an encyclopaedia of samples, and some of the most iconic hip-hop tracks of the past few decades, including 'Me Myself and I', 'Change in Speak' and 'The Magic Number'.
Lammo plays De La Soul's 1989 hip-hop masterpiece in its entirety.
Here's what Kelvin "Posdnuos" Mercer and Dave "Trugoy the Dove" Jolicoeur from the trio had to say about the record, in an archive interview with Lamacq...
The album came together through endless practice sessions
Jolicoeur remembers practicing in his basement, as well as fellow member Maseo's mum's house. "We always made tapes," he recalls, describing the group's DIY spirit.
De La Soul took off when the trio were still studying. They found managers, who told them: "'Look – we have a tour coming, you can either leave this alone or make money," Mercer recalls. "I was like: 'Let's make money!' But it was hard on Maseo because he was in his last year of high school. He would have to fly home to take a test."
By the time it came to making a record, those practice sessions paid off, as they had a big "framework" of material to work with. "Of course '3 Feet High and Rising' came together organically, but we had so many notes," he tells Lamacq. "Like… 'Here's a title! Here's a concept! We've sampled this! But when we finally got to the studio, it just happened." The album was made on a reported budget of $13,000.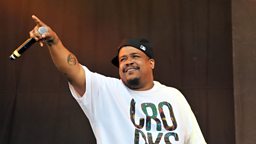 It's epic, because they didn't know when to stop
Like kids in a playground, De La Soul's first experience of recording and mixing an album was revelatory. '3 Feet High and Rising' ended up spanning 24 tracks, with sample-tastic songs crammed together by humorous skits.
"I think there was a point where we just kept on going," remembers Jolicoeur. "We definitely didn't know when to stop," admits Mercer. "When we were mixing the album, we came up with the game show idea," he adds, referring to the LP's concept of progressing like a televised game show. "We'd cut all the records and we were still thinking. It was like: 'We need to sew this album together.' And that was it!" Al Watts, who mixed the record with Prince Paul, provided the voice of a fictional game show host. It was a constant hot-bed of creativity.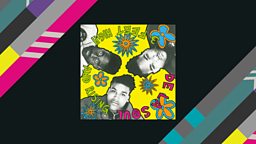 De La Soul are proudest of the LP's unifying power
"We grew up in a neighbourhood where everybody went to the same school – white, black, Asian," remembers Jolicoeur. "We partied and hung out, we went to keg parties and the white kids had reggae or hip-hop jams in the basement."
"Coming from that, it was kinda cool to see our music do that as well," he says. "What I'm personally most proud of: Going into a club and seeing white, black kids, everybody – just partying and jamming together. I'm 19 on stage but I see a 45-year-old white guy from London partying with us. That's the coolest thing in the world. Our music brought people together. It was really important for us in terms of growing as bigger and better people."