Main content
The Fourth Dimension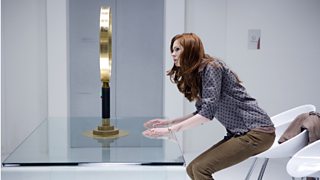 The Girl Who Waited
The episode's original title was The Visitors' Room. This changed to The Visiting Hour and later, the one-word title, Kindness. Despite many reports to the contrary, there was no late change to the adventure's title and at no point was it ever called The Green Anchor!
We glimpse a painting that looks very much like the Mona Lisa... In series three of The Sarah Jane Adventures, in a story entitled Mona Lisa's Revenge (first shown Thursday, 12 November and Friday, 13 November, 2009) the painting came to life! It also featured in City of Death.
The read through for The Girl Who Waited took place in BBC Wales' Upper Boat Studios on the afternoon of Wednesday, 9 January, 2011.
Karen Gillan studied with a voice coach and movement coach to ensure her depiction of the older Amy was definitively spot on. Matt Smith called her performance in The Girl Who Waited 'absolutely fantastic' and suggested it was her best work to date on Doctor Who.
Writer Tom MacRae has said that one of the scariest Doctor Who moments for him personally, was a scene in The Trial of a Time Lord where Vervoids attack a man using deadly seed pods delivered from their hands. He speculated that the idea of hands being frightening may have subconsciously inclined him to create the Handbots.
This is the first episode of Doctor Who directed by Nick Hurran. His previous credits include The Last Detective, starring Peter Davison and he directed all six episodes of the 2009 version of The Prisoner. Tom MacRae commented, 'When I heard it was him [directing] I knew it was going to be amazing.'
The first draft of the script contained the speech where Amy talks about Rory being the most beautiful man she's ever met. Although not vital to the plot, executive producer Beth Willis loved this section, so much so that she mentioned to writer Tom MacRae that whatever happened, those lines should make it to the final version.
The Girl Who Waited refers to the fact that the Doctor has two hearts. This was first established in Spearhead from Space. As the Third Doctor lies unconscious in hospital, a medical doctor checks out an X-ray taken of the Time Lord's torso and is more than a little puzzled to discover the patient has a second heart!
Almost every line in this story is spoken by a regular character, in other words Amy, Rory or the Doctor. This is rare but not unique. The First Doctor adventure The Edge of Destruction featured only the Doctor and his companions and took place almost entirely within the TARDIS.
Amy is trapped in a quarantine facility for victims of an alien plague. Can Rory save her before she is killed by kindness?