Main content
Seven Inexpensive Ways To Improve Your Home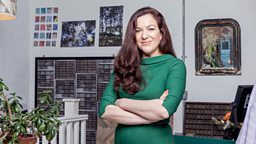 Cutting-edge BBC Two programme Your Home Made Perfect reimagines renovations using architectural mapping and virtual reality before homeowners commit to a rebuild in real life.

While many home improvements can be costly, architect Laura Jane Clark shares seven ideas that won't break the bank.
1. Take inspiration from original materials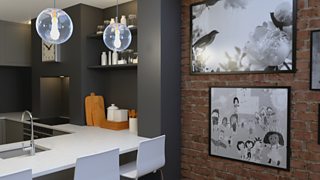 If you're keen on an exposed brickwork wall, Laura Jane says a nice starting point is to look at the brick colour: "It's about materials you find in a Victorian terrace - so lots of red brickwork".

She recommends looking at the original bricks for inspiration and picking out complementary colours to use as accents in your overall colour scheme. "A deep black or a warm grey, it just brings it all altogether," she says.

These principles can be used with lots of different materials, so you can find the right hues for your home.
2. Find cheaper window and door frame options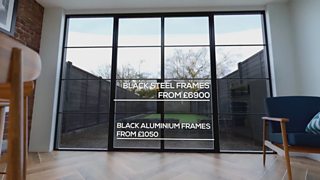 An industrial interiors look is very easy to achieve but can also be expensive, especially if you're looking at steel-framed doors or window frames.

However you can get the same effect using aluminium pressed profiles, says Laura Jane.

"Steel framed doors are so elegant and so beautiful, and do come in double-glazed options. Aluminium is not quite as thin, but it's about creating a feeling that will last."
3. Choose sustainable products for finishing touches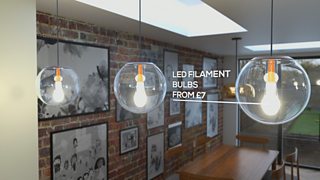 Bookshelves, cupboards and other wooden finishes can look great when they're made from salvaged wood, stripped back to the original grain.

Old fashioned bare filament bulbs are another on-trend look, but look for the energy-efficient LED versions.

"LED bulbs are a beautiful bit of engineering – they're just fab'' says Laura Jane.
4. Create a chevron floor effect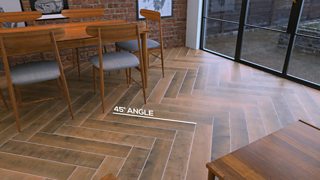 Give a nod to a building's industrial past with a chevron wood floor.

Solid, bleached oak planks are joined to create the perfect zigzag – to achieve the same look on a smaller budget, use engineered flooring.

"I set out my chevron floors to make sure that when you start you get a clean line on one wall and they all point the same way," says the architect.
5. Connect with outdoor space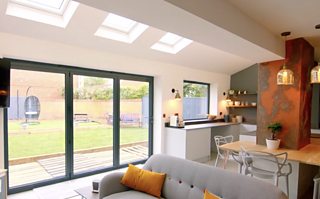 Bringing the outdoors inside and creating a light-filled space is important for people who are used to a lot of wet weather.

"By having skylights, or patent glazing and a nice big bifold door, you get that connection," says Laura Jane.
6. Create a chalkboard wall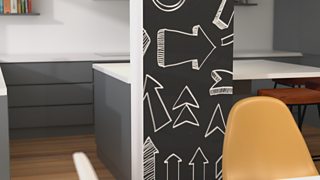 For a cheap yet easy way to create a fun focal point in a room, or make an otherwise dead space usable, a chalkboard is easy to create using special paint on a wall or a sheet of MDF.

A sound, well-prepared surface is key to good results.

Use dark grey chalkboard paint instead of black for a softer effect.
7. Hide your utilities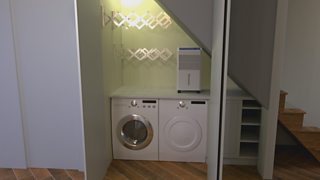 Renovations often require finding a new home for your washing machine, tumble dryer and clothes airer to free up space in the kitchen.

In some houses you can create a cupboard or small room in the space where there used to be a boiler system. Or a perfect spot is under the stairs. This handy space can be used to keep those items that you want within easy reach but out of sight.

And if you feel like splashing out you can even include a dehumidifier (plumbed in of course).