Main content
Key Stage 1 Music: History - Famous people - Info
These web pages combine KS1 Music and KS1 History in a fun, time-travel journey through more than 500 years - spanning Christopher Columbus to the present day! There are 13 songs in total, each devoted to a 'famous people' from the Key Stage 1 History curriculum.
A musical journey through history
Children use their imaginary pocket chronometers to travel through time to different historical periods from the 15th century through to the current day.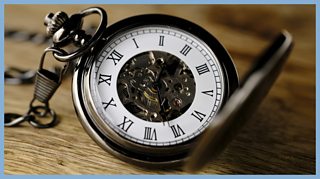 Along the way we meet many 'Famous people' from the Key Stage 1 History curriculum - including Christopher Columbus, King Henry VIII, Queen Elizabeth I, Samuel Pepys, Wolfgang Amadeus Mozart, Mary Anning, Isambard Kingdom Brunel and Queen Victoria, in a chronological journey helping children understand how one historical period follows another.
Using the History - Famous People web pages
The content for History - Famous People is structured as nine content or episode pages, with five episodes containing one song, and four episodes containing two songs.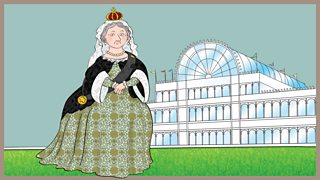 Queen Victoria features in Part 8
Each of the historical periods / famous people included are clearly flagged and the content has been arranged in such a way that you should find it possible to dip between historical periods, linking the songs on offer to your own topic work.
Each episode page includes the following resources (with links to examples from Part 1 'Columbus and Magellan'):
Additionally there is a Clips page where all of the video content has been aggregated and a Resources page where the following additional resources can also be found:
Use the Tutorial to begin learning each song: our presenters Wayne and Jenny guide pupils through each song methodically, giving extra attention to any difficult passages or activities in groups.
Use the Full vocal and Backing track versions of the songs to revise them in preparation for a performance.
In the Teacher's Notes you will find information supporting each of the content pages, with suggestions for follow-up activities including developing composing activities for each historical theme and suggestions for using the listening music.