Main content
9: Mi gente
My people
Charlie and Quique spend the morning at school and all the pupils talk about their best friends. After lunch, Sofía tells them a story about people who are different but who are still best friends and Uncle Manu also sings about friendship. Key vocabulary and grammar focuses on school subjects and help with describing other people.
Dual transcript / translation for Clips 33 - 36 (pdf) including links to the online audio clips
Clip 33: El cole
School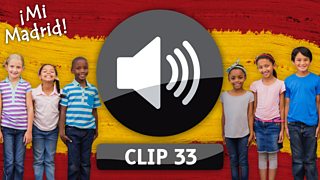 Quique and Charlie are at the school where the teacher asks the class to describe their best friend and his/her favourite subjects using the phrase le gusta/le gustan. They also use va a ser to talk about the future.
Clip duration: 04 12
Clip 34: Cuento - Somos diferentes
Story - We're all different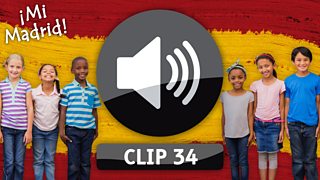 Amad and Neus come from different backgrounds and like different things but they are still best friends.
Clip duration: 03 50
Themes, Vocab and Grammar
| Themes and vocabulary | Grammar and pronunciation |
| --- | --- |
| describing what you like and dislike doing | using infinitives |
| school in Spain | the names of school subjects in Spanish |
| describing your friends | words to describe a person's character |
| giving opinions | putting infinitives and opinions together |
Clip 35: En casa
At home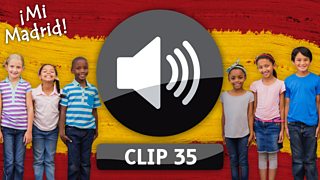 At home after school, Quique and Charlie discuss the differences between school in Spain and in England. They talk about school subjects and then Charlie uses her new vocabulary to describe Quique.
Clip duration: 04 36
Key vocabulary 1
| Spanish | English |
| --- | --- |
| cantar | to sing |
| charlar | to chat |
| dibujar | to draw |
| escribir | to write |
| escuchar música | to listen to music |
| ir a conciertos de música | to go to music concerts |
| ir al cine | to go to the cinema |
Clip 36: Canción - Amistad, amigos para siempre
Song - Friendship, friends for ever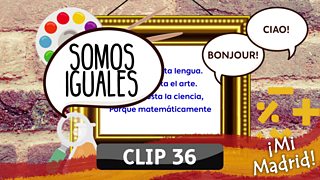 A song about being friends with someone even though you are different and like different things.
Clip duration: 02 37
Key vocabulary 2
| Spanish | English |
| --- | --- |
| amable | friendly |
| creativo/a | creative |
| feliz | happy |
| generoso/a | generous |
| inteligente | intelligent |
| reservado/a | reserved / shy |
| valiente | brave |