Main content
Paradise lost: Paul Gauguin's quest for the exotic in Tahiti
17 September 2018
Paul Gauguin is a divisive figure. A libertine renegade who sacrificed Western society's comforts in a quest for artistic purity in the South Seas. Or a morally decadent self-publicist who perpetuated exoticist clichés and used his status to exploit the women of this 'paradise'. Or both?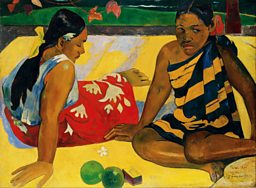 Parau Api. What's new?, 1892. by Paul Gauguin / Getty Images
Continuing his exploration of the collision of the West and Pacific culture in Oceans Apart, in the second episode James Fox explores how, ever since Captain Cook's voyages 250 years ago, the West has created a myth of Polynesia as paradise.
In 1890 Paul Gauguin needed a miracle. His wife had abandoned him, and taken his children with her. His old friend Vincent van Gogh had killed himself. His career as an artist had stalled. And he was penniless. So he hatched a plan, which he announced to his estranged wife in a letter.
"May the day come... when I can flee to the woods on a south sea island, and live there in ecstasy, for peace and for art. With a new family, far from this European struggle for money. There, in Tahiti, in the silence of the lovely tropical night, I can listen to the sweet murmuring music of my heart, beating in amorous harmony with the mysterious beings of my environment."
Gauguin had bought in to an old myth about Polynesia that went all the way back to the time of Captain Cook. A tropical paradise: a land in which the living was easy – and so were the women. In March of 1891, Gauguin boarded a ship called the Oceania and left Europe, he hoped, forever.
Gauguin arrived in Tahiti three months later. But it felt far more like Europe than he had anticipated. It was filled with French people. French buildings. French newspapers. And exorbitantly priced French wine.
After three months he moved out of the capital to the countryside, and built himself a traditional hut, with reed walls and a thatched roof. Gradually Gauguin fashioned his own fantasy paradise. He learned a few words of Tahitian. He got to know his neighbours. He spent lots of the time walking around naked. 'Bit by bit, step by step' he said, 'civilisation is peeling away from me'.
Gauguin's experience wasn't as authentic as he liked to claim. But it inspired a number of intoxicating paintings.
Early Tahitian paintings, 1891-1892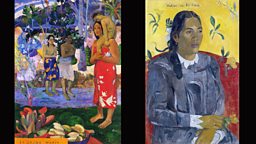 Ia Orana Maria, 1891 and Vehine no te tiare, 1892 by Paul Gauguin | Getty Images
Ia Orana Maria means 'Hail Mary' in the local language, and it was Gauguin's first major Tahitian canvas. Painted in 1891, it shows the Virgin Mary and the young Christ as Tahitians, surrounded by bare-breasted worshippers and ripe fruit.
And Vehine no te tiare was his first Tahitian portrait. It shows a beautiful woman staring evocatively into the distance as exotic flowers rain down around her. The sitter was so overwhelmed by Gauguin's decision to paint her that she insisted on wearing her Sunday best: a European-style dress that she normally reserved only for church.
Both of these paintings capture Tahitians at a crossroads, between old and new, indigenous and colonial cultures. But Gauguin established a style that nevertheless resonated with his new surroundings – rich colours, decorative patterns, and of course mesmerizing female subjects.
Faa Iheihe, 1898

Faa Iheihe, 1898 by Paul Gauguin | Photo credit: Tate, Art UK. Distributed under a CC BY-NC-ND 4.0 licence / Sometimes subtitled 'Tahitian Pastoral'; Gauguin wrote in 1898, 'My latest important paintings attest to this – I realise that I have not yet said all there is to say here in Tahiti.'
And yet Gauguin's interests weren't only aesthetic. Like many Europeans before him, he took advantage of the local women. Over the course of two visits to Tahiti he slept with innumerable locals. He married three of them: one was thirteen years old, the other two both fourteen. He abandoned one, had children with two, and infected all three with syphilis.
He depicted one of these wives in this extraordinary picture, Nevermore.
Nevermore, 1897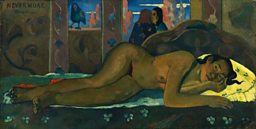 Nevermore, 1897 by Paul Gauguin | Photo credit: The Courtauld Gallery, Art UK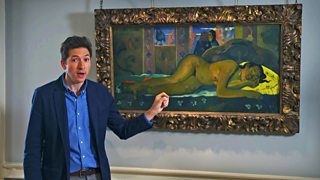 The public voted this the most romantic painting in Britain in 2010... as far as I'm concerned this painting is deeply, deeply disturbing.

James Fox
In the second episode of Oceans Apart, James Fox views Nevermore at The Courtauld Gallery in London: "This is a portrait of Ahura. Gauguin married her when she was 14 years old. A few months before this painting, when she was 15, she gave birth to his daughter. Tragically the baby died after only a few days and Ahura understandably sunk deep into depression.
"Her eyes, which look swollen from tears, stare hopelessly into space. But what I find particularly touching and also quite alarming is how young she looks. She is reacting to this tragedy not as a woman but as a girl. After all what do teenagers, what do 15-year-olds do when they get bad news. They run up to their bedrooms, they slam the door, they collapse on to their bed and they curl into a ball. That is precisely what Ahura is doing.
"But this painting in truth isn't really about her. Paul Gauguin's art is always about Paul Gauguin. In 1897, he too was suffering from depression and this image is drenched in his own misery. The murky colours, the bright red fabric that pulsates like blood, the skulking woman in the background gossiping or perhaps even plotting and, most unsettling of all, the large malevolent bird perched on the window ledge staring down at the grief-stricken girl and cursing her and him for eternity.
"Gauguin doubtless got his idea from Edgar Allan Poe's famous poem, which described a raven appearing one night at the author's home and tapping at his bedroom door. The only thing the raven ever said, over and over again, was 'Nevermore'. A few years ago the public voted this the most romantic painting in Britain. I cannot for the life of me understand how they reached that conclusion, because as far as I'm concerned this painting is deeply, deeply disturbing."
This darkness had begun to pervade Gauguin's life. By the time he painted Nevermore he was increasingly unhealthy, and felt his life was coming to an end. In the same year, he made his most ambitious Tahitian painting.
In English it is is called Where Do We Come From? What Are We? Where Are We Going?
Where Do We Come From? What Are We? Where Are We Going?, 1897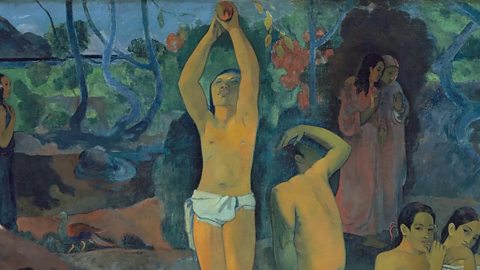 James Fox examines Paul Gauguin's masterpiece.
Almost four metres wide, it was the culmination of Gauguin's personal mythology. Read from right to left, it describes the cycle of life from infancy and youth, through to maturity, old age. And finally the world that lies beyond death, as embodied by the blue idol. Gauguin wrote: 'I believe that this canvas not only surpasses all my preceding ones, but that I shall never do anything better'.
It is indeed a hybrid masterpiece: an unforgettable combination of ancient and modern, Oceania and the West. But this paradise contains the seeds of its own corruption.
Te Rerioa, 1897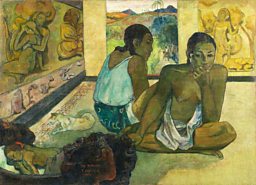 Te Rerioa, 1897 by Paul Gauguin | Photo credit: The Courtauld Gallery, Art UK / Gauguin meant this subject to be unclear. He wrote: 'Everything is a dream in this canvas: is it the child? is it the mother? is it the horseman on the path? or even is it the dream of the painter!!!'
Shortly after completing Where are we going?, Gauguin tried to take his own life by arsenic poisoning in the hills above his village. He drank too much of it and simply ended up making himself horribly sick. He was treated in the local hospital after he made it back to town. His life dragged on for another six years, spending the final two elsewhere in Polynesia. He died in May 1903, never returning to Europe again.
James Fox concludes, "Gauguin was a complicated person. And his time in the Pacific is particularly controversial. Some people think he was a noble explorer, one of the first people to properly engage with Polynesian society and culture on their own terms. But others think he was a seedy sex tourist. A man who objectified and exoticized this part of the world for his own ends. It is, as ever, a bit of both. But one thing I think is certain. Gauguin reinvigorated the old myth of Polynesia for the modern age."
Watch the second episode to find out more about how these islands were re-imagined, from the Arcadian landscapes depicted by Cook's on-board artist William Hodges, through the art of Paul Gauguin and on to the tacky holiday idyll of modern Hawaii.
And how some indigenous artists are fighting back, reviving the traditional cultures of Polynesia and using art to protest against the objectification of its women.
Areazea no Vazua ino, 1894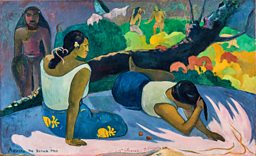 Areazea no Vazua ino, 1894 by Paul Gauguin / Getty Images
Arts highlights on BBC iPlayer
Watch 12 mesmerising performances from Dancing Nation, a sampler of UK dance in all its forms.

Chizzy Akudolu presents a new collection of dramatic short films.

The Oscar-nominated actress gives a singing masterclass.