Main content
Exhibit B: Edinburgh's controversial art show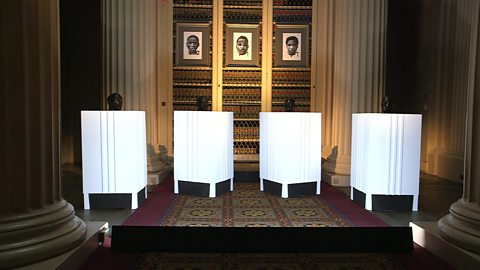 Director Brett Bailey discusses his work at the 2014 Edinburgh International Festival.
Moving, vital, disturbing, unbearable, essential… just some of the words reviewers have used to describe Exhibit B, the most controversial work at 2014's Edinburgh International Festival.
The show was also due to run at London's Barbican from September 23-27 but was cancelled after protests were held outside.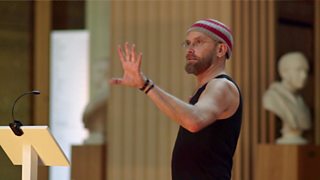 Director Brett Bailey
Almost 23,000 people had signed a petition calling the show "an outrageous act of complicit racism" but the Barbican said it confronted "the abhorrent historical attitudes to race during the colonial era".
South African artist Brett Bailey has produced a unique hybrid of performance and exhibition looking at themes of racism and Europe's colonial history via a set of 13 fixed installations.
Based around the 'human zoos' and ethnographic displays popularised during the late 19th and early 20th centuries, in each tableau the audience is confronted by a black performer who casts an unsettling, silent gaze at the viewer.
It focuses on the time when European powers were scrambling for Africa's natural resources while scientists were developing horrific, pseudo-scientific racial theories.
Speaking about the work with writer and teacher Anton Krueger in the Liminalities journal in 2013, Bailey said: "I wanted to create images where you are seduced by beauty—you want to look—but the content is so horrific you also don't want to look."
Above, BBC Arts presents a special film in which Bailey discusses his creative process and reveals how he assembled his non-professional cast in Edinburgh, as well as providing an insight into the staging of the often disturbing scenes in the work.
And on the following pages we present films of seven of the exhibits together with cast interviews and photographs to give you a flavour of this extraordinary piece.
The Exhibit Quartet
The distinctive soundtrack of Exhibit B is courtesy of the Exhibit Quartet, four Namibian singers who have accompanied Brett Bailey's work wherever it has been installed with songs of sorrow, sung in Nama, Otjiherero, Oshiwambo, Tswana and Xhosa.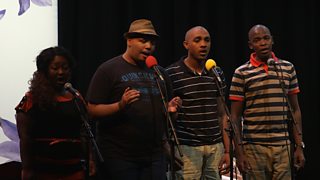 The quartet performed on BBC Radio Scotland's Culture Studio live from Potterrow on 8 August.