Main content
Nicolas Roeg: It's About Time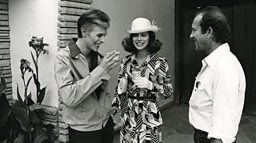 Nicolas Roeg with David Bowie and Candy Clark on the set of The Man Who Fell To Earth
Arena presents the first major profile of the great British film director Nicolas Roeg as part of the BBC's The Genius of British Cinema season. Apart from the occasional brief interview, Roeg has always preferred to let his films to speak for themselves. With unprecedented access Arena captured the director, now aged 86, in his London home, examining his unique vision of cinema and his films' very special language and style.
Roeg's films have been hugely influential in exploring the darkest aspects of human behaviour and for pushing conventional genres, from horror to fantasy, into new realms. They consistency question human identity and our comprehension of one another,from the terrifying and tragic Don't Look Now to the violent and psychotic Performance starring Mick Jagger; from the Australian outback adventure Walkabout to David Bowie's first major role in The Man Who Fell To Earth.
Nicolas Roeg began his film career at the bottom, working as teaboy in cutting rooms and later as a camera assistant at Borehamwood Studios. He was cameraman for the second unit on Lawrence of Arabia (1962), and then graduated to the role of director of photography. Working at first in black and white, he showed his early flair in the film adaptation of Harold Pinter's The Caretaker (1963) before revealing himself a master of colour in Roger Corman's The Masque of the Red Death (1964), Francois Truffaut's Fahrenheit 451 (1966) and John Schlesinger's Far From The Madding Crowd (1967).
Determined to make the step up to directing, he accepted the proposition of co-directing a film with screenwriter Donald Cammell, the legendary and still shocking Performance (1970), which proved to be a 'gangster movie' like no other. In telling its tale of muscle man Chas (James Fox) escaping into the enclosed world of a reclusive rock musician (Mick Jagger), the film is a heady brew of hallucinogenic imagery and dazzling editing, slipping constantly between the real and the surreal. It has now become a classic 'cult' film.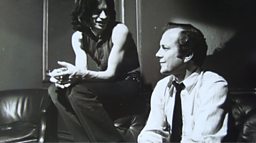 Nicolas Roeg on the set of Performance with Mick Jagger
Shot in 1968, the film's boldness gave Warner Brothers an attack of nerves, delaying the release of Performance for two years. By this time Roeg had begun his solo directing career with Walkabout (1970), an eerie tale about a pivotal encounter in Australia's outback between two white schoolchildren and a young Aboriginal boy going through his initiation into manhood.
Its visual brilliance was immediately recognised, but even greater success followed with Roeg's adaptation of Daphne Du Maurier's horror story Don't Look Now (1973), in which a married couple (played by Julie Christie and Donald Sutherland) lose a daughter in a tragic accident but believe they may have re-discovered her in a wintry, sinister Venice. Don't Look Now was recently voted by Time Out readers as the best British film of all time, and its power remains undiminished today. It also includes one of most notorious – and tender – sex scenes in the history of cinema.
With his status as a director of great vision now assured, Roeg's films became even more bold and challenging. In The Man Who Fell To Earth (1976), he avoided all the clichés of portraying an alien living in our midst through the casting of David Bowie in his finest screen role.
With the controversial and daring Bad Timing (1980), Roeg examined a tumultuous love affair in a totally unchronological structure, and in Eureka (1982), Gene Hackman plays a gold prospector who once struck rich but decades later is destroyed by rivals while his soul lives on in his free-spirited daughter. These last two films starred Roeg's second wife and muse for many years, Theresa Russell.
While Roeg's subsequent career often saw him adapting the work of others – Terry Johnson's play Insignificance (1985), Dennis Potter's Track 29 (1987), Roald Dahl's The Witches (1989), Fay Weldon's Puffball (2007) – he has always put his personal stamp on everything he does. His discovery at an early age of the manipulative power of editing has often led him to jumble standard chronology, and freely associate between images and ideas. He has taken great risks in casting, being unafraid to use 'performers' like Jagger, Bowie and Art Garfunkel rather than seasoned actors.
Mainly using Roeg's own thoughts and perceptions as our guide, Nicolas Roeg: It's About Time will explore connections across time and images and features contributions from some of the famous faces who worked with him, including Theresa Russell, Julie Christie, Donald Sutherland, Jenny Agutter and directors Danny Boyle and Mike Figgis.
His films reject the conventions of literature and theatre that enslave so much of cinema, presenting a more subjective experience of how characters on screen think and feel. As Donald Sutherland remarks in Don't Look Now, 'nothing is as it seems.'
Director: David Thompson.
"A film is a magical and mysterious combination of reality, art, science and the supernatural – as well as a gateway to the nature of time, and perhaps even the first clue in solving the puzzle of what we're doing in this world." - Nicolas Roeg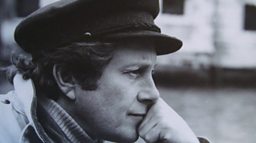 The Genius of British Cinema Season