Main content
Turbot with Strawberries and Cream
Ingredients
Turbot
5kg Wild Turbot
500g Salt
300g Butter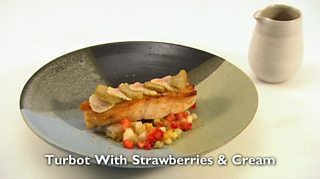 Cream
6 banana shallots, thinly sliced
150g Butter
500ml white wine
500ml Dry vermouth
1 litre of fish stock
1 litre of double cream
Lemon juice
Salt
Chive oil
1kg of chives
1l Grapeseed Oil
Vegetable tartare
500g green strawberries
Red strawberries
500g golden beetroot
500g fennel bulb
500g baby turnips
5g Pollen oil
5g Elderflower vinegar
200g Razor Clams
Pickled Strawberries
500g green strawberry
300ml Elderflower vinegar
Salt, to taste
Garnish
Fennel pollen, pinch
Method
Turbot
1. Fillet and portion the turbot into thick portions.
2. Cover the fillets with fine salt, so that the flesh is completely covered and leave for 20 minutes.
3. Remove the fillets from the salt and rinse. Pat dry.
4. Place the fillets into a vac pac bag and seal.
5. Poach the fillets in a water bath for 20 minutes at 46c.
6. Once cooked remove the fillets from the vac pac bag.
7. In a large frying pan heat the butter, and add the fillets.
8. Pan fry until the butter starts to foam and the fillets start to caramelise, approx. 5-7 minutes.
Cream
1. In a large saucepan add the shallots and butter.
2. Slowly cook on a low heat for approx. 15 minutes until the shallots start to soften but don't allow them to colour.
3. Add the white wine and reduce to a syrup like consistency – this should take about 10 minutes.
4. Add the vermouth and reduce slowly to a syrup like consistency – this should take about 15 minutes.
5. Add the fish stock and reduce by half; this should take about 15 minutes.
6. Add the double cream and reduce by half, this should take about 10 minutes.
7. Use lemon juice and salt to season, to taste.
Chive oil
1. Place the chives in a blender and blend to a rough puree.
2. Place the puree in a sieve and squeeze out any excess water.
3. Put the leftover pulp into the blender and blend with the rapeseed oil for 8 minutes until combined.
4. Pass the oil through a muslin cloth and hold until ready to serve.
Vegetable tartare
1. Dice the green strawberries, red strawberries, golden beetroot, fennel bulb and baby turnips to a 3 mm dice.
2. Dress in the vinegar and oil.
3. Mix through diced raw razor clams.
4. Season with salt, to taste.
Pickled Strawberries
1. Slice green strawberries thinly and lie on a flat surface.
2. Using a pastry brush, brush each slice with elderflower vinegar and sprinkle with salt.
To assemble
3. Place the tartare in the centre of the bowl.
4. Place a cooked turbot fillet on top.
5. Line the fish with slices of pickled green strawberries.
6. Dredge with fennel pollen
7. On the side serve the fish cream in a jug topped with the chive oil.