Main content
The National Botanic Garden of Wales on Friday 19th July
Join Fiona Bruce and the Antiques Roadshow team when they film at the National Botanic Garden of Wales on 19 July.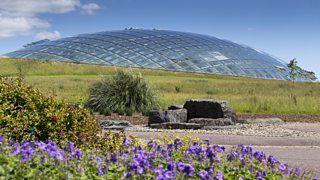 The Roadshow brings together a team of the country's leading authorities on arts and antiques to offer free valuations for your family heirlooms or car boot bargains.
Entry to the show is free, everyone is welcome, and no tickets or pre-registration is required.
The Roadshow opens at 9.30am and last entry is 5pm.
* We reserve the right to close the event earlier on exceptionally busy days.
More information can be found at on our FAQ page and regular updates will be posted on Antiques Roadshow's Facebook page.
Direction and Parking
For full directions and public transport options please visit the Botanic Garden website.
On the day of the event please follow the AA signs, which will direct Antiques Roadshow visitors to the overflow car parking field close to the gardens, where a shuttle bus will take you to the event.
There is a parking charge of £5 CASH ONLY
Disabled parking
Blue badge visitors will be directed to the disabled parking area in the main Botanic Garden car park.
Glass House and other attractions
All areas will be open including the Great Glasshouse.
Dogs
Well-behaved dogs on leads are welcome at the event, please ensure you pick-up after your dog.
Security
Our security team will be operating random searches at all entrance points throughout the day. Please do not leave any bags or items unattended during the event.
Welfare
Inevitably there will be long periods of queuing – sometimes several hours, so please come prepared. If you are unable to stand for long periods or require assistance please let one of our stewards or production team members know and they will be able to assist.
Is there disabled access?
We aim to make Antiques Roadshow welcoming, open and accessible to all our visitors.
Please visit National Botanic Garden of Wales website for more information about accessibility during your visit.
If you'd like to come to one of the Roadshow venues and require a sign language interpreter please give us 14 days notice by emailing antiques.roadshow@bbc.co.uk and in the subject line – Botanic Garden - Sign language interpreter
If you'd like to bring an item along for a valuation please tell us about the item and include a photo so we can arrange for the most suitable interpreter.
If you require any other help or assistance on the day please let us know.
Share Your Story
You are welcome to just turn up on the day but you can also tell us in advance about your special items by emailing shareyourstory@bbc.co.uk
To be considered your email will need the following information:
▪ Your name
▪ Your address
▪ A contact telephone number
▪ Email title: Antiques Roadshow - NBGW
▪ A brief description of the item including how you came to own it.
▪ Two photographs of the item.
Please note that we are unable to get back to everyone who contacts us but you are still welcome to bring your item to the Roadshow if you are not contacted.
Alternatively write to Antiques Roadshow, BBC, Whiteladies Road, Bristol BS8 2LR.
Antiques Roadshow is working hard to reduce waste and recycle as much as we can
If you are visiting one of our Roadshow's these are some things YOU can do to help:
Please car share whenever possible. Also, with any of our easily accessible locations do consider using public transport rather than your own cars
Please use our recycling bins and make sure the right waste goes in the right bin
Re-fill your reusable water bottle from the free tap or water dispenser, which we aim to provided at each location. Remember to bring your own travel mug to cut down on waste.
The locations for Antiques Roadshows in 2019