Main content
Shakespeare and the 'Night of Errors'
A Christmas performance of a Comedy of Errors by Shakespeare's acting company descends into chaos and is forever known as 'The Night of Errors' after it appears the Bard was double booked!
When one of those bookings is the Queen, however, it is perhaps understandable why Shakespeare's Lord Chamberlain's Men attempted to please both sets of audiences that night…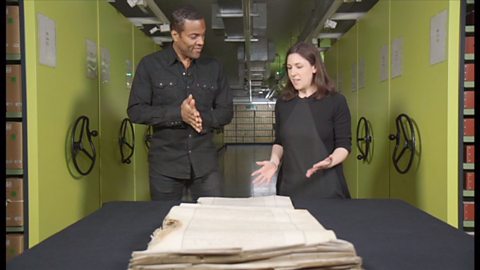 Harry Potter and Coronation Street's Ray Fearon finds out more about this infamous night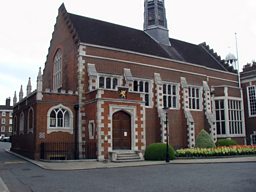 Gray's Inn Hall exterior. Photo: REED
It's 28 December, 1594, and the Lord Chamberlain's Men are booked to play at a seasonal performance at Gray's Inn - one of four legal institutions in London known together as the Inns of Court.
Something went drastically wrong on the appointed night. The players didn't take the temporary stage at the time announced, and by the time they did arrive, the stage had been dismantled
The story of what happened that evening is told in an account called Gesta Grayorum ("Happenings at Gray's Inn"), published about ninety years after the events, but apparently taken from an original manuscript.
The entertainment scheduled for Holy Innocents' Day, 28 December, 1594, was a play called "The Play of Errors," described in the records as "played by the players," signifying a professional troupe, who are in turn described as "a company of base and common fellows." Apparently William Shakespeare's company, then known as the Lord Chamberlain's Men, had been hired to perform his Comedy of Errors, then a relatively new play. Also relatively new was the venue, the lovely Elizabethan hall of Gray's Inn, which survives to this day, though partly reconstructed following devastation during the Second World War.
Something went drastically wrong on the appointed night. The players didn't take the temporary stage at the time announced, and by the time they did arrive, the stage had been dismantled. So the night became known ever after as "The Night of Errors."
What went wrong? Nobody today knows for certain, but a hint may be contained in an enormous parchment roll preserved in The National Archives, the accounts of Sir Thomas Heneage, Treasurer of the Household, from 1579 to 1596.
Accounts for the 1594-1595 Christmas season include payments to Edward Alleyn of the Lord Admiral's players, and to William Kempe, William Shakespeare, and Richard Burbage of the Lord Chamberlain's players.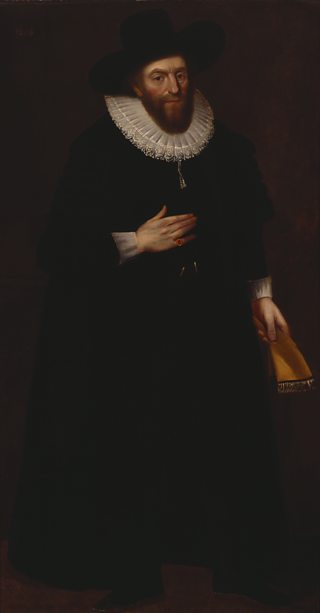 Edward Alleyne. By permission of the Trustees of Dulwich Picture Gallery
Both companies are said to have performed a play for Queen Elizabeth at Greenwich on Innocents' Day, the 28th of December 1594. According to surviving records, therefore, three professional plays were performed in London and Greenwich on the very same day, two at court (one each by the Lord Chamberlain's Men and the Lord Admiral's Players) and one at Gray's Inn – also by the Lord Chamberlain's Men…Shakespeare's players.
Academic expert Alan H. Nelson, Record for Early English Drama editor says: "While different theatre historians offer different explanations of the conflicting evidence, it is at least within the realm of possibility that the Lord Chamberlain's players, Shakespeare among them, had contracted to present a play at Gray's Inn on the evening of December 28th 1594. For some unknown reason the company was ordered to perform at court on the same evening, perhaps by last-minute royal command. Having discharged their responsibilities at Greenwich, the company returned by boat to London, appearing at Gray's Inn near midnight among scenes of utter chaos."
All the more reason that the night of 28 December 1594 should be called, then and now, "The Night of Errors."
Pieces of a legal jigsaw
By Alan H. Nelson, Record for Early English Drama editor
William Shakespeare, like most successful people of his time, lived in several worlds. One of his worlds was the playhouse, which required scripts, rehearsals, live performances, and financial management. Another involved the ownership or lease of property, which involved legal documents recording purchase, sale, mortgage, or lease.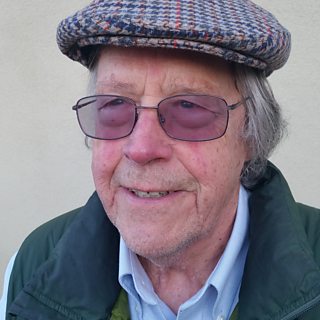 For biographers and historians the legal processes underpinning these transactions help to piece together some of the key moments in Shakespeare's business life.
Acquisition of property began with a negotiation, either face-to-face, or through an attorney. A successful negotiation resulted in a written contract. Modern contracts are typically created in multiple copies, each copy signed by all interested parties.
In the lifetime of William Shakespeare, and long before and after, contracts were also written in duplicate or triplicate, but with fewer signatures, and an additional feature to guarantee authenticity. A typical contract was a two-party "indenture." The word "indenture" originally meant that both copies of an agreement were written on a single piece of parchment; after each copy was signed and sealed, the copies were cut apart along a line which was deliberately "indented," or, as we might say today, along a wavy, irregular line.
Before the copies were separated, each party could examine both copies, to insure that they were accurate and identical. Each party then signed or sealed one and only one of the two copies of a two-part indenture.
After the copies were cut apart, the copy signed or sealed by a buyer would be handed to the seller, and the copy signed or sealed by a seller would be handed to the buyer. At any time in the future, in case of a dispute, the two copies could be brought together to test whether they mated perfectly along the wavy lines, and moreover, whether the wavy line cut the chirographic letters at exactly the same place. If the two copies matched, they were considered authentic.
One benefit of these legal documents for Shakespeare biographers lies in the fact that when only one copy of an agreement survives, other copies can be inferred. Where two or three copies survive, they can be tested against one another more than four hundred years later as a guarantee of authenticity. And even when no copy survives, if an indenture is cited in a subsequent lawsuit, it is possible to reconstruct the lost copies with some confidence.
For example: When William Shakespeare and several associates purchased the Blackfriars gate-house from Henry Walker in 1613, a pair of indentures was created. The copy signed by Shakespeare and his associates is now in the Guildhall Library, London, while the copy signed by Henry Walker is now in the Folger Shakespeare Library in Washington, D.C. Photographic analysis proves that the two copies would fit perfectly if they could be brought together today. So their authenticity is guaranteed.
When Richard Burbage and his brother Cuthbert leased the site of the Globe playhouse in Southwark in 1599, they required financial partners. Negotiations resulted in lease called "tripartite" because it was agreed among three parties. The first party was the owner of the land, Sir Nicholas Brend. The second party consisted of Richard and Cuthbert Burbage, who held half of the lease; the other part was held by the third party, five senior members of the Lord Chamberlain's Men: William Shakespeare, John Heminges, Augustine Phillips, Thomas Pope, and William Kemp. Although none of the three original copies survives, the indenture is cited, sometimes at length, in nearly a dozen subsequent documents ranging from 1599 to 1636.
Shakespeare on Tour
From the moment they were written through to the present day, Shakespeare's plays have continued to enthral and inspire audiences. They've been performed in venues big and small – including inns, private houses and emerging provincial theatres.

BBC English Regions is building a digital picture which tracks some of the many iconic moments across the country as we follow the 'explosion' in the performance of The Bard's plays, from his own lifetime to recent times.
Drawing on fascinating new research from Records of Early English Drama (REED), plus the British Library's extensive collection of playbills, as well as expertise from De Montfort University and the Arts and Humanities Research Council, Shakespeare on Tour is a unique timeline of iconic moments of those performances, starting with his own troupe of actors, to highlights from more recent times. Listen out for stories on Shakespeare's legacy on your BBC Local Radio station from Monday 21 March, 2016.
You never know - you might find evidence of Shakespeare's footsteps close to home…
Craig Henderson, BBC English Regions
Shakespeare's annual Christmas brush with the law
By Alan H. Nelson, Record for Early English Drama editor
On the western edge of the City of London, either side of Fleet Street, lie four legal institutions: to the south, Inner Temple and Middle Temple; to the north, Lincoln's Inn and Gray's Inn.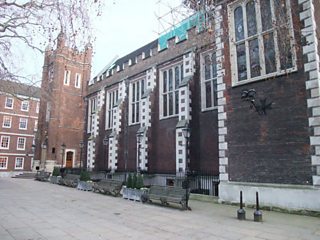 Middle Temple. Photo: Sally-Beth MacLean, REED General Editor
Though their principal purpose has always been legal practice and training, during William Shakespeare's lifetime the four Inns indulged their members with entertainment, including plays, in their magnificent halls.
The acting of plays occurred during the Christmas season, which began on All Saints day, also known as All Hallows day, the 1st of November, continued to Candlemas, also known as Purification Day, the 2nd of February.
Shakespeare's company, The King's Men, performed regularly at the opening and the end of this Christmas season at the Inns of Court in London.
Prior to the Christmas season of 1587, Inns of Court plays were written and acted by Inns of Court members. After 1587 Inns of Court plays were hired in from professionals. Prominent among the professional companies were William Shakespeare's players, called the Lord Chamberlain's Men from 1594 to 1603, and thereafter called the King's Men.
On 28 December 1594 Shakespeare's Comedy of Errors was likely performed at Gray's Inn, though with so much confusion that the event was subsequently called "The Night of Errors." A contemporary account, called the Gesta Grayorum, describes the players as 'a Company of base and common Fellows' who had been 'foisted' on the distinguished gentlemen of Gray's Inn.
Comedies acted at the Middle Temple on 28 December 1597 and 2 January 1598 were likely performed by professionals. Shakespeare's Twelfth Night was famously performed at the Middle Temple on 2 February 1602 (Candlemas).
The earliest reference to a standing tradition of Inns of Court plays on All Saints and Candlemas occurs in an Inner Temple prohibition of 1610, headed 'No plays on festival days': 'And [because] great disorder & scurrility is brought into this house by lewd and lascivious plays, it is … ordered … that from henceforth there shall be no more plays in this house either vpon the feast of All Saints or Candlemas day, but the same from henceforth to be utterly taken away and abolished …'
This puritanical order stands as good evidence that plays were performed on All Saints and Candlemas in previous years. Two years later the order was reversed: 'Where of late years upon the two festival days of All Saints and Candlemas, plays have been used after dinner for recreation which have lately been laid down ... It is now ordered the same order shall henceforth stand repealed.'
So play-acting resumed after a gap of two years.
Of all identified professional companies, the best recorded is Shakespeare's, the King's Men, who played routinely on All Saints and Candlemas. Surprisingly, given their notorious performance of Twelfth Night at Middle Temple in 1602, the King's Men became regulars at the Inner Temple. It is all the more disappointing, then, that Inner Temple hall was replaced in 1868. A few sketches survive, however, to give an impression of the original.
It appears that several professional companies - the King's Men being the most fully documented example - committed to being in London (and not on the road) on 1 November and 2 February each and every year for performances at the Inns of Court from near the beginning of the seventeenth century to the closing of the theatres in 1642.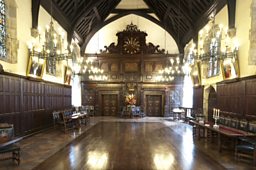 Lincoln's Inn old Elizabethan Hall (c) The Honourable Society of Lincoln's Inn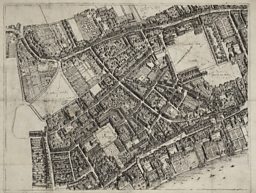 Lincoln's Inn old map circa 1660s (c) Folger Shakespeare Library