Main content
6 things we learned from Jodie Comer's lockdown chat with Lauren Laverne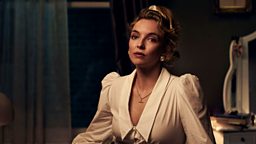 Jodie Comer has experienced an ascendent rise thanks to her astounding portrayal of Villanelle in Killing Eve, and now she's taking on another seminal role as Travis in an adaptation of Alan Bennett's beloved Talking Heads.
With Talking Heads airing this week on BBC One, Jodie joined Lauren Laverne on 6 Music Breakfast to discuss life in lockdown, her latest role, the upcoming virtual TV BAFTAs, and more.
Here's what we learned from the chat…
1. Jodie's been spending lockdown back home in Liverpool
Jodie joined Lauren on the line from her family home in "sunny Liverpool," where she was enjoying a very "beautiful day". She may be relishing the fine weather currently, but how has she found life in lockdown with her parents?
"It's been amazing," Jodie said, revealing that the co-inhabiting has been stress-free and, in fact, she's appreciated being able to spend some quality time with her loved ones - something not always possible with her busy work schedule.
She added: "We're all big enough now to behave and give each other enough space. Everyone is well and healthy. It's been nice actually just to have some family time, which I don't always get."
2. She prepared for her latest role via video call
Jodie is part of an all-star cast that includes that likes of Martin Freeman, Maxine Peake, Sarah Lancashire, Imelda Staunton, Tamsin Greig and more in the new BBC adaptation of Alan Bennett's beloved monologue series Talking Heads. The 12-part series, directed by Josie Rourke, features a different single-character monologue each episode, with Comer starring as budding actress Travis (a role previously played by Julie Walters) in the fourth episode, Her Big Chance.
"The opportunity to bring this monologue to life and try to [follow in] Julie Walters' footsteps in some sort of way, and to work with Josie, was honestly hugely exciting for me," Jodie said.
Obviously Covid-19 restrictions meant that Jodie had to prepare for the role from home, and she revealed that her working schedule was much like the rest of us - mostly consisting of video calls.
"Me and Josie got right to it after we both agreed to be a part of it. We would get up at 9 o'clock every morning and do a FaceTime for three or four hours, and did that for about three weeks," she told Lauren.
"It's so incredible when we get together as a team, especially under the Covid restrictions. Everyone pulls together and wants to make it work. Josie is incredible. What she really helped me with is bringing things to life that aren't on the page. The connection with the audience and Leslie is so important and you're feeding them so much information, and they have to visualise and feel what it is she's feeling. I'm so grateful to Josie for helping me with that."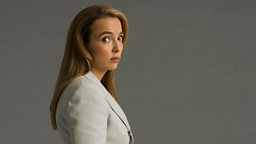 3. Jodie's own "big chance" came from a monologue too
The chance to perform a monologue in Talking Heads actually takes Jodie full circle - with her first real breakthrough in acting coming from a monologue performance at the Liverpool Drama Festival when she was younger.
"I did a monologue about Hillsborough by a local playwright and I won the festival. That was the first time my dad had seen me act, so that was a pretty big moment," Jodie said.
She still remembers her father's nervousness before her monologue, as well as his realisation at her clear talent afterwards: "He was terrified because I was the last in the group [to perform] and there were so many incredible kids [ahead of me]. He was just kind of like, 'oh god, just let her get up there and have a good time.' I remember seeing his face after I did it. He would always encourage me and [my parents] were so innocent to it all. They knew I loved it so they just wanted me to do it purely for that, so the fact that this has gone they way it has is really special."
4. Stephen Graham was a mentor to her - and told her to keep her accent
When Jodie won Best Leading Actress for her role in Killing Eve at last year's BAFTA Awards, she made sure to thank a fellow Liverpudlian star who helped her early in her career, saying during her speech: "I want to take this moment to thank Stephen Graham. If I didn't owe you a pint before then, I do now. Thank you for the generosity you showed me all those years ago."
Comer and Graham had both starred in BBC drama Good Cop when Jodie was 16 in 2012, and the young star's talent would lead Stephen to recommend her to his agent. But Jodie says his advice and guidance extended even further than that.
"I had one day of shooting with him and was just chatting to him throughout the day, kind of picking his brain," she recalled.
"I remember feeling at that time like I needed to take elocution lessons and I don't know where I got that from. [But] he was like, 'are you kidding me? Don't you dare. Don't you ever lose this accent.'"
"He is so true to himself so to have someone like him - who is from where I'm from and celebrates who they are - in an industry where there are less working class actors is amazing."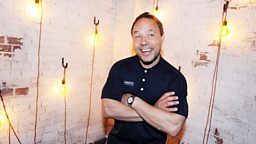 5. This year's virtual BAFTAs poses one particular dilemma
Jodie said that attending last year's BAFTA Awards with her family was an "incredible" and "out of body" experience, but this year's BAFTA Television Awards will be somewhat different, with the ceremony taking place virtually on Fri 31 July.
Asked by Lauren whether she'll be "frocking up" from the comfort of her home, Jodie replied: "I don't know. It seems crazy to do that… I don't know, maybe I've got to... It's BAFTA, you've always got to dress up for the occasion."
Jodie then decided on the compromise of a "snazzy top and pyjamas on the bottom, like I have been doing for most of my Zoom calls" - something we can all relate to.
6. She's "itching" to get back in the game
At the time that lockdown happened, Jodie had been shooting The Last Duel with Ridley Scott, a film that also stars Matt Damon, Ben Affleck and Adam Driver. Jodie said she expects filming to restart at the end of August and that they have roughly five to six weeks of production left on the project.
She's currently trying to get her mind back in the character of Marguerite de Carrouges: "I'm just remembering that I have to go back and finish that and get back in that headspace. I'm kind of itching to get back in the game."
Jodie also said that she's found it "inspiring" how "everybody is trying to adapt and make changes" to the ways of working during lockdown. She added: "When I look outside the industry, there's loads of independent bars and restaurants adapting to try and keep themselves doing. This is a new kind of normal and it's encouraging to see everybody try to get back on track but also make sure that everybody is still safe and comfortable, above all else."