Main content
Radio 2 Live in Hyde Park: Blue Sky Snaps!
As BBC Radio 2 Live in Hyde Park approaches, we're offering YOU the chance to be part of Chris Evans' warm up for our headline act - Electric Light Orchestra.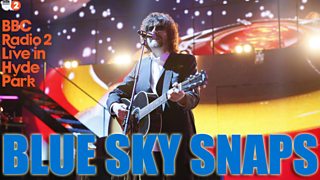 Before the iconic band take to the stage for their first festival performance in 28 years, we want to give you lovely Radio 2 listeners the chance to celebrate the end of summer by sharing your photos featuring 'Mr Blue Sky' on the big screen.
What do I have to do?
Just email your 'Blue Sky Snaps' to chris.evans@bbc.co.uk or share them on Twitter or Instagram with the hashtag #R2BlueSky
We want selfies with friends, photos of families enjoying their holidays, pics of your pets out in the garden. Be as creative as you like - just make sure we can see Mr Blue Sky somewhere in the photo!
And remember - the sooner you share your photo the better than chance it has of being featured so get snapping and sending! Photos submitted after midnight on Saturday 13th September will not be accepted.
Where will I see my photo?
We'll be showcasing a selection of 'Blue Sky Snaps' on the big screen at the festival which you'll be able to see in the park or on our live stream and then after the festival we'll be using the very best pictures as part of some special online memorabilia which will be made available in 2mail on Wednesday 16 September.
Terms and Conditions
By submitting your contribution to the BBC you allow the BBC to use the material in your contribution in any way it may reasonably choose on a free-of-charge basis in any media throughout the world. The BBC very much hopes to be able to use your contribution but cannot guarantee to do so.
1. Entry for your pictures opens on Monday 8th September 2014 at 06:30. Entry closes on Saturday 13th September 2014 at 12pm. Submissions received outside of this timeframe will not be considered, so please do not wait until the last minute to upload your entry.
2. Entries must not contain defamatory, obscene, offensive, or any other unsuitable material. Entries must be suitable to be broadcast, published or used online by the BBC for audiences of all ages
3. Entries cannot be returned so please remember to retain a copy. Unsuccessful entrants will not be contacted in respect of their entry and no feedback on any entry will be provided.
4. All entries must be the original work of the entrant and must not infringe the rights of any other party. The BBC accepts no responsibility if entrants ignore these Terms and Conditions and entrants agree to indemnify the BBC against any claim by any third party from any breach of these Terms and Conditions.
5. You grant the BBC the right to change or edit your contribution for operational and editorial reasons – specifically but not limited to the creation of a new piece combining some or all of your contribution with those of others. The BBC may also share your contribution, individually or as part of the new combined piece with trusted third parties, for instance with other users of BBC Online Services or, in the case of news-related material, the BBC may share your contribution with its overseas partners (for instance reputable foreign news broadcasters).
6 Any copyright in your contribution will remain with you and this permission is not exclusive, so you can continue to use the material you contribute for personal use (for example showing it to family and friends).
7 You confirm that your contribution is your own original work, is not defamatory or unlawful and does not infringe anyone else's rights (including privacy rights) and that it complies with the Terms. You also confirm that your contribution is made in your personal (rather than business) capacity and that such contribution does not unfairly promote or further any business activities and has not been contributed for commercial gain. You also confirm that you have the consent of anyone who is identifiable in your contribution.
8 The BBC may need to contact you for administrative or verification purposes in relation to your contribution, or in relation to particular projects. For full details of when and how we may contact you please see the BBC's Privacy and Cookies Policy plus any specific local terms, where applicable.
9 Please do not endanger yourself or others, take any unnecessary risks or break any laws when creating any content you may share with the BBC.
10 The BBC will ask you to provide some personal information as part of the submission process. Disclosure of this information shall be subject to terms set out in the BBC's Privacy and Cookies Policy. The BBC will keep your personal information secure and will only use it for the purposes specified in the Privacy and Cookies Policy. All personal information held by the BBC will be held in accordance with the terms of applicable data protection laws.
11 The BBC, its sub-contractors, subsidiaries, agencies and/or any other organisation associated with this competition cannot accept any responsibility whatsoever for any technical failure or malfunction or any other problem with any server, Internet access, system or otherwise which may result in any entry being lost or not properly registered or recorded. Proof of sending is not proof of receipt.
These Terms and Conditions are governed by the laws of England and Wales.
If you do not want to grant the BBC permission to use your contributions in accordance with the Terms, please do not share with or submit them to us.
If you have any questions about contributing content to the BBC, please see our Frequently Asked Questions.