Main content
Smoked Mackerel and Spinach Frittata

Serves 1
1 generous handful of baby leaf spinach
1 smoked mackerel fillet, flaked
½ red pepper, chopped
2 or 3 eggs
sea salt and black pepper
olive oil, for cooking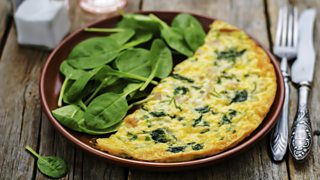 Preheat the grill to high.
Whisk the eggs in a jug or bowl, season and set to one side.
Heat a little oil in a small ovenproof frying pan or omelette pan (coconut oil is the most stable for cooking, rapeseed or avocado oil is the next best thing).
Add the peppers and flaked mackerel and cook for 2–3 minutes and add in the spinach. Cook for another minute or so until just wilted and then spread the ingredients evenly over your pan.
Pour the eggs into the pan, cook over a medium heat for about 4 minutes, until the under side is cooked.
Transfer the pan to the grill and cook for about 4 minutes, until the eggs have set. Serve warm with a green leafy salad.