Main content
War on Plastic
Hugh tests out his 'new' bottled water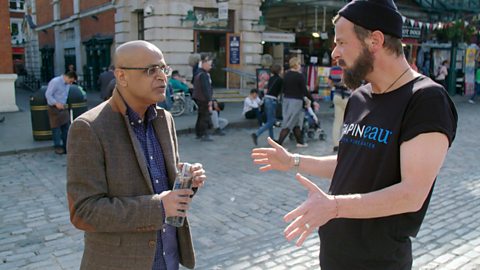 Hipster Hugh tests out his new brand of water on unsuspecting members of the public.
Can you really have a plastic-free kitchen?
BBC Food explores what swaps you can make and if plastic can ever be a benefit.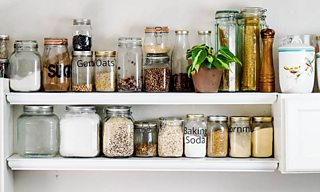 What is Plastics Watch?
Plastics Watch is bringing together the best content from around the BBC to help you discover everything you want to know about plastics, but didn't know who to ask. And we want to hear from you.
Reducing your plastic footprint
What has happened since Blue Planet II was transmitted? And what does Sir David think about the response?

BBC Newsround: Sir David Attenborough is backing a report that demonstrates the huge impact of plastic pollution on developing countries.

BBC Three: 'Plastikophobia' aims to show the true cost of plastic to our planet
How much plastic do you have in your house?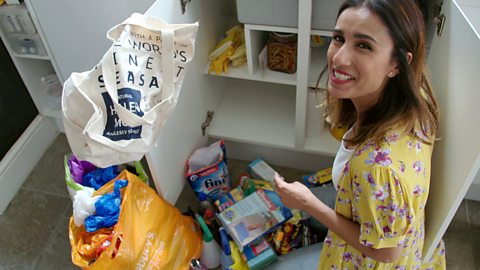 Anita roots through her cupboards and drawers to find out how much plastic is inside them.
The Plastics Problem
Are shrink-wrapped cucumbers bad if it means they stay fresh for 14 days rather than three?

Get the low down on why plastics pose a challenge

Meet the man from Norway on a mission to pick up as much plastic as he can.
From Around the BBC
Materials scientist Mark Miodownik explores our love/hate relationship with plastic.

How serious is the problem of plastic waste, and what can be done to tackle it?

Lucy Siegle gives her five point plan on how the UK can reduce its plastic pollution.
Recycling Explained
Confused by guidelines around plastics recycling? BBC News set out to answer your questions.
The BIG Picture: Business & Policy
Eureka! Scientific Breakthroughs
Plastic waste has been used to build a road in what is thought to be a UK first.

This researcher has discovered a way to create a material with similar properties to plastic.

Scientists have improved a naturally occurring enzyme which can digest some of our most commonly polluting plastics.
OU: OpenLearn
Find out more about plastic with the Open University.