Main content
Palm Sunday - Dan the Donkey
Themes: Palm Sunday, having a 'big dream', being chosen for an important job.
Summary: This assembly is intended to mark the calendar date of Palm Sunday, which occurs on the Sunday before Easter Day.
Resources: You will need to display the picture of a crowd cheering for the introductory activity. You can also put slips of paper onto adults' chairs with the statement 'I say 'Hooray!' for...' Cue the adults to be ready to give their responses at the appropriate time.
The video: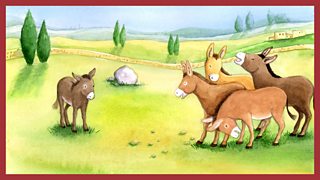 Hosanna! Blessed is the King who comes in God's name!
This retelling of the Palm Sunday narrative is from the point of view of the donkey that Jesus rides into Jerusalem on Palm Sunday. Dan, the main character, lives in the village of Bethphage - he's a small donkey but has big dreams. The other donkeys mock Dan for his dreaming, but one day two men arrive and explain to Dan's owner that the donkey is needed for 'the Master'. Shortly after Dan enjoys his moment of glory - riding into Jerusalem carrying Jesus on his back.
Duration: 5' 33"
End of speech: '...Dan let out his own 'Hosanna!' 'HEEE-HAWWWW!'
Story questions
Where does Dan live?

In Bethphage - a small village at the foot of a mountain, near Jerusalem
How is Dan different from the other donkeys?

He is the youngest...and the smallest
Why do the other donkeys tease Dan?

Because Dan has 'big ideas' - he thinks that one day he may be called upon to do something special
What do the two men say to Dan's owner?

They say simply: 'Jesus, the Master, needs him!'
What view excites Dan on his journey with Jesus?

The view of Jerusalem and its shining roofs spread out below them
What do the people in Jerusalem do and say?

They lay their cloaks or place palm leaves on the ground for Dan to walk on and shout 'Hosanna!'
Suggested framework
| Content | Guidance |
| --- | --- |
| 1. Entry music | Play 'Characters with long ears' from Camille Saint-Saens' 'Carnival of the Animals'. Can children hear the donkeys? / 'Hosanna to the Son of David' by Gibbons (a Tudor anthem) / 'Hosanna' from the rock opera 'Jesus Christ Superstar'. |
| 2. Introduction | Show the picture of the crowd cheering and gather views on what the people might be cheering about. Then ask the adults (who have been given the slips of paper) to share what they would cheer 'Hooray!' for. Ask some of the children who they would cheer 'Hooray!' for, before starting the video. Or, alternatively, pose the question 'Who would you say Hooray! for?' and ask the children to listen carefully for what the people in the story are shouting for. |
| 3. The video | Play the video. The duration is 5' 33" and the final words are: 'And with a whoop of joy like he'd never felt before Dan let out his own 'Hosanna!' 'HEEE-HAWWWW!' |
| 4. After the video | Ask the children to sit quietly for a few moments and think about what made the people in the story shout 'Hosanna!' Why do you think Christians all over the world remember this story every year? |
| 5. Time to talk | Use the story questions (and optional activities) to help children talk about the story. |
| 6. Opportunity to sing | An opportunity to sing your chosen song. Suggestions from BBC collections below. |
| 7. Opportunity for reflection | Today we've thought about how Dan the donkey was chosen for a really important job... Even though he felt small and unimportant... We've also thought about the things that make us cheer with happiness... [Recall some of them from the introductory activity]... Sometimes things are so amazing that we want to shout out loud about them to anyone and everyone! I wonder what you would cheer 'Hooray!' for? Think about that for a few moments now... The people who saw Jesus riding into Jerusalem felt the same way - they shouted 'Hosanna! Praise the King!' Christians all over the world will do the same as they remember the story of Jesus riding on a donkey into Jerusalem on Palm Sunday. |
| 8. Opportunity for prayer | 'In the stillness, you might want to think your own thoughts now, or use the stillness to help you to pray your own prayer...' Or: Use your normal term of address ('Dear God...' etc) and: 'Thank you for the many special times - like Palm Sunday - to celebrate. / Help us all to dream big - just like Dan in the story... / And to enjoy taking part when we have the chance to do special things. |
Suggested songs
| Song | Collection | Significant words |
| --- | --- | --- |
| 'The donkey trotted through the town' | Come and Praise Beginning, no 54 | 'Hosanna! Praise the King!' |
| 'Trotting, trotting' | Complete Come and Praise, no 128 | 'Happy is he that comes in the name of the Lord!' |