Main content
Get your hands on tickets to Steve Lamacq's Christmas Party at BBC Radio 6 Music
Billy Bragg, The Big Moon and some top DJs will all be in attendance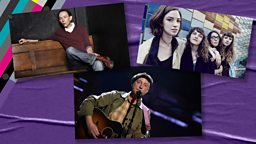 Get yourself tickets to the ultimate Office Christmas Party as Steve Lamacq throws open the 6 Music doors to a handful of lucky listeners on December 13th. From 4 to 7pm we will be joined by Billy Bragg, The Big Moon and some top DJs - there'll even be a Secret Santa - spoiler, it's Shaun Keaveny in a beard.
We have six pairs of tickets to give away. All you have to do is email us the best explanation of why you deserve to shake your money makers in the same room as Steve Lamacq to lamacq.6music@bbc.co.uk - don't forget to stick Christmas Party in the subject header.
So if you are a stay at home parent, out of employment, a lone worker or just have a boss who doesn't put on a shindig then we want you to join our gang. And if have an office party you want to get out of, then we have your back too, as we'll be giving away one special group ticket (up to 6 people) to an office too.
Of course like any office party, you have to be able to get yourself there and home, and you aren't allowed anywhere near the photocopier...
Please note, the closing date for submitting nominations is 19:00 on Monday 9th December 2019.
If you are selected to join us we will be in touch on Tuesday 10th or Wednesday 11th December.
Please make sure to read the full terms and conditions below.
Terms and Conditions
1. 6 pairs of people (You and a friend) and one office (you and 5 co-workers) will be selected by the production team from your email application.
2. You will be part of the Steve Lamacq 6 Office Christmas Party.
3. This takes place between 16:00 and 19:00 on Friday 13 December.
4. Entries will be selected by the production team.
5. The BBC's decision is final. No correspondence relating to the selection will be entered into.
6. If required you will need to ensure that you can get the day off work.
7. All people attending will need to be over 18 Years of age.
8. Travel to the London studios, any accommodation and any other cost will be solely at the entrant's expense and the BBC will not reimburse those selected for any such costs.
Privacy Notice
Your trust is very important to us. The BBC is committed to protecting the privacy and security of your personal information and the personal information of the individual you have nominated. It is important that you read this notice so that you are aware of how and why we are using such information. This privacy notice describes how we collect and use personal information about you during and after your relationship with us, in accordance with data protection law.
Why are we collecting personal information?
The BBC production team will collect your personal information and the personal information of the individual you have nominated for the purposes of determining who should be chosen to receive a gift or experience. This information is also collected so that we can contact you if your nomination is chosen to feature on the show.
What information are we collecting?
The BBC will collect and process the personal information that you have provided to us about yourself and the individual you are nominating. We will collect the following personal data:
The personal data is:
• Your name
• Your Address
• Your Age
• Your mobile or landline number
• Your Email address
• Your gender
It is possible the BBC will also collect and process special category data depending on the content of your story. This might include for example:
• Information around a medical condition
• Ethnicity
• Religious views
Who is the Data Controller?
The BBC is the "data controller" of your personal information. This means that the BBC decides what your personal information is used for, and the ways in which it is processed. For the avoidance of any doubt, your personal information will be collected and processed solely for the purposes set out in this privacy notice. As the data controller, the BBC has the responsibility to comply, and to demonstrate compliance with, data protection law.
What is the lawful basis for processing?
Your personal data will be processed for journalistic purposes.
Do we share your personal information with Third Parties?
The BBC will not share your personal information with any third parties.
Retention Period
The BBC will retain your personal information for a period of 3 months. At which point your personal information will be deleted.
Your Rights and how to contact us
If you have any questions about how the BBC handles your personal information, or if you wish to contact the BBC to exercise your rights of access to, and/or rectify, erase, object to or restrict processing of your personal data, please contact us via post or email at DataProtectionEnquiries@bbc.co.uk.
Should you wish to contact the BBC's Data Protection Officer, you can do so by post or via email at dpa.officer@bbc.co.uk.
If you wish to raise a complaint with the BBC about the way it has handled your personal information and you are dissatisfied with the BBC's response, you are entitled to lodge a complaint with a supervisory authority. In the UK, the supervisory authority is the Information Commissioner's Office (ICO), which can be contacted here.