Main content
Superstars & Silver: Factory Photographs 1964-1970
12 August 2015
Billy Name was the in-house photographer at Andy Warhol's Factory studio, where he lived from 1964-1970. Collecting iconic black and white images alongside quotes from the people who were there, his book Billy Name: The Silver Age tells the story of that heady time.

Any Warhol | Getty Images
Billy Name documented the happenings, silk screening, painting and film creation by Warhol and his 'superstar' inner circle. And he snapped the many regular visitors - among them Tennessee Williams, Judy Garland, Rudolph Nureyev, Jim Morrison, David Bowie, Brian Jones, Mick Jagger, William Burroughs and Salvador Dali - to Warhol's temple of Pop Art in New York City... The Factory, which was also famous for its outlandish parties.
The original studio at East 47th Street - the 4th floor of a 5-floor building, originally the Peoples Cold Storage and Warehouse - was called the Silver Factory after its single-colour decor scheme;
Silver was the future... And silver was the past... Maybe more than anything, silver was narcissism

Andy Warhol
In the words of Andy Warhol:
"Billy was responsible for the silver at the Factory. He covered the crumbling walls and the pipes in different grades of silver foil... He bought cans of silver paint and sprayed everything with it, right down to the toilet bowl."
"Why he loved silver so much I don't know. But it was great, it was the perfect time to think silver. Silver was the future, it was spacey."
"The astronauts wore silver suits - Sheppard, Grissom and Glenn had already been up in them, and their equipment was silver too. And silver was the past - the silver screen, Holywood actresses photographed in silver sets.
"Maybe more than anything, silver was narcissism - mirrors were backed with silver".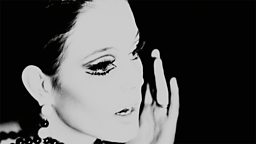 Courtesy of Billy Name / Reel Art Press
Andy Warhol with Brillo Box sculpture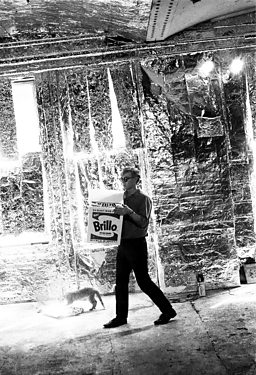 Courtesy of Billy Name / Reel Art Press
Every time I see any of the boxes in exhibitions I can always spot the ones I painted because I was the most meticulous when it came to painting the rich even coat of white paint. Sometimes I see them with streaks, or the base coat looks kind of thin – those I definitely didn't paint. I wanted them to all look perfect like actual Brillo boxes. When I was alone at night I would paint a lot of them and then the next day Gerard and Andy would neatly arrange the blank boxes in rows and silkscreen the colors on them.

Billy Name
The Factory: group shot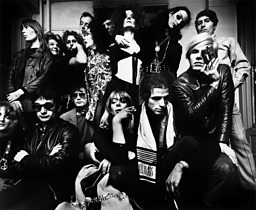 (clockwise) Andy Warhol, Billy Name, Tiger Morse, Tom Baker, Ondine, Ingrid Superstar, Nico, Brigid Berlin, Louis Waldon, Taylor Mead, Ultra Violet, Paul Morrissey, Viva and Susan Bottomley, (Unknown man behind Andy Warhol), 1968. ©Archives Malanga | Courtesy of Billy Name / Reel Art Press
Andy is not here anymore. Except in these pictures. He never looked better. It's odd when the past looks so much like the future. Like the future was supposed to look. The future that never happened.

Glenn O'Brien, New York City, 2014
Edie Sedgewick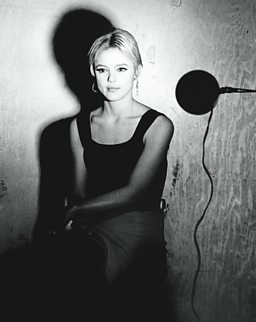 Courtesy of Billy Name / Reel Art Press
Edie's skin was translucent and there was a kind of glow or aura about her just as there was with Marilyn, and she became – and kind of still is – symbolic of… I don't know if I would call it true glamour, but it was kind of angelic, you know, like when poets write about the Angel of Death, like Cocteau and so forth, and Edward Albee writes about it in The American Dream… You could feel death walking alongside her.

Robert Heide
The Velvet Underground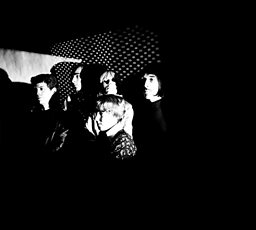 Lou Reed, Sterling Morrison, Nico, Moe Tucker and John Cale at the Factory, 1967 | Courtesy of Billy Name / Reel Art Press
The Velvet Underground was such a special group and Lou was a great friend. Their music was deeply personal, truly great, and there will never be another music group like them.

Billy Name
Warhol and Dali at the Leo Castelli Gallery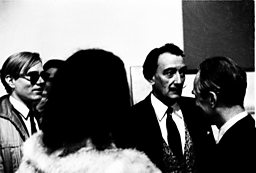 Andy Warhol, Ultra Violet, Salvador Dali and Leo Castelli | Courtesy of Billy Name / Reel Art Press
The Factory... was a gathering place for the jet set artists contingent – Salvador Dali, Tennessee Williams, Judy Garland, Montgomery Clift, Margaret and Tony, Brian Jones, Bob Dylan, Michelangelo Antonioni – all had paid a visit at one time or another; some regularly. It was also, from time to time, an oasis for hustlers, transvestites, pretenders who infiltrated New York's art world... It was the centre of Andy's world.

Gerard Malanga
Nico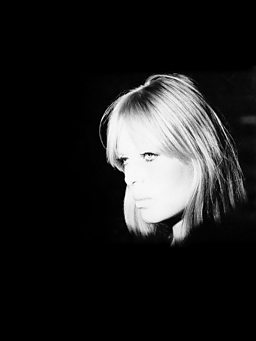 Courtesy of Billy Name / Reel Art Press
Nico was quite incredible. You couldn't stop looking at her.

Robert Heide
Nico had a stately quality similar to Susan [Bottomley] but she wasn't really someone you talked to. She was really intellectual and hard in her knowledge. Even though she wouldn't say much she would somehow let you know what was on her mind.

Billy Name
Lou Reed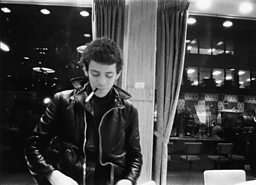 Courtesy of Billy Name / Reel Art Press
Lou and I had a special kind of connection, almost like we knew what the other was thinking and could communicate with our thoughts rather than words.

Billy Name
Jackie paintings lined up in the Factory, 1964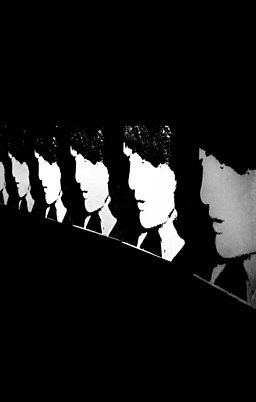 Courtesy of Billy Name / Reel Art Press
Billy was a lighting designer who moved into Warhol's Factory; the Factory was actually a huge loft. Billy covered it in a balloon of foil, and he was also a photographer, and his pictures were all this really great high contrast.

Lou Reed
Billy Name: The Silver Age is published by Reel Art Press
The original version of this article was published in November 2014.
Pop Art Features
A dissenting view from the global artists represented at The World Goes Pop exhibition at Tate Modern.

Can Pop Art really trace its origins to the work of a couple of artists from Scotland?

Stephen Smith compares the courts of Andy Warhol and the original Sun King, Louis XIV - with the Factory as a 1960s Versailles.

Watch the BBC Four Goes Pop! channel idents by Peter Blake, Derek Boshier & Peter Phillips.

Find yourself in the midst of a typical day for Pop Artist Andy Warhol in the mid-1960s.

Controversial British Pop Artist Allen Jones is the guide around his Royal Academy exhibition.

A Career in Quotes: What the critics said about controversial British Pop Artist Allen Jones.

Follow Andy and his entourage as they tour London in 1970, meeting David Hockney and film critic Dilys Powell.

A fascinating look inside The Factory in 1965, as filmmaker and activist Susan Sontag visits while Andy is filming.

When Everyone Could Own a Warhol: Andy Warhol's 1950s album covers for hip jazz labels such as Blue Note.

The Factory 1964-1970: Billy Name's iconic images of Warhol's Silver Factory, with the Velvets, Nico, Warhol superstars & Dali.

William Cook on the exquisite colours of German Pop at an exhibition in Frankfurt.

Artworks from the bold and brilliant pioneers who shaped Germany's 1960s pop art scene.