Main content
Bernard Herrmann's Magnificent Obsession
By Allan Campbell | 11 May 2015
Bernard Herrmann in 1970 (Getty)
When the composer Bernard Herrmann gave Brian De Palma his written score for the director's film Obsession (1975), he inscribed it: "With thanks for the finest film of my musical life."
De Palma was shocked, for when he glimpsed the inscription he thought Herrmann had written "final film". As it was, it would be his penultimate film; Herrmann's last hurrah being his brilliant but atypical score for Taxi Driver (1976).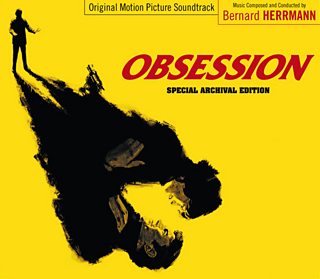 The archival edition sleeve is a version of the film poster
It seems that few have agreed with Herrmann's estimation of Obsession. While virtually every one of his scores from Citizen Kane (1941) onward have been available on CD, Obsession has been out of print for years – until now.
The definitive edition (containing both the original score and the commercial soundtrack re-recording for album) has just been released, and there is also a brand new recording of it due in June.
As critic Roger Ebert wrote, De Palma's film is "overwrought melodrama", which may explain why it has been too frequently ignored. It's an acquired taste. But Ebert also added: "And that's what I like best about it."
As you might expect of a hybrid combining romance and horror, there can be no half measures. The same holds true of Herrmann's score.
De Palma's story owes a considerable debt to Alfred Hitchcock's Vertigo (1958). A devoted husband (Cliff Robertson) loses his wife (Genevieve Bujold) in a horrific car crash – only to fall for another woman years later, who seems to be her exact double.
Obsession boasts heavenly choral work and the keening strings of obsessive love
Herrmann's score is of a piece with two of his finest, most tender creations; The Ghost and Mrs Muir (1947) and Vertigo itself, both of which revealed the irascible composer's more sentimental side.
Thus, besides lugubrious organ and monochromatic strings reminiscent of Psycho (1960), Obsession also boasts heavenly choral work and the keening strings of obsessive love. His gorgeous Valse Lente cue alone would leave few unmoved.
Make no mistake, this score held particular meaning for Herrmann, as was revealed during its recording at St Giles Cripplegate in London.
Just before the session began, Herrmann whispered to editor Paul Hirsch: "John Milton is buried at St Giles about six feet from where I conduct. If I do a good job, he'll whisper to me."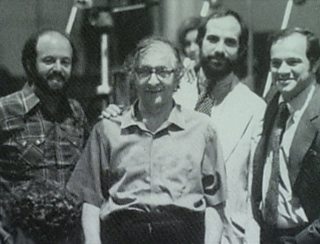 At the Obsession recording: Hirsch, Herrmann, De Palma and producer George Litto (Photo: Paul Hirsch)
Bujold visited him there, taking time to praise his music – with the result that Herrmann began to cry. It has been said that he carried her picture in his wallet until his death.
Back in New York, when the dubbed film was screened for De Palma and various executives, Hirsch was shocked when the lights went up. "Benny was sobbing. He cried for about 10 minutes. Nobody knew what to say."
It wasn't until the following day that Herrmann explained why: "I want to tell you why I was so upset yesterday. When I saw the picture all finished, I felt as if those characters had left me."
Obsession: Special Archival Edition, conducted by Bernard Herrmann (2 CD), is available on Music Box Records. Obsession, a new recording of the complete score by the City of Prague Philharmonic Orchestra and Chorus conducted by Nic Raine (2 CD) is released 15 June on Tadlow Music.